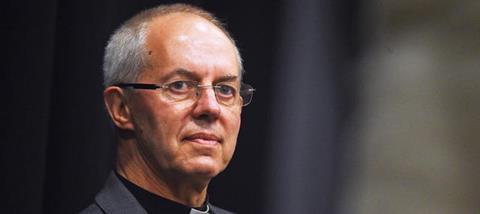 Last week saw the release of the Archbishop of Canterbury, Justin Welby's, Lent book and I found myself at its launch in Lambeth Palace among a who's who of environmentally conscious Christians.
The Archbishop talked about the urgent need to tackle climate change and about the Church of England's response to the crisis - drawing attention to the upcoming General Synod debate, taking place this week, where members will be voting on the Church's net zero emissions target.
This target is vital for tackling climate change, as it sets a date for a fossil free world and spells the end for fossil fuel companies. With widespread suffering already taking place and the window of opportunity to tackle this climate crisis becoming increasingly small, there is an overwhelming moral imperative for this target being as soon as possible. Many industries and organisations have already submitted their net zero targets. The National Farmers Union, for example, a sector which is one of the major contributors to greenhouse gasses, has pledged to go net zero by 2040 and the UK water industry has set 2030 as its net zero date.
So what date is the Church of England considering? Well, the Archbishop explained jovially, to those gathered that while he had initially floated 2030 as a suggested target, he was advised by people in the know that this date was not possible due to the size and age of Anglican buildings, such as churches and cathedrals. He explained that due to this, the Synod will be considering a net zero target of 2045.
As an Anglican myself I felt pained and confused by this statement. I became a Christian because I was moved by the gritty conviction of our Christ – whose insistence on standing up for justice above all else led him to be arrested and executed on a cross. We all stood and listened politely as the head of our Church casually informed us that we were putting the buildings of our communion above the suffering of its flesh and blood. I couldn't help but think that if we are meant to be the light of the world, our prophetic flames are very much out.
As the main thrust of the launch event came to a close, attendees were ushered into one such old and large building, the palace chapel, for worship and communion. In stark contrast to the grandeur of the chapel's furnishings, an image of Jesus Christ's face had been painted on the ceiling above the altar. The thorns on his head an unsettling reminder of how far removed our saviour lived from comfort and grandeur – born in a stable, to live a life of suffering and sacrifice.
Before worship could get into full swing the fire alarm sounded and the chapel and entire palace was immediately evacuated. An initially surprised and unsettled Justin Welby quickly rose to the challenge of delivering communion outside in the car park, much to the enjoyment of everyone involved.
Reflecting on the day, it struck me that the events of the afternoon mirrored the decision the Church has to make regarding climate change. Remaining in the confines of our palaces and cathedrals may seem like a necessity, but this climate emergency requires an emergency response. Just like the sharing of communion in the car park, we might find that it is amongst this discomfort that Jesus is found.
I write this piece as a founding member of a group called Christian Climate Action – the Christians of Extinction Rebellion. On the morning of February 12th we will be holding a vigil outside Church House before the General Synod net zero debate. This vigil will be a memorial service for all those who have already lost their lives in this climate emergency.
We are inviting the public and all Synod members to stand alongside us as we pray and think creatively about how we can stop causing suffering to the world's most vulnerable. There are many innovative ways in which this can be done, and if we have to lose some old and ornate buildings, I'm sure Jesus would be okay with that. We can meet him in the car park.
Holly Peterson is a founding member of Christian Climate Action
Premier Christianity is committed to publishing a variety of opinion pieces from across the UK Church. The views expressed on our blog do not necessarily represent those of the publisher.