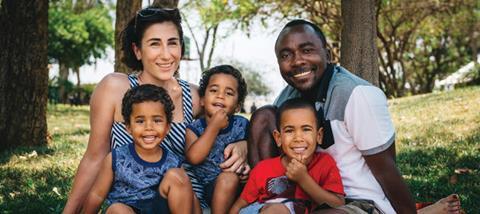 Innocent wasn't given his unusual name until he was 2 years old. His father made the change from Shikajembe Twigimirimo Salama in recognition that his son was an innocent sufferer in the middle of both family and national conflict. Even now as an adult, with his broad smile and wide eyes, the name suits him perfectly.
Innocent was born in a refugee camp in Congo. His parents had fled neighbouring Burundi in 1972 when over 200,000 Hutus were massacred in just three months. Educated Hutus such as Innocent's father (who was a businessman) were especially targeted, resulting in the family's decision to flee.
The refugee camp where Innocent grew up with his four brothers and sisters was large and at times felt like a big village, but there were huge challenges too.
"Growing up was really tough because I would hear the stories of how well off my dad was in Burundi but [at the time we were] very poor – I didn't wear a pair of shoes until I was 12 years old."
He also suffered from discrimination. "We felt like we didn't belong," Innocent explains. "I grew up feeling like a second-class citizen… As I grew older I really felt I didn't belong in Congo even though that's where I was born."
Anger at the church
Innocent's father Meshack Surwavubu was married to two women (polygamy is common in Sub-Saharan Africa). But as Meshack began to take his Christian faith more seriously, he came to believe polygamy was a mistake. In an attempt to rectify the situation, Meshack decided to return to his first wife and divorce Guenèse – his second wife, Innocent's mother. Guenèse then left, feeling she'd been treated unfairly.
Innocent explains that traditional African culture does not allow adults to talk to children about family problems. With his questions about his mother being ignored, Innocent projected his anger onto God and the church.
"I didn't choose to be born to the second wife and I didn't understand why the church advised my dad to leave my mum. I felt angry at the church, angry at God and I felt as though I wasn't in God's plan."
When war broke out in Congo, Innocent was forced to move again – first to Zambia, and then at age 24, to the Dzaleka Refugee Camp in Malawi. It was at the camp that he met Henry Joseph, the pastor of a Baptist church. Pastor Joseph introduced Innocent to Chris and Connie Taylor, a missionary couple from the US. They arranged for Innocent to stay in guest rooms at the Malawi Assemblies of God University. Finally, he was no longer a resident of a refugee camp. He took a job as maintenance man at Pastor Joseph's church and a year later the Taylors secured a scholarship for Innocent to study on a university course of his choice.
"Growing up I thought, 'I need to study law so that I can be involved in politics…I need to be the right president or leader of the country so that I can change things.'" His applications to study law were unsuccessful. But Pastor Joseph suggested he should study theology at Bible college. Innocent applied and was accepted. The experience caused him to wonder – "'Why has God allowed this door to be opened?' I felt as though God was saying, 'You are here to be equipped so you can go back and help refugees in a different way.'"
While he was studying theology Innocent had a vision to start an organisation to help refugees. "As I sat in a preaching class, God put a clear and very strong conviction in my heart. I understood, for the first time, that I had been placed at this school to acquire the tools I needed to help people living in refugee camps. God was preparing me, a refugee since birth, to return to my fellow refugees with a message of hope."
I felt that i had done my part of suffering in this world
Finding a home
Today, Innocent and his wife, Florisa, have settled in Malawi, a country known as 'the warm heart of Africa'. This is fitting because Innocent's heart could so easily be embittered but instead it exudes a story of God's love. The couple run There is Hope – a charity supporting refugees with education programmes, job opportunities, and theological training for church leaders.
The couple's three boys live with them in Malawi but their first-born, a daughter, was born with a severe brain deformation and died at just 20 months old. At the mention of Mawiza's name, Innocent pauses and says, "Living for 27 years as a refugee in five refugee camps in four countries in Africa I felt that I had done my part of suffering in this world…But her short life really impacted us. Before, we saw disabled people in the refugee camps but never knew what they went through and it opened our eyes." Both he and Florisa now make a concerted effort to include those with disabilities in their scope of work.
Innocent has an acute understanding of the blessing the Church can be on a global scale. His life was given stability because of the actions of a local pastor. "I wouldn't be here if it wasn't for the Church," he says.
He has a message for Christians here in the UK too: "The Church has been silent for a long time and the voice of the Church is not really heard, not because they don't have the power or the numbers but because they look at the issue of migration differently… [the Church must] use their voice to speak up for refugees."
Europe only receives six per cent of the world's refugees while Africa has over 30 per cent. Innocent accuses the UK Church of being 'silent' about the African refugee crisis. "The Bible has enough information on what the Church should do in terms of loving the stranger…The challenge is, step up and do something!" he says.
In our British context, Innocent's story might seem remarkable, but this isn't really the case. Sadly, his experiences are all too common. This is the story of millions of the world's refugees. It's impossible to hear Innocent speak or read his book and not be moved to action.
Katie Stock is a freelance news and features journalist at Premier Christianity magazine Innocent's book, Refugee for Life (iTeams) is available now at iteams.org.uk