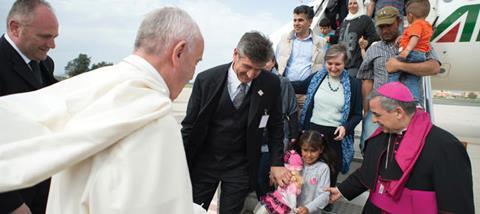 Pope Francis had been visiting a refugee camp on the Greek island of Lesbos. He used the trip to urge the international community to respond to the refugee crisis 'in a way that is worthy of our common humanity'.
All of the 12 rescued refugees were Muslims. Two of the families were from Damascus and the group included six children.
The Vatican called it a 'gesture of welcome' to refugees and said Catholic charitable association Sant'Egidio would help care for the families and try to find them work.
The Pope did not explain how the families had been chosen, but said they were 'guests of the Vatican'.
Although the Vatican has claimed Francis' gesture was purely humanitarian and not a political move, the Pope has been very vocal about the refugee crisis and recently tweeted, 'Refugees are not numbers, they are people who have faces, names, stories, and need to be treated as such.'
On the plane to Lesbos, Francis had told reporters the refugee crisis was the 'worst humanitarian disaster since the Second World War'.
Chawkat Moucarry from World Vision told Premier the Pope's visit was a sign of hope for the refugees.
He said: 'The Pope, through his visit, will reassure those, whether Christians or not…who think that… human beings belong to one human family and should show solidarity with each other...'