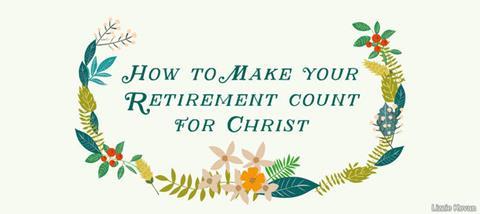 When one lady from my church died recently in her 80s, it came to light that she was heavily involved in nine departments, ranging from prison ministry to kids' work.
She turned up day after day without making a fuss and served wherever she was needed. Her faithful commitment has certainly been missed, as has her infectious laugh and zest for life.
While the secular world sells retirement as a long and well-earned holiday, Christians often find themselves busier than ever when it comes to championing the gospel. A volunteer taskforce of reliable retirees forms the backbone of many local churches. But is this a godly approach to retirement or should we be spending our final years cruising around the Caribbean and playing golf? And what happens if we face illness, financial lack and social exclusion as we get older?
These issues are set to become increasingly poignant as the number of retirees continues to grow. Figures from Age UK reveal that, for the first time ever, there are 11 million people aged 65 or over in the UK, and that there are now more pensioners in the UK than under-16s. The number of centenarians living in the UK was 13,350 in 2012, up 73% compared with 2002 figures.
These high proportions are also reflected in the Church. According to Peter Brierley's 'Generations of Older People' report, those aged over 60 represented 41% of churchgoers in 2010 and Dr Brierley anticipates that this will rise to 77% by 2050. This sounds like good news from a Church perspective, but are we expecting too much of our retirees? And what does the Bible say about retirement?
Age-Old Wisdom
The word 'retire' appears just once in the Bible. In Numbers 8:25-26, the Levites were instructed to step down from regular service in the tabernacle at the age of 50, after 25 years of service. However, this doesn't mean we can hand in our notice at work the minute we hit the big 5-0. The Levites were clearly instructed in this passage to continue to 'assist their brothers'. It is also worth noting that Moses led the Israelites right up until his death, aged 120, and that Methuselah was still fathering children beyond the age of 187. Turning 50 or even 100 is certainly not the end for us as far as the Bible is concerned.
We know that many of the patriarchs continued to work and lead into old age (and that old age really was old age back in those days). The biblical implication appears to be that, while our paid roles may change when we reach retirement, we should continue to play a key part in ministry, particularly in building up and investing in the next generation.
There are plenty of examples of mentor-style relationships in the Bible: think Elijah and Elisha; Moses and Joshua; Naomi and Ruth; and Paul and Timothy. In each of these relationships, the older party offered instruction and advice, carefully undergirding the younger party. So whether we decide to retire early like the Levites or keep working in some capacity into our 90s, part of our role as we age should be to pass on the godly knowledge and wisdom we have acquired over the years.
The Bible often associates grey hair with honour and splendour (Proverbs 16:31; Proverbs 20:29), which means that older members of our communities and churches should be respected. Retirees often feel as though they have been brushed aside by their younger, more energetic, counterparts. Regardless of hair colour, our gifts are just as precious and powerful at 100 as they were at 25. Younger people in churches should be careful not to ostracise older members of the congregation.
We are also reminded in Titus that the honour associated with grey hair carries with it a responsibility. Paul instructs older men to be 'temperate, worthy of respect, self-controlled, and sound in faith, in love and in endurance' (Titus 2:2) and older women to be 'reverent in the way they live, not to be slanderers or addicted to much wine, but to teach what is good' (Titus 2:3). Paul urges older men and women to help, encourage and admonish their younger counterparts; primarily by setting a good example. Just as Fruit becomes ripe for the benefit of those who eat it, so We become ripe for the benefit Of those Around us
Not for wimps
JI Packer makes a simple yet important point about growing older in his book, Finishing Our Course with Joy: Aging with Hope (IVP). 'Aging is not for wimps,' he writes. Getting older can bring up a range of issues, including loss of strength, sight, hearing and mental faculties. Many associate ageing with decline and even decay. However, Packer makes the link between maturity and 'ripeness'. He takes Psalm 92:14 as his inspiration: 'They will still bear fruit in old age, they will stay fresh and green.'
Dictionary definitions of ripe include 'developed to the point of readiness for harvesting and eating'; 'fully matured'; 'rich, intense, or pungent'; 'having arrived at the fitting stage or time for a particular action or purpose'; and 'full of'. You may not wish to be literally 'pungent' during your latter years, but there is certainly purpose and value in reaching a state of ripeness. Just as fruit becomes ripe for the benefit of those who eat it, so we become ripe for the benefit of those around us. However, while physical fruit really only benefits the body of the consumer, spiritual fruit can have a much more profound effect on others.
Take 88-year-old Packer, for example. Describing himself as an 'older old' (85 plus), the Christian theologian is still committed to sharing his insights and his gifts. He has authored and co-authored more books during 'retirement' than he did during his younger years and is still considered one of the most influential evangelists in North America. It's interesting that Packer's book is about finishing the course with 'joy'; one of the fruits of the Spirit. Finishing the course is important, but finishing it in a fruitful way is preferable.
Packer makes it clear that, whatever our age, our 'constant goal' should be to glorify God. He writes: 'The biblical expectation and, indeed, promise of ripeness growing and service of others continuing as we age with God is the substance of the last-lap image of our closing years, in which we finish our course. Runners in a distance race, like jockeys in a horse race, always try to keep something in reserve for a final sprint.
'And my contention is going to be that, so far as our bodily health allows, we should aim to be found running the last lap of the race of our Christian life, as we would say, flat out. The final sprint, so I urge, should be a sprint indeed.'
Packer suggests a three-pronged approach in order to fulfil this mandate. First, living for God one day at a time: carefully planning each day and then reviewing it to assess whether we achieved what we set out to achieve. Second, he urges us to live in the present moment: to practise God's presence on a daily basis rather than wasting time daydreaming or wallowing in regret. Third, we are to live ready to go when Christ comes for us: preparing a will and funeral arrangements in practical terms, but also making sure that we are right with God right up until that final breath.
Five Daring Escapades For Retirees
Jump out of a plane.
Laverne Everett decided to skydive for the first time on her 80th birthday
Write a book.
Gospel writer John is believed to have penned his biblical works in his 90s and retired minister Cyril Grant MBE became the oldest first-time author on record at 94
Climb a mountain.
Moses was climbing mountains right up to his death at the age of 120 (Deuteronomy 34) and Japanese climber Yuichiro Miura is the oldest man to have climbed Mount Everest, doing so at 80
Take up salsa dancing.
Sarah Patricia 'Paddy' Jones, aged 80, holds a Guinness World Record as the 'Oldest Acrobatic Salsa Dancer'
Take a really long walk.
Reg Savill was the oldest person to walk from John O'Groats to Land's End at the age of 74
Ready to Encounter Jesus
While there is no harm in enjoying some additional free time in retirement, this should never be our main aim. Older people can be spiritual parents and grandparents even if they have no children of their own. Simeon and Anna, both of whom appear in Luke 2, continued to serve the Lord faithfully and minister to others in their latter years.
Simeon is described as righteous, devout and reliant on the Holy Spirit (v25). Meanwhile, Anna 'never left the temple but worshipped night and day, fasting and praying' (v37). Not only do these devoted people fit Paul's model in Titus 2, their dedication means that they are in the right place at the right time to encounter Jesus. It is no coincidence that they are there: Simeon has been told by the Holy Spirit that he will see the Messiah and Anna is there all the time, so she couldn't have missed Jesus' arrival if she'd tried.
Perhaps there are some clues here as to how we should live out our retirement: listening attentively to the Holy Spirit, ready and waiting to encounter Jesus at all times. We are never too old (or too young) to serve Christ and, while we may spend 40 years or so in the workplace, living out and sharing our faith is ultimately our life's work. Our main aim should be to 'keep the faith' as we finish the race rather than simply fading into the background or spending our final years playing golf in Acapulco.
Finishing Well
Billy Graham uses similar terminology to Packer when discussing retirement. In a blog he wrote for The Huffington Post's religion section, he says: 'Old age has its challenges and is not for wimps, but God wants us to embrace it as part of his plan for our lives, and to look for the Lord's purpose in every circumstance and in every face or voice we encounter daily.
He adds: 'God doesn't want us to waste our latter years or spend them in superficial, meaningless pursuits. Instead, he wants us to use them in whatever ways we can to influence those who will come after us. He wants us to finish well, and one of the ways we do this is by passing on our values and our faith to those who will follow us.'
Those of us who are not yet at retirement age should make sure that we value the older members of our churches and communities. Some older people may feel excluded and vulnerable, particularly if they are struggling with their health or finances, or if they have no family around them. Look out and pray for elderly people in your congregation, remembering that regardless of what our culture promotes, younger doesn't necessarily mean better. And, as we get older ourselves, it's worth considering whether we are acquiring the wisdom we need to support the generations to come.
Make the most of your retirement
Doug and Sue Barnett have been busy. Since stepping down from pastoring a local church, they have been preaching, teaching and training in the UK and in the Middle East, and are just about to head to Lebanon to work with Syrian refugees there. They have run the Beirut Marathon and prayer-walked the length of Lebanon. Back at home they are active members and home group leaders at Twynham Church for the Community. We asked them the following three questions:
What are the highlights of retirement? The ability to choose what you want to do and can do without the pressure of obeying a job description, and the realisation that this does not have to be a winding-down time, but a time to wind up and explore, experiment, adventure and take a few risks. Also, being more available to spend time with family and seeing the grandchildren grow up.
What are the main responsibilities? Budgeting well and ensuring you can live on a fixed income, and making sure our wills are written and funeral instructions are left. Living in the present rather than continuously flicking through mental photo albums and overindulging in reminiscence. Keeping fit mentally, spiritually and physically, and passing on any transferrable skills that we have to others; not letting our experience and wisdom die with us. We also try to keep a positive outlook on life and Christian service. We may not be able to do what we once did, but there is always something we can do if we look hard enough.
What are the main struggles? Staying abreast of technology and keeping off Facebook and Twitter! Staying fit holistically and staying fresh spiritually. It's easy for us seniors to think that we have seen it all and done it all and that, as a consequence, we know it all. We haven't and we don't.
Further Reading: Finishing Our Course With Joy (IVP)
Veteran theologian and church leader JI Packer elucidates the physical, spiritual and emotional issues of ageing, and how to make the most of a Christ-centred retirement.
You may also enjoy At the End of the Day: Enjoying Life in the Departure Lounge by David Winter and The Radical Disciple by John Stott.