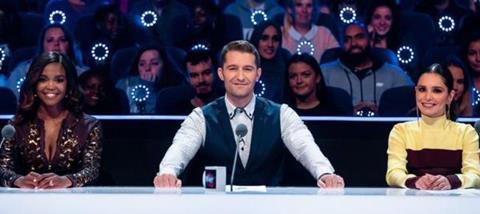 I can remember the feeling of quiet dread. The worship band breaks into a song that requires more participation than simply using my vocal cords. "I will dance, I will sing, to be mad for my king…" so Matt Redman's 'Undignified' goes. This song, which is based on the dancing antics of King David, was a staple of many a Soul Survivor summer during my youth. On the one hand I loved the unbridled enthusiasm of the song (and the conga that sometimes resulted); on the other, the pressure to do some sort of acceptable routine, even a light jump or two, without drawing any kind of attention to myself, was often enough to induce a mild sweat.
These memories have stirred following the arrival of the BBC's latest talent show, The Greatest Dancer. If you've yet to find out what the fuss is all about, dance acts perform in a hipster-looking studio that features a large mirror. Behind the mirror is a studio audience judging the act. If 75% of the watching crowd approve, the mirror opens and the act goes through to the next round.
In the audience are the three Dance Captains: Matthew Morrison, Oti Mabuse and the surname-less Cheryl. They cannot vote (though that doesn't stop them from yelling to others to vote). Once the auditions are over, each Dance Captain will take three acts into the live finals. The best act will win £50,000 and be given the opportunity to perform on the next series of Strictly Come Dancing.
Prime time television and dancing are nothing knew. Strictly continues to pull in the viewers (and controversy). And on top of causing Simon Cowell to experience what worship feels like, Britain's Got Talent also regularly features a variety of dance acts, from ballet to break dancing, with Diversity being its most notable success story.
Dancing Church?
Parts of the Church look to be catching on. The sound of high-energy albums from Hillsong's Young and Free and Bethel's Music Kids, replete with synths and driving beats, are heavily geared towards a dancing culture, as are some of the songs on recent Soul Survivor albums, such as 'Dynamite' and 'The Way'.
Where young people can feel that faith is irrelevant to them, hearing upbeat, funky sounds can be a good way for them to recognise that being a Christian, and going to church, need not be as dull as first thought. When the Church embraces contemporary styles of music, we show the world that although Christianity is based on an ancient, unchanging message, the way we express and communicate our message can (and should) move with the times.
CS Lewis once said, "The most valuable thing the Psalms do for me is express the same delight in God which made David dance." Weddings and parties get people on the dance floor. 'The Macarena' anyone? Uplifting, catchy songs get us dancing around our living rooms when no one is watching. (Or is that just me?) Hearing good news or winning something may even prompt a Happy Dance:
For David it was the ark of the covenant that got him dancing (2 Samuel 6). And it was no typically reserved British dance, a gentle sway to the left and right or a light jump. He danced "with all his might". A few verses later, much to his wife's disgust, we're told he was "leaping". Can we imagine what this dance even looked like? More crucially, what exactly had he experienced, felt, seen, known of God to prompt such a joyous, abandoned act? That David responded in such a manner is a powerful testament to God's goodness. Seeing joyful, creative dance acts on our television screens can be a sweet reminder of this.
"When I'm dancing, I'm free"
Then there is the act itself. I was struck watching one episode of The Greatest Dancer by the reasons given by Cheryl and Matthew Morrison as to why they love dancing. Cheryl said, "When I'm dancing, I'm free." Matthew Morrison added, "Just cutting loose and just getting out of your head, and really just being free."
The Bible tells us, "For freedom Christ has set us free; stand firm therefore, and do not submit again to a yoke of slavery." (Galatians 5:1) Sin, guilt and shame weighs us all down. But in Christ we have been set free from these things. He has taken our place.
If true freedom is found in Christ, and Christ alone, and if dance is this great expression and declaration of freedom, then as Christians we have more reason than anyone to get on the dance floor — even if it's on our own in our home with only the angels for company.
Solomon says in Ecclesiastes 3:4, there is "a time to mourn and a time to dance". If dancing is not our thing, or we're unable to dance, then simply a deeper reflection of dance can be enough usher in a fresh revelation of God and what he has done for us.
Dance acts on shows such as The Greatest Dancer are a testament to the human, God-given ability to create and innovate. They can also be fun, a symbol of how life, for all its trials and tribulations, has its joyful, lighter side. And beyond this they can be a reminder of how dance can be a marvellous expression of the freedom and delight we are all made to find in God through Jesus Christ.
"Take the shackles off my feet so I can dance," as the Mary Mary song goes. Amen to that.
Enjoyed that? Get more articles covering news, culture, faith and apologetics in every print issue of Premier Christianity magazine. Subscribe now!