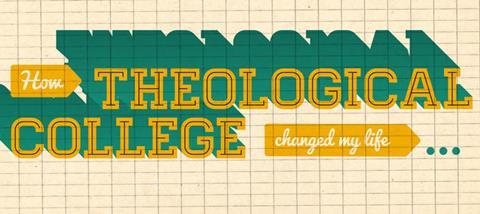 From drug abuse to Christian ministry
Before studying at Moorlands College, my life was very different. From 2009 to 2014 I worked as a professional chef in an extremely high-pressured environment, where drugs, heavy drinking and reckless behaviour were the norm.
Due to a troubled childhood and other contributing factors, I had decided that God just wasn't for me. I never wanted to associate with Christians, let alone be a Christian. However, God had other (and much better) plans, and on the 10 July 2014, my life changed completely. Due to my drug and alcohol use, I was going to end my life, as I had hit rock bottom. The lifestyle I was leading was incredibly damaging and I just could not see a way out of it. But in the darkness, and in a moment of what I would describe as complete lucidity, I called out to God and asked him to save me. And he did.
What followed was a complete and utter transformation. After working my notice, I left the professional catering industry, stopped taking drugs, stopped smoking and drinking excessively and decided to completely dedicate my life to God.
It gave me permission to plunge into the eddies of my faith in new ways
I applied to study on the foundation course at Moorlands College, having had very little church experience. All I had was my testimony and a desire to learn more about our saviour. By God's grace alone I was accepted to study at Moorlands exactly a year after giving my life to Christ.
At college I've learned more about what it means to really serve Jesus and his Church, feeling positively challenged to push myself in preaching, mentoring and evangelism. The support and theological training I receive as a student has been outstanding and is practically equipping me for working in Christian ministry. I'm now a second-year student and above all, my love and passion to spread the Good News of Christ has grown, as I am learning and studying his word in ways I have never before experienced.
I feel honoured to call myself a Moorlands student, and will always praise the Lord for saving my life and giving me this incredibly blessed, new life. The journey ahead is long, but there is no looking back.
Courtney Martin, Moorlands College, Sopley, Dorset
'I found my theological home'
When I first went to study at theological college, I had no idea where it would lead. I had no sense of vocation beyond it – I simply felt it was the next step. In one sense it was an oasis – a place where I could quench my thirst alongside others who were keen to go deeper too. It gave me permission to plunge into the eddies of my faith in new ways.
To study your own faith can be challenging. So much of your identity is bound up with it. One lecturer compared the experience to taking a bicycle apart and putting it back together again after examining and cleaning every part. What came out would be stronger than it was before, but inevitably you experience the stage when all the pieces are all over the place and you cannot imagine how it could ever be a bicycle again!
I found the support of those around me invaluable as I took that journey – friendships that burned deep as we travelled closely together, sharing our concerns and discoveries along the way. These relationships born of shared theological study, the 'God-talk' that took place as we processed what we were learning, transformed my ideas of what friendship could be.
We weren't spoon-fed information but instead given interpretative tools. London Bible College (now London School of Theology) is a non-denominational college, bringing together students of many different backgrounds; not one thread but a tapestry of interpretations within our umbrella of Christian faith. I found this enriching, enabling me to grow in understanding and compassion, finding my own theological 'home' by way of exploration, study and conversation.
I met my husband there, who then went into Baptist ministry, plunging me into a whole new journey – one that I found difficult to define at first. I had to learn how my studies would impact my future and what my role would be. This took a while; initially I felt at a bit of a loss. As it turned out, I found my vocation – as a writer. This became the way I put those interpretative tools to use, exploring with words the truth I profess and reflecting on the God I love.
Sometimes I look back and think: I wish I could do my theology degree as the person I am now – but that is a nonsense, because without that experience, of course, I wouldn't bewho I am now.
Lucy Mills, London School of Theology (LST)
The flexibility of online learning
I enrolled for the online MA with the London School of Theology with a reasonable amount of trepidation. I had only previously studied for a PGCert in theology, and completed my undergraduate degree (in a different subject) before iPhones were invented. I thus had a long list of questions and desires to answer and fulfil as I began to grapple with the central thrust of my MA in 'Integrative' theology, which focused on theological method(s) within the broad conceptual framework of an extended version of the Wesleyan quadrilateral: scripture, reason, tradition, experience and Church in community.
What is theology? How do I approach it? Is scripture the sole, authoritative source of Christian faith and praxis, or do the other elements play a bigger role than we might realise?
Given my broadly independent-evangelical background, steeped in the Pentecostal-charismatic movement, how did I faithfully balance my reliance upon experience with the quadrilateral?
Thankfully, the excellent faculty running the MA programme at LST left plenty of room to engage with this daunting endeavour. I could easily commend the syllabus, lecturers and course leaders, the flexible study modes (I opted for three years part-time), the range of optional modules, the extraordinarily helpful librarian and IT staff, the well-designed virtual learning environment, opportunities to dialogue with staff and fellow students, pastoral support – and much more. However, the most significant aspect was the underlying ethos and heart motivation modelled by LST.
My Master's programme was an innovative, well-structured, academically rigorous postgraduate degree. Yet it also remained anchored within the raison d'être of Christian theology by not losing sight of its central topic of study and object of worship: Jesus Christ and his global mission in and through the Church.
On numerous occasions I had to be reminded that I had a strong sense of calling to academic study, and look back to see how far past the end of my tether I had managed to stray throughout the process of wrestling with God. I didn't leave with any dislocated joints but, like Jacob, I think it's fair to say that I won't ever approach my faith in quite the same away again.
Michael Roca-Terry, London School of Theology
'My childhood wounds were healed'
While I was still in university in the United States I applied to go to Capernwray Bible school. I stated that I wanted to learn and grow more in my faith. While that was partly true, I was also thinking: "What young adult wouldn't take the opportunity to go to another country? What can they teach me that I haven't learned or will learn once I finish university? It will be easy."
I made the decision to leave Capernwray two weeks in. Two nights before I was to leave, I slipped a letter under the school registrar's office. "This is my official letter of withdrawal from Capernwray Bible school. I apologize for the inconvenience in timing, but I feel that this is the best move for the students here at Capernwray and for me..."
After failed attempts to keep me, two staff members drove me to the train station. My plan was working until I received the phone call that changed my life. A ticket attendant from Manchester Airport called me and said that they had a "computer error" and unfortunately they had given my ticket to another customer.
The decision to return and stay at Capernwray Bible school was God's and not mine. At first I tried to make Capernwray a shelter from the struggles and difficulties that I was facing back home. I wanted it to be a place where I could escape from my hurts and pains. When I returned to Capernwray, I was full of hatred and anger, which I directed towards the staff. I refused to take notes, follow directions and do assignments. When the staff saw my stubbornness and resistance they showed me understanding and patience. When they saw my anger and bitterness they showed love and care. When they saw my tears and sadness, they gave me hugs and prayers.
I was expecting Capernwray to be another theology college where they would lecture you about the Bible and teach you how to preach or teach. While Capernwray provided those key principles, it also provided me with something I did not expect; a place of healing from a deep wound left by someone when I was younger. It was a place where I could process and find myself. I was cared for and loved. And, most importantly, Capernwray was a place that provided me with a sense of hope when I thought hope was lost.
Daren Casey, Capernwray Bible school, Lancashire
Not just 'head knowledge'
"Heads, Hearts and Hands!" That is the strapline and a part of the DNA of Regents Theological College, where I did my bachelor's and master's, and certainly reflects my experience.
Studying theology at Regents stretched my mind in an incredible way. Having come from a background of heroin addiction with little schooling and no qualifications, I had significant concerns as to whether or not I would be able to complete a degree in theology.
However, once I began to study the Bible at a more academic level I found that scripture came alive in all sorts of fresh ways. One invaluable aspect of it was being taught to think critically about scripture and to wrestle with it and ask deeper questions of the text, such as: "Who wrote that passage? Who was it written to? Why was it written that way? What is the author's agenda? Why did the Holy Spirit inspire it this way and not that way?" Developing a habit of probing the Bible in this way has given me a means to hear more from God's word and to understand it more holistically.
The great thing about studying theology is that all that head knowledge has a way of running down and soaking into your heart. The more I learned about Jesus' love, the more I was able to experience it. The more I understood about the Holy Spirit's fellowship and availability to the believer, the more I was able to appreciate his presence in my own life.
Finally, studying theology has had a significant influence on what I do. It is hard to learn more about God and to have fresh revelation of him without being motivated to do something about it. We live our lives surrounded by things that are not right. All around us we find evidence of loss, suffering and injustice, but studying theology has helped me to see more clearly the heart of God towards the world's brokenness. Not only that, but by learning biblical lessons about leadership, servanthood and ministry, I have found that my hands have not only been motivated to serve, but equipped to do so. I am better prepared to serve Jesus at a higher capacity and more confident in my ability to step up to his call on my life because I know he has invested in me and has made me a bigger person through theological education.
Andy Paterson, Regents Theological College, Malvern, Worcestershire
Finding intellectual and spiritual fulfilment
I arrived at the Nazarene Theological College not quite knowing what to expect. I had not come from a church background, and had little to no understanding of theology as a spiritual exercise or an academic discipline. I had preconceptions of what a theology student looked like, and I did not fit the bill. However, my first few weeks in this strange environment convinced me that theology was not an exclusive endeavour for the cultured churchgoer; it was for anybody who wanted to wrestle and reflect on who God is.
Anselm of Canterbury coined the phrase Fides Quaerens Intellectum(Faith Seeking Understanding) when engaging in theological investigations. In a way, I had the concept the wrong way around. I had been an atheist a little over 18 months before arriving at theological college, and so a preoccupation with rationale (so-called) and scientific, empirical investigation was primary in my wrestling with theological questions. I couldn't negate the way my mind worked – more simply, I couldn't switch off my brain to open up my eyes to God. This is the great challenge of theological college; to engage in the academic discipline, holding fast to the relative simplicity of the gospel message, and remaining open and attentive to God's presence in your life.
I have continued on to an MA in theology, and still enjoy the challenges it brings. Studying theology allows students to experience both intellectual and spiritual fulfilment; something which many academic disciplines cannot do. Theology is not a dry exercise in conjecture – the answers really do matter. They matter to the Christian in their quest for more knowledge of God and provide the apparatus for communicating the gospel to others.
Studying theology changed my life completely. I wasn't quite sure of my intentions when I first applied. I have a background of alcohol and drug addiction and, initially, study provided a release from my circumstances. However, I believe God placed a love for theology within me. It has exposed me to great people of faith who wrestled with the very same questions, albeit in entirely different contexts. It has not only provided me with the intellectual apparatus to ask questions and form opinions – it has also given me an opportunity to gain a degree and a hope for a future in education that I never thought possible before.
Jordan Bruen, Nazarene Theological College, Manchester
Preparation for multicultural ministry
I grew up in a Baptist church on a council estate in Hartlepool. My American youth pastor had a big impact on my life and when he left, I became a youth leader and carried responsibility for ministry in the wider church.
At 23 years old I went to train for ministry at Spurgeon's College in south London.
Coming from the north-east of England I thought I'd travelled a long way, but when I looked at my fellow students I realised I was surrounded by people who had travelled great distances to be there. That completely blew my mind: the different nationalities and the diversity of it all. I met two students who both became my closest friends, one from Trinidad, and the other Nigerian-British. As we prepared for church ministry we began to dream about what a truly multicultural church would look like. The vision scripture gives us of a worshipping community of people of every nation, tribe and tongue resonated deeply with us.
We began to dream about what a truly multicultural church would look like
Living in a diverse college community I also had my own cultural bridge to cross. A comment by one particular tutor expressed surprise for how well I had done in the first-year examinations. My marks were consistent with my course work so I could only put the tutor's surprise down to my accent and turn of phrase – the dominant celebrities from the north-east of England at that time were actor/singer Jimmy Nail and footballer Paul Gascoigne, neither of which were known for their intellectual acumen. I discovered that people from the south of England had their own ideas and prejudices about people from the north.
Various encounters during those years challenged and inspired me in equal measure. In my student placement I was asked to conduct a funeral for an African family. The coffin was to be open in the church for the mourners to pay their last respects, which I was nervous about. I had never seen a deceased person before – how would I react or feel at that moment? It was fine, of course, and I came to see and appreciate the customs and traditions of those around me.
As I moved on to a pastorate in Tottenham, north London, I studied for a masters' degree in cross-cultural mission at All Nations Christian College and then returned to Spurgeon's to do a qualitative research project on multicultural church under their Doctor of Ministry programme.
Cities are by nature multicultural environments, and by now I was convinced that with over half of the people in the world living in cities, mission and ministry in multicultural communities was the most important challenge facing the Church at the beginning of the 21st century.
Rev Dr Malcolm Patten, Spurgeon's College, south London and All Nations Christian College, Ware, Hertfordshire.
Click here for a free sample copy of Premier Christianity magazine