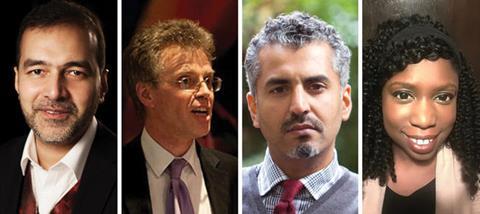 Three months ago the UK watched in horror as Khalid Masood mowed down pedestrians on Westminster Bridge before stabbing PC Keith Palmer outside the Houses of Parliament. Few could predict that just eight weeks later another more deadly attack would take place. When Salman Abedi walked into the foyer of Manchester arena on 22nd May and detonated a home-made bomb, he killed 22 people and injured more than 100 others, the worst attack on British soil since the London 7/7 bombings. The victims – many of them children – were fans of pop sensation Ariana Grande, who had just finished playing at the venue. There were messages of support from around the world as Manchester pledged to stand united in the face of terror. But tragedy was piled on tragedy as twelve days later three terrorists ran over pedestrians on London Bridge, before charging into Borough market and stabbing revellers in busy pubs and bars. In the aftermath of the attacks, Christian leaders led vigils and politicians vowed the country would not be defeated. The emergency services were widely applauded, as was Ariana Grande for her decision to host a benefit concert for the victims of the Manchester bombing. But with 36 people dead and close to 200 injured from terror attacks on UK soil in recent months, both the initial grief and determination to "not let the terrorists win" must be met by practical questions. How could this have happened? Who is responsible? And most importantly – what can we do to stop future attacks? The following four experts – two Christians and two Muslims – have each spent years thinking about issues related to terrorism and religion. Here, they offer a combination of theological and political analysis on the best way forward.
The Islamic scholar
Muhammad Al-Hussaini, senior fellow in Islamic Studies at the Westminster Institute abhors the violence which is committed in the name of his religion. But he's also clear that a violent tradition does exist within Islam and should not be ignored.
In taking aim at the "liberal media", Al-Hussaini says there's often a "refusal to engage the theology" of Islamic extremists. "The reality is for the last 1,400 years Islam has spilt a lot of Islamic extremists.
"The reality is for the last 1,400 years Islam has spilt a lot of blood," he says. "But there's an unwillingness to accept theology has any role to play at all in things we've seen in London and Manchester. "The suicide bomber in Manchester was a pious believer who sacrificially laid down his life for a cause in which he believed. He believed he was serving God's purpose in doing so. So to simply dismiss the acts of terrorists as pure criminality is simply not true. Jihadist ideology is extremely well thought through and it's an entirely valid interpretation of a religious tradition. "You might call them 'appalling' interpretations or 'shocking' interpretations but they are also valid interpretations." For Al-Hussaini, the first step to combating terror is recognising the religious ideology which he believes drives it. He says Jews and Christians have acknowledged the violent passages in the Torah and Bible are "of their time and culture and do not apply now". But he says that process has not yet fully happened inside Islam.
Al-Hussaini even believes some Muslim organisations have been complicit in "deliberately obscuring the theological side of the debate". And they've been aided by the Church of England, he claims.
"Part of the reason we aren't able to have a free and honest conversation about religion gone wrong is the inter-faith industry which is overwhelmingly led by the Church of England. The CofE has a lot to answer for. It's nurtured an interfaith industry which exists to promote good relations between people of different religions which is all very fine and good but…they've promoted to positions of power and influence unelected Muslim leaders who then purport to speak on my behalf. These Muslim leaders turn out to be speaking out of both sides of their mouth. On the one side they have photo calls with the Archbishop of Canterbury. But on the other hand they have connections to Islamist groups overseas. Their whole public profile is to say 'this has nothing to do with Islam, nothing to do with theology or religion'. This is a staggering falsehood – it's simply not true."
The inter-faith worker
Julian Bond was director of the Christian-Muslim forum from 200615. While Bond acknowledges some passages from the Qur'an are used to justify violence, he says these are "hijackings and distortions" of a "peaceful religion".
Explaining that extremists can use any religion as an excuse for their violent actions, he says: "In America you have people with rifles who claim to be Christians who shoot abortion doctors. People have a religious aspect to themselves. They find violent aspects in their scriptures and they follow that rather than the core of the religion.
"The Qu'ran is very clear in saying do not be extreme. Mohammed's followers are not to be extreme," he says.
Bond now works for the Methodist Church's grants team helping to resource projects which lift people out of poverty. He says socio-economic factors have had a "huge impact" on British Muslim communities and points to last year's Casey review on integration. According to the report, "where communities live separately, with fewer interactions between people from different backgrounds, mistrust, anxiety and prejudice grow".
Jihadist ideology is extremely well thought through
At a time when society is becoming increasingly fragmented and concerns are growing about integration, Bond says Christians need to take a lead in building bridges with their Muslim neighbours. He's optimistic about the inter-faith work already underway and cites 'The Big Iftar' as one positive example (the event sees Muslims invite others to join in eating with them, thereby breaking the fast at the end of each day of Ramadan. The Archbishop of Canterbury Justin Welby is one of many Christian leaders who has taken part). Bond also believes a change in foreign policy is needed. "One of the things leaders in the West could do is work for peace and be very careful about intervening in other countries. We could be looking for a different kind of leadership in this country where our politicians talk about peace and where war really is a last resort and we don't support foreign dictators." To those who believe the West is at war with Islam, Bond has a clear message: "It's not Islam. It's not a war. These are acts of terrorism by terrorists. Some of them do like to wrap it up with religious language and they think it gives them justification. But when you look into the religion, it doesn't. The religion has other messages about turning to God, repentance and forgiveness."
The anti-extremism expert
As a former Islamist and now founder of the world's first counter-extremism think tank 'Quilliam', Maajid Nawaz has a unique perspective. The former anti-extremism advisor to David Cameron has also held positions where he's able to influence government policy.
Speaking recently on his LBC radio show, Nawaz suggested four ways to combat the Islamist ideology he used to subscribe to: "First off we need to be very clear here to name and shame the Islamist ideology.
"Islamist extremism is very different to Islamic. 'Islamic' is a value judgement. It means something is endorsed by Islam, whereas 'Islamism' is a political ideology that seeks to impose any version of Islam over society. Islamism's violent manifestation is jihadism.
"Point two. We must protect the government's counter-extremism strategy known as Prevent. Any politician who calls for the scrapping of Prevent in this climate does not understand the risk that this country faces.
"Third. To implement the Prevent strategy properly, what we need is a counter-extremism coordinator to coordinate between all government departments. It's been over a decade since the 7/7 attacks and the government, the Conservatives, have simply not appointed a counterextremism coordinator.
"Fourth, these Jihadists are attacking us because they despise our freedom, our democracy, our human rights, our secularism, our pluralism, our respect for difference. That means we must jealously guard and preserve our way of life…because that is the best way to fight these terrorists.
"Democracy and secularism is our best revenge. Freedom and democracy and pluralism and tolerance is the way in which we fight back, because that's the very thing they want to undermine."
Nawaz is not without his critics – The New York Times observed: "Attack pieces about Nawaz have practically become their own literary genre" and Quilliam have drawn similar denigration (they're often accused of ignoring the impact of the UK's foreign policy).
The evangelist
Sarah Foster is a speaker for Pfander – an organisation which uses Christian apologetics and polemics to share the gospel with Muslims.
When asked what the ultimate answer is to the terrorism that's hit the UK, Foster responds: "Jesus is the answer. I know that's the standard response, but it's true!
"I don't know if [terrorism] will ever be stopped completely," she continues, "but what we can do is go out, speak and share the gospel. We can be absolutely clear that the Islamic God has absolutely nothing to do with the God of the Bible. We can be absolutely clear of the distinctions between Islam and Christianity and help people understand not all religions are the same."
The Islamic god has absolutely nothing to do with the god of the Bible
Pfander's evangelists have considerable experience when it comes to arguing with hardline Islamic extremists. Their founder, Jay Smith has debated Anjem Choudary, who was sentenced to five years in prison for supporting ISIS. Pfander take the view that the violent jihad espoused by radicals is an inevitable outworking of the Qu'ran and early Islamic sources which say Mohammed killed people and kept slaves. As Sarah states, "It's interesting how Al-Azhar - the number one university in the Islamic world - would concede ISIS are terrorists, but they can't say they're heretical."
Regardless of whether Christians are talking to hardline or liberal Muslims, Foster believes we shouldn't be afraid to "challenge falsehoods". "With our Muslim friends we need to be sharing the gospel and praying for opportunities. Pray for wisdom and that the Holy Spirit would give us the words. We need to be bold to go out and speak. We need to live authentic Christian lives and be a witness to the Lord Jesus Christ."