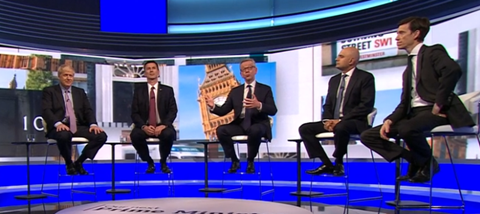 Within the next month or so, we will have a new prime minister. Now is a good moment to examine where the five remaining contenders stand on Christianity and to ask whether any of them openly identify as Christian.
Let's throw in an obvious caveat first. I'm not attempting to make a definitive statement about whether any of the candidates are genuine Christians. Only God knows their hearts. I also think we need to avoid unnecessary cynicism about any positive comments the candidates might have made about faith.
What I am doing here, is seeking to reflect what the candidates have said about themselves. Each of us are free to draw our own conclusions from there. So let's begin with the front-runner:
Boris Johnson
Does Boris 'do God'?
It seems not.
The former foreign secretary has described himself as a 'social liberal'. He also told the Daily Telegraph in 2015 that while he thinks a lot about religion, he does not attend church on a regular basis. In fact, he admitted it would be "pretentious" to refer to him as a serious Christian.
Boris was the first to compare his faith to the dodgy radio reception of Magic FM in the Chilterns (David Cameron later said the same).
While he may not call himself a Christian, Boris is not afraid to borrow biblical language. He infamously used the example of Moses, giving Pharaoh God's edict "let my people go" to urge Theresa May to stand up to Brussels. He has also led a colourful personal life and is reported to have called the idea of a man being loyal to one woman "unreasonable".
Michael Gove
The former education secretary has been very open about his Christian faith.
Last year, in a lecture for the think tank Theos, Mr Gove said: "I speak as a Christian, convinced that the moral teachings of the Christian Church, the example of Christ's life and Christian theology all help us in reflecting on the responsibilities we all have to others."
He went on to reflect on how Christianity shapes his views about the environment and the importance of being a good steward of the earth. Mr Gove has form here. When he was Justice Secretary, he spoke from the despatch box about the power of redemption and how Christianity's emphasis on reconciliation and forgiveness shaped his approach as the man responsible for the prison structures. He has also said that being a Christian makes him more aware of his own frailty and weakness.
Jeremy Hunt
The foreign secretary has gained respect from many within the Christian community for the commitment he has shown to addressing the persecution of Christians across the globe. He has ordered a report to be written on the issue and has spoken of his horror at the sheer scale of Christians suffering.
He recently said: "As a man of faith, free to practice in line with my conscience I am appalled at the plight of the 245 million Christians worldwide currently facing persecution as a result of their faith." This would suggest Mr Hunt sees himself as a Christian, although finding more explicit statements has proved difficult. He has also praised the 'incredible courage' of Brother Andrew at an Open Doors event in January.
Sajid Javid
Mr Javid is from a Muslim background but is not a practicing Muslim. He is also married to a Christian and has been for 18 years.
He is very aware of the UK's Christian heritage. When he was communities secretary, he used a speech to urge families immigrating to the UK to respect the country's dominant Christian culture. He also acknowledged that reverence towards Christianity is sometimes lacking.
Mr Javid is known to be a committed family man, who guards time at home with his wife and four children very carefully.
Rory Stewart
Rory Stewart is another politician who has openly spoken about his Christian faith. He has described it as "the most wonderful cornerstone in my life."
Last year he was interviewed by HTB's Nicky Gumbel about his work as prisons minister. He used the interview as an opportunity to talk about the Christian virtue of hope and how it provided backbone for prison reform: "It is the fundamental insight that each one of us is the unique inheritor of God and that none of us can be distinguished - that underlies the project of rehabilitation, underlies the fundamental concept that lives matter and that lives can be changed, that people can be forgiven." When asked what the key was to bring the country back together, Mr Stewart referenced another key Christian virtue of love.
How to pray
Tony Blair didn't 'do God' although became a Catholic after leaving office. David Cameron said his faith was a bit patchy, but in later years became more openly 'evangelical', arguing the UK should not be embarrassed by its Christian heritage. Theresa May is openly Christian, photographed every week leaving her parish church. So it will be quite a contrast if Mr Johnson becomes PM. Personally, I think it is a good thing Boris knows he's not a Christian, which is far better than living in delusion. Whatever your personal views, we must pray for whoever our next PM, is that God would give them wisdom, strength and courage. And in the spirit of 1 Timothy 2:4, we can pray they will be truly saved as well.
James Mildred is Communications Manager for Christian Action Research and Education (CARE) and he also co-hosts the Holy Political Podcast.
Enjoyed that? Get more articles covering news, culture, faith and apologetics in every print issue of Premier Christianity magazine. Subscribe now