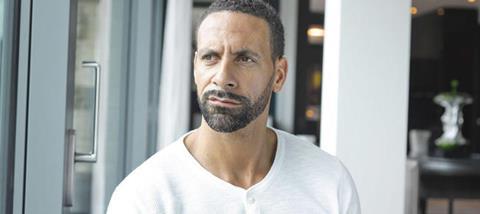 With more public figures speaking out about their mental health in the aftermath of loss, things look set to change. Could our British culture finally be learning how to grieve?
Last month the former England football captain Rio Ferdinand hosted a BBC One documentary, Being Mum and Dad. Ferdinand's wife, Rebecca Ellison died of breast cancer in 2015. She'd spent years in remission, but because of the aggressive nature of the disease passed away within ten weeks of her cancer returning. The abruptness of her diagnosis, hospitalisation and death made it all the more difficult for her family to deal with the loss.
Although Ferdinand wasn't socially isolated or financially vulnerable, he still experienced the tumultuous range of emotions that grief brings. During the hour-long documentary he described feeling betrayed, angry and in denial in the wake of Rebecca's death. Ferdinand hadn't felt suicidal but he had gained a new empathy with those who contemplate ending their lives.
The footballer's coping mechanism has been to throw himself into his work. His diary was already full when Rebecca died and he made no effort to clear it. "I don't sit and dwell, being busy helps with that," he says. His approach is a common one, and it is certainly not just a product of modern living. The 17thcentury philosopher Blaise Pascal wrote, "Being unable to cure death, wretchedness and ignorance, men have decided, in order to be happy, not to think about such things." In his Pensées he described what he calls "diversion" and gives the example of a grieving man who plays the sport of hunting in order to divert his attention away from his grief.
Ferdinand's reluctance to stop and contemplate his situation is a perfect example of Pascal's theory. Ferdinand is not alone in his unwillingness to meet with a counsellor; men in the UK are half as likely as women to seek help through counselling.
Enabling men to articulate grief
Western society does not afford men the social space to discuss emotions. Where female friendship groups naturally enable discussion, the same cannot be said of all male friendships. Traditionally, men have not been invited to verbalise their grief. With no role models for what grieving could look like, the British stiff upper lip prevailed. With their grief left festering inside, it's no surprise that men in the UK are nearly four times more likely to kill themselves than women. Suicide has now become the biggest cause of death for men under 45.
Society does not afford men the social space to discuss emotions
Having witnessed the lack of space for men to articulate their feelings, Ben Brooks-Dutton decided to create 'The Gentleman's Room' – a group for young widowers to meet and share their experiences. Ben explains: "How are you meant to grieve like a man when you don't know even what it is to grieve?" In the documentary, Ferdinand met some of the men from 'The Gentleman's Room'. Over lunch they played what one member described as "the s*****t game of Top Trumps ever" as they shared their stories of loss.
What could the Church learn from the Jewish approach to grief?
The tradition of observing a period known as shiva – the seven days following burial – is embraced in Judaism, with its roots lying in the scriptural emphasis of not feasting during times of loss. In Hebrew, shiva literally means 'seven'. During this time, the close family all stay in the 'shiva house'. For the first three days people visit, but no one tries to comfort the mourners as a recognition that the wound is too fresh to receive comfort. The family do not leave the shiva house to avoid having to put on a public face. Instead, prayers are said at home. How often do we applaud those who are putting on a brave face and appear to be dealing with their loss? What if the Church encouraged mourners to take the time to properly mourn, free from
distraction, even if that meant a minister coming and bringing church to them? On the last day of shiva the mourners leave their home for the first time. This is often just a short walk around the block because this ending is a slow process. Most Jews continue for another 23 days of mourning where they go back to work but avoid other social events. This may seem too rule-driven for most Christians, but Jews feel as though they benefit from the structure. As Rio Ferdinand found, our society doesn't give us any examples for healthy mourning patterns. Perhaps the Church can set an example by praying for the bereaved and allowing them the space to begin to move on, while respecting that everyone goes at a different pace.
The changing tide
In recent years there has been an increase in discussion around mental health, which has led to public figures speaking more openly about the effect grief has had on them.
The Archbishop of Canterbury, Justin Welby, has shared about the darkness that followed the death of his 7-month-old daughter, Johanna, who died in a car crash in 1983. The rapper Professor Green has spoken about his father's suicide and his own battle with depression. Britain's Got Talent judge Amanda Holden described the aftermath of giving birth to her stillborn son Theo in 2011. She told Good Housekeeping: "Chris and I were very private and we grieved at night. We went to bed and we talked and talked. Chris never cried. I did all the crying."
Emotions around grief that were once taboo are now becoming more acceptable topics of conversation. Some identify the death of Diana, Princess of Wales as the moment when the British stiff upper lip collectively trembled. The news of her death in a car crash in Paris led to a national outpouring of grief. While the broadcaster Andrew Marr says that Diana's death caused a "perceived shift towards a more compassionate… Britain" which has enabled a more open approach to mourning, psychiatrist Dr Persaud believes a shift has been taking place since the 1960s, when the Western world became more extroverted. "Extrovert people are more open about their emotions. We are becoming more open, but Princess Diana would not have been the cause of that."
Whatever the effect of Diana's death, her sons, princes William and Harry, have used their public positions to talk about a very private grief. Prince Harry has admitted that he buried his emotions after losing his mother. During his recent visit to a bereavement centre, Prince William sat with families who had experienced loss. The Prince told a child there how he had felt "very angry" about his mother's death and found it very difficult to talk about it.
There's an increased emphasis on allowing children the space to verbalise their grief. But this change requires adults to be prepared to express their emotions too. Dr Katie Koehler of Child Bereavement UK says, "Children look at adults around them and they will mirror the existing parent's behaviour."
There is now a greater recognition of a child's need to talk about their loss. Fortunately the days are gone where a child would lose their parent but have very little example or vocabulary to express their grief. We're Going On A Bear Hunt (Walker) author, Michael Rosen, speaks to primary school-aged children about the grief he felt when his son died, leading him to write Michael Rosen's Sad Book (Walker), which has proved to be a useful resource for families experiencing loss.
Learning to lament
At its best, the Christian community can be a place where those who are grieving are welcomed. The Catholic Church in England and Wales has repackaged the medieval manuscript Ars Moriendi (The Art of Dying) in a 21st-century manner. Their website artofdyingwell.org helps those affected by terminal illness to deal with death. This, paired with a re-emphasis on Ash Wednesday, is a good way for churches to use their position to support those experiencing grief.
The Bible does not skirt around the issue of grief
There's a risk that some established churches might mistake the suppression of emotions caused by grief for dignity. When this happens, the Church becomes a place where sorrow is unwelcome. This error is particularly prevalent in congregations that are wary of more 'emotional' denominations.
But with entire books dedicated to lament and a third of Psalms written in that theme, the Bible does not skirt around the issue of grief. Christians are called to "rejoice with those who rejoice" and "mourn with those who mourn" (Romans 12:15). We are assured that because of Jesus' humanity he knows what it is to lose a loved one. In John 11 we read of Jesus' reaction to the death of his friend Lazarus. His tears led those around him to say, "See how he loved him!" The fact that Jesus experienced grief shows us that it's a natural part of the human experience.
The Church offers a new perspective on grief. Our knowledge of Christ's victory over death changes how we mourn. As Paul wrote to the Thessalonians: "Brothers and sisters, we do not want you to be uninformed about those who sleep in death, so that you do not grieve like the rest of mankind, who have no hope" (4:13).
This is what the Church has to offer: Grief, but a grief that contains hope. A hope to widowers such as Rio Ferdinand that they do not need to fear their emotions, because Jesus himself was "a man of sorrows, acquainted with deepest grief" (Isaiah 53:3 NLT). He has walked our path of pain and loss. Yet our hope stands sure, for he also gone ahead of us and conquered the grave.