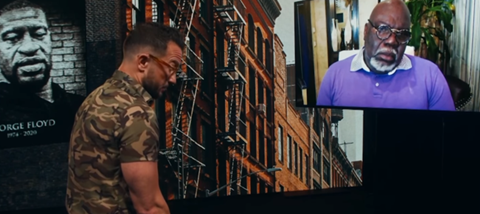 This article by Ben Lindsay, written for Premier Christianity last summer, dismantles common misconceptions about racism in the UK Church, including why a push for diverse congregations isn't enough. Ben's book We Need To Talk About Race (SPCK) is also available now.
Although written from a US perspective, this book goes a long way in helping white Christians understand the unique pressures and prejudices faced by many BAME people. The book was released through a Christian publisher in 2018, but was just added to Reese Witherspoon's bookclub, demonstrating how both Austin and her book are reaching many people beyond the walls of the Church.
An increasing number of churches across the UK are hosting new conversations on race. This video from Kings Church London is one example.
Mike White serves as The Senior Pastor of The Tab Church a thriving, trans generational and multicultural church in the south east of London. Every Wednesday evening, he's bringing together other leaders on Zoom to talk about current events. More videos are available on The Tab's YouTube channel.
Presented by Professor Robert Beckford, this documentary highlights how black communities are disproportionately effected by Covid-19 and considers the response of the Pentecostal church to the pandemic.
This BBC Radio 4 documentary is hosted by Chine McDonald, who will also be writing next month's cover story for Premier Christianity on racism (subscribe here). Other contributors to this discussion include Rev Broderick Greer in the US and Dr Robert Beckford in the UK.
In this frank and honest exchange The Potter House's Bishop TD Jakes tells Hillsong's Carl Lentz about his own experiences with racism, and why it's so important for church leaders of all backgrounds and denominations to speak up.