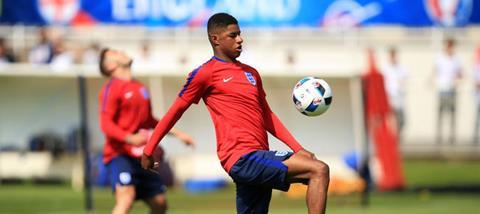 As the countdown to Euro 2016 looms every closer, fans from across Europe are full of expectation.
England's final squad list for the competition has certainly ruffled a few feathers amongst football fans, especially with some surprise drafts into the squad and some bizarre exclusions from it. One name that springs to mind is that of inexperienced 18-year-old Manchester United striker, Marcus Rashford. The youngster made his debut for the Red Devils earlier this season and has gone on to produce some magnificent performances for the Red Devils faithful, but does he merit a place in the England squad at such a tender age?
We're seeing more and more players being thrown in at the deep end from a younger age. As England are demonstrating at this year's Euros, if you're good enough, you're old enough.
England boss, Roy Hodgson has placed his faith in a very youthful side this summer. Marcus Rashford (18), Dele Alli (20), John Stones (21), Raheem Sterling, (21), Harry Kane (22) Eric Dier (22) and Ross Barkley (22) have all been selected in spite of their age and lack of experience at an international level.
Hodgson has evidently been impressed by all of these fledgling players who have shown signs of potential; so much so that he is ready to unearth their talent in one of the biggest international tournaments. The question is, are they ready to deliver?
Sometimes we can take a look at young players and immediately label them as 'not ready' simply because of their age. Remember when Alan Hansen said this about a youthful Manchester United side under Sir Alex Ferguson? 'You can't win anything with kids!' And we all know what that Manchester United side went on to achieve, don't we!
In the Bible, there are a number of instances when God uses young people to do his work, even though they didn't think they were ready because of their age.
Look at Samuel - some people say that he was around the age of 13 when God first spoke to him. Samuel was laying down in the temple, sleeping when God called him. Still young in his faith, Samuel did not recognise God's voice and so he went to his master Eli instead. God called Samuel three times before he answered, 'Speak, LORD, for Your servant is listening.' Samuel's credibility as a prophet spread throughout Israel, and God went on to reveal his word to his people through Samuel.
God chooses us, despite our age, despite our inexperience and frailties
What about David? We all know the David vs Goliath story. But reflect on the fact that David was simply a shepherd boy and suddenly he finds himself at the forefront of battle, taking on this colossal, vicious, giant soldier called Goliath. God didn't have to use him. He could have easily chosen a soldier with age and experience. But he didn't, he chose to use the young, inexperienced figure of David.
1 Timothy 4:12 puts it like this - 'Let no one despise you for your youth, but set the believers an example in speech, in conduct, in love, in faith, in purity.'
The fact is, we are never fully ready. Whether we are 18 or 80, we will still feel incapable at times of completing the task ahead. But God chooses us, despite our age, despite our inexperience and frailties. Just look at the disciples - they were all in their late teens when Jesus called them.
So the next time you see a youngster put in the limelight, maybe back them and encourage them, because it's more than likely that someone has put their faith in them, and maybe you should too.
Ollie Baines (@Ollie_Bainzy) is the co-founder of Cross The Line (xtheline.co.uk) a faith and football organisation that looks to share the Gospel. His first book Cross The Line: Christian footballers talk God, faith and the beautiful game will be released in July.
Click here to request a free copy of Premier Christianity magazine