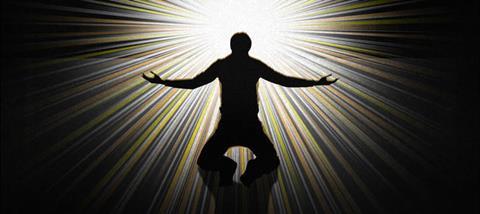 In his sermon, 'Your God versus the God of the Bible', reformed Baptist minister Rolfe Barnard (1904-69) stated that most people "use God as a milk cow" – for what they can get without regard for who he is. This problem is evident in much of the Church today. We want more from God, but we don't necessarily want more of God.
There is a very fine line between wanting more of God and wanting more from God
Wanting more from God is to use him to accomplish your goals; wanting more of God is to desire him for who he is in himself.
Wanting more from God places the focus on yourself; wanting more of God means getting to know who he is.
Wanting more from God is to dignify your agenda; wanting more of God is to dignify his will.
The crucial question
I remember querying the wisdom of an old friend a number of years ago for going to to be prayed for at a church where the Toronto Blessing (as it was called) was beginning to flourish. His kind reply put me in my place: "I want all of God I can get." I never forgot that. I thought to myself: a desire like that cannot be wrong. I began to ask myself whether I wanted more of God so much that I would be willing to swallow my pride and go wherever I might get more of God.
AW Tozer (1897-1963) said that we can have as much of God as we want! I have pondered that statement for many years. Can we really have as much of God as we want? Or is not the most important question: what does God himself want for us?
We must esteem knowing God more than we desire personal glory
Does he want us to have more of him or does he actually encourage us to request more things from him?
The question comes down to this: why has God revealed himself to us? It is of course primarily to save us and assure us that we will go to heaven when we die, but there is more. Every Christian is called to come into their inheritance. Some do, some don't. Whether we come into our inheritance can be put in terms of whether we want more of God or more from God.
Assurance of salvation is the foundation for getting to know God. Being on that foundation means we can then build a superstructure. Our reward at the "judgment seat of Christ" (2 Corinthians 5:10) will be determined by the quality of our superstructure. Paul uses metaphors to show that the quality of one's superstructure is comprised of gold, silver, precious stones, wood, hay, straw (1 Corinthians 3:12). The superstructure that is comprised of gold, silver and precious stones – which survives the fire of judgement – is determined by whether we want more of God. The superstructure made of wood, hay and straw comes by merely wanting more from God.
'Name it and claim it'
God wants us to want more of him. There are those who teach that God exists for us mainly to use him. Such teaching is highly appealing as it speaks to our fleshly nature. Sadly, many good people are consequently never taught to consider the possibility that God has revealed himself to us in order that we might know him as he is – apart from doing things for us.
A few years ago, my wife Louise and I considered moving to a new home. We found a lovely apartment, but there were obstacles. A wellmeaning Christian lady insisted that we go to the building and pray. "If you want this apartment you can have it. Claim it as yours in the name of the Lord," she said confidently. I was not comfortable with this line of thinking but, partly wanting to please this sincere lady and partly hoping that perhaps I was being stubborn and missing something that her theology offered us, we went to the ground floor of the building. She prayed and we prayed with her, claiming the promise "if two of you on earth agree about anything they ask for, it will be done for them by my Father in heaven" (Matthew 18:19). It turned out that someone else got this beautiful apartment a day or so later and we gave up our wish to move for the time being.
God has an opinion on everything...the trouble is, we don't always want his opinion
This highly intelligent lady, who was well-taught and greatly admired by her pastor, was rather typical of those who hold to a "name it and claim it" or "believe it and receive it" theology. The sort of teaching that she espoused suggests you can have almost anything you want from God. Name it – a better job, new car, healing. Then claim it – believe it is yours and you will get it. Some people travel for many miles to attend annual conferences to hear this teaching expounded, based on selected scriptures. A lot of pastors have made this their central focus. It comes down often to money and material possessions. God wants you to have these things, say these preachers. Some of these men and women see this perspective in almost every verse in the Bible, some even claiming that it is mainly why Jesus died for us.
What's in it for God?
The 'What's in it for me?' age has become the warp and weft of many in the Church today. The question: "What's in it for God?" hardly ever comes up. People don't seem to care.
When God gave the Ten Commandments to the children of Israel on Mount Sinai 3,400 years ago he identified himself as a "jealous" God. You belong to him and he loves you with a jealous care. This also means he wants his will for us to be respected, honoured, obeyed and accomplished in our lives. God loves every person as though there were no one else to love, said St Augustine. He has plans for each of us as if there were no one else he has plans for.
God has an opinion; on everything! Ponder that for a moment. The trouble is, we don't always want his opinion. We are afraid it might be different from ours! True wisdom is to get God's opinion – and follow it to the hilt. The root word for the Greek doxa – "glory" – means opinion. God's jealousy is also his glory. Glory is the sum total of all his attributes. His glory is his opinion. According to Paul, we are "predestined according to the plan of him who works out everything in conformity with the purpose of his will…for the praise of his glory" (Ephesians 1:11-12, my emphasis).
It is not our task to change God's will; it is our mandate to find out what his will is
God wants us to know him. According to Jesus, eternal life is knowing God. He said to his father – who is also our father: "Now this is eternal life: that they may know you, the only true God, and Jesus Christ, whom you have sent" (John 17:3). Some think God mainly wants us to use him. There is a place for this, but it must follow getting to know God. We must first get acquainted with the God of the Bible and esteem knowing him more than we desire riches and personal glory. Those who are introduced to God on the basis that he wants us mainly to use him in order to get what we want bypass the heart of God and are incalculably impoverished.
God's will
Getting to know God is to affirm him for being just as he is, including that he is a jealous God. So when we pray for more of God, we gladly accept him as he is. This invariably means accepting not only his word and his ways but also his will. "Therefore do not be foolish, but understand what the Lord's will is" (Ephesians 5:17). Essential to knowing the God of the Bible is to embrace the fact that he has a will of his own. It is not our task to change his will; it is our mandate to find out what his will is. Those who approach God mainly to change his will – even if they don't mean to – show disrespect for his sovereignty. They want to change his will because they assume they have a better idea than God has.
God has a will of his own for each of us. He has a plan. He is not looking to us for input. His will is revealed in his word – the Holy Scriptures. What he has in mind is infinitely better than anything we can come up with. You cannot improve on what he already has in mind. "For the Lord God is a sun and shield; the Lord bestows favour and honour; no good thing does he withhold from those whose way of life is blameless" (Psalm 84:11). God only wants what is best for us. We are fools if we try to 'better' what God has in mind.
Enjoyed that? Get more articles covering news, culture, faith and apologetics in every print issue of Premier Christianity magazine. Subscribe now