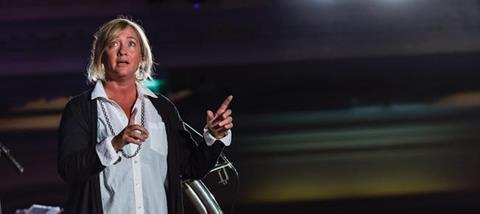 Why would a pastor close a thriving church? Many have asked Christy Wimber this question. In fact, she received numerous requests from other pastors to take on Yorba Linda Vineyard in California, the church she led for over ten years. She turned down the offers. "It wouldn't be fair on the church," she says. Wimber doesn't give many reasons except to say that God told her to move on and she just obeyed his call.
Firmly rooted in the charismatic Vineyard church movement, Wimber thrives on hearing the Lord's voice and seeing his Spirit move. But experiencing four years of struggle with her family's health, legal cases involving her church's building, and her own encounter with cancer has led to a rethink around the place of a theology of suffering within the Vineyard context of heaven-on-earth healing.
Growing up in a Quaker church community, Wimber recalls early memories of a "real church" with pews and its own building. It stands in contrast to the warehouse-type buildings which tend to house large evangelical congregations today, including many Vineyard churches. In her early years, Wimber learned about "hearing and following God". Today, she holds onto this Quaker heritage tightly. In her view, the charismatic Vineyard expression of faith is not at odds with her Quaker roots. After all, the Quakers received their name because they "quaked" as the Holy Spirit came upon them. And it was out of the Quaker movement that the worldwide Vineyard church family emerged.
In 1990, "the girl next door" married Sean and entered into the Christian dynasty of the Wimber family. Sean's father, Vineyard founder John Wimber was a selfdescribed former "beer-guzzling, drug abusing pop musician, who was converted at the age of 29 while chain-smoking his way through a Quaker-led Bible Study". John Wimber (1934-97) is still remembered among many charismatics as a pioneer whose ministry greatly impacted the Church on both sides of the Atlantic.
As a part of this significant ministry family, Christy has travelled extensively, calling on Christians to recognise how God is calling them into a place of salvation and deliverance. Returning to the roots of her late father-in-law's California-based original church, in 2006, Wimber planted Yorba Linda Vineyard in southern California. But despite growing a flourishing congregation, earlier this year she announced that she was closing the church. She recalls thinking, "I don't understand this, this is not what I want to do but I do feel like this is the Lord."
Since receiving the message from God that "your assignment here is done", Wimber has shifted focus to now training church planters. Her aim is to create a group of leaders who can plant and lead new churches. Her track record of following the Lord's call to unchartered territories has led to an equity of trust and respect among her fellow leaders.
PEOPLE CAN'T IDENTIFY WITH OUR STRENGTHS BUT THEY IDENTIFY WITH OUR HUMANITY
You are married to Sean, who is nine years your senior. How did you meet?
Sean and I grew up next door to each other, so I don't remember. Sean remembers me as a baby – that's kind of creepy! But I don't remember really seeing Sean until I was 19. He had just got saved, and I had just come back to church as I wasn't really going to church through my teen years. Sean got saved, came to church, we saw each other, and that was it!
When we first got together I said, "If you go into ministry, I'm gone – I do not want to be in the ministry." And I think I always had a fear of that's where I was headed, and I just did not want to do it. When we started out I was very anti all of that stuff, but I was involved with ministry because of course I married into a family that was the Vineyard.
But I would imagine that in having John and Carol Wimber as your in-laws you had a model for what marriage within a ministry family looks like?
Yes, I think so. Throughout the years they were very good at not forcing things on us. John was very good at putting us in the right place, and he was very strategic in that with us. I think he was wise. John actually knew what I was good at and what I'd not want to be a part of. He didn't force, saying, "You have to be at this or you have to be at that." I think that was very helpful for me, because I think that would have been a very big turn off.
You've recently been through quite a difficult season in life. Can you explain more?
To be honest with you, I feel like the last three or four years have been quite difficult. And I'm still in it. So I keep waiting.
I keep turning around a corner and thinking, "OK, surely this is going to be over," but that's just not the season that I've been in, and some seasons last longer. I do believe that we serve a God of seasons, so I know that the difficult things that we're going through will lift on some level.
But yes, we've gone through many things in ministry, and then personally in life, in our family. Things that my husband and I have gone through physically that have been quite serious. It's definitely been an ordeal.
How would you say this period has changed your faith?
It's challenged me in ways that I've never been challenged in before. That's why I don't believe you say, "I've been through the worst thing." No, because when you say that, usually the worst thing is waiting at the door.
I hate to sound so down, but I just feel like this is life, this is a battle. At the end of the day, when you're in ministry, you're on the frontline. And so if you're doing anything productive, the enemy is going to do whatever he can to stop you.
Where my faith has been challenged is in the area of hope. I don't think the world's looking at our faith; I think they're looking for hope. The thing that's really got challenged in me, is not losing hope in the midst of my faith. I trust the Lord; I know the Lord's in control. Carrying hope and not losing hope in the midst of it – that's been a challenge for me.
Many people view you as a pioneer because of the work you have done. How do you think of yourself?
I would think of myself as a pioneer because of the many things that the Lord told me do. A lot of times, I feel like I'm called to do things, and people are nervous about it. Then they see, "Oh, wait a second, the Lord actually is in this."
I think over the years I've built up an equity where now if I do something bigger – which is what I've just done – I have way more trust in the Church as a whole. I've built all the equity throughout the years. Consistency builds equity. And I think that I've been able to do that.
That doesn't mean that I hear perfectly. But I would rather risk that than be right. And I would rather risk that than my reputation looking perfect – I'd rather obey him.
Recently you have been speaking about the Church's need for a theology of suffering. Do you think the Church needs to teach its people to die well?
Dying well is really, really important. If I pray for someone and they get healed, we get really excited about it. But to be honest with you, when I have lost people that I've loved, or what I have been through in the last four years, when people who don't know the Lord watch me – that's actually what gets their attention. They're watching that. So the fact that I love Jesus, and the fact that I'm persevering – trying to do my best through all of these difficult things – I just think that witness is really honestly what people can identify with.
People can't identify with our strengths but they identify with our humanity. Death is a part of life. As a leader my job is to teach people the kingdom, and to teach people how to live well. But also my job is to teach people how to die well. And so there are times where I have to walk people through dying well – doing that with your family, and the people that you love; giving people a chance to grieve. If you have no theology for suffering, a lot of that is missing. When there's no theology for suffering the damage is massive.
How do you see your role as a female leader in the charismatic Church?
I don't think of it as, "I'm a woman in leadership" – I'm just doing ministry.
I led the church, started the church, planted the church. But we're married, so we're a team. I led the church but because I'm married, I'm in submission to him. So if he would say, "That's actually not good – that's too much", then that's what I listen to. But when it came to the leadership role of it, that was on me, and is on me.
A lot of people actually – especially me coming from the Vineyard – think, "Well, you're in the Vineyard, so it must have been easy." Not at all. I was the first woman to plant a church; there were no women leaders around me whatsoever. And many people say, "Well, you're married, so it must have been easier." No, actually, not at all.
It doesn't matter what God calls you to, leadership is hard – that's not a gender issue, that is just the way that it is. I think a lot of things get placed in a gender category that's not fair to the men, because I believe that it's actually just leadership.
What I've learned is that if God wants it for you, God will make a way for you. Just obey God. If God calls you there, he will make a way. Don't make your gender an issue, or it will be an issue. If it's God, he'll make a way.
I have no problem preaching or being in a room or leading people. Where people have a hard time with me being a woman preacher – doesn't bother me at all. I'm there because God's called me to be there. So I don't need to prove myself to you; I don't need to make any statements – I just need to do what God's asked me to do.
DON'T MAKE YOUR GENDER AN ISSUE, OR IT WILL BE AN ISSUE
I've heard former Vineyard UK and Ireland leader Eleanor Mumford extol the work of New Wine despite being very comfortable about being outside of that Church stream. When you are in the UK you often speak at events that are outside of the Vineyard network. Do you share similar reasons to Eleanor Mumford?
I know the Vineyard in the UK and that's a real value of theirs. And when I've been at New Wine events, they've just said, 'The Vineyard, we love you guys. God has placed us in these places, but it's not at the expense of you guys – God is doing something great as well."
If I think about Vineyard, especially when I'm over here [in the UK], I think of Holy Trinity Brompton, I think of New Wine; I think of Soul Survivor; I think of the Church of England, and the Catholic charismatics, I could go on and on. I think of all of that as our family. This is us together; this is us advancing the gospel together. So I love that mindset; that thinking; that planning; that building.
Hear this interview in full on Premier Christian Radio, Saturday 7th October at 4pm. Listen again at premierchristianradio.com/theprofile or download The Profile podcast.
Christy Wimber on suffering and healing
I think God does his best work in us, when we are suffering in different ways. For us in the Vineyard, we have this belief system of the already-and-the-not-yet.
But the damage is massive when there's no theology for suffering and there's no theology for hardship.
I'm kind of known in different things, you know: 'have Christy come and pray for the sick', and all that. If that's what God's doing, great. But I did get to a point where I just thought, "wait a second here. I'm not a showman". And what I'm doing, I don't want it to hurt the church – I want it to equip the church.
I've felt like the Lord was shifting me; brought different people into my life that have really shown me things that I've needed to see. Sometimes God does this – where he brings people into our life, that they hold a mirror up to you. When God does that, we have a choice to run or to actually really look at it. And when I really looked at it, I realised some of this stuff is really unhealthy