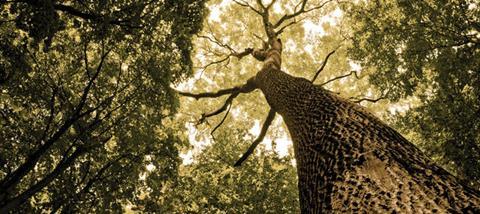 Which Church is right? Catholic or Protestant? Catholics argue they have authority, based on their unbroken leadership chain to the apostles. Protestants say they have authority, based on their unmediated direct access to the Bible.
For years I was dissatisfied with the Catholic vs Protestant debate because I saw Christ profoundly in both of Christianity's two largest groups. It was especially puzzling when one group excelled in the other group's gifts!
For example: Catholics boldly announce they have the fullness of truth, yet Protestants are almost single-handedly debating with atheists. And Protestants loudly insist that following the Bible results in unity, yet there are over 20,000 Protestant denominations.
A few years ago when I was seeking God about this in prayer, I kept receiving a picture of a tree. The accompanying scripture was Jesus' comment that the kingdom of God would grow into the largest tree (Luke 13:18-19). Of course, this miraculously happened in history. But then the spirit highlighted to me that the Roman Catholics are more like the tree trunk and the Protestants are more like the tree branches. Most importantly: it's the same tree!
This view of the Father's family tree helps explain the following:
Why Catholicism seems central, structural, immovable; and why Protestantism seems decentralised, flexible and engaging. Both can suspiciously see each other as a kind of inadequate version of Christianity, mostly due to less familiarity.
How the tree is nourished by both water via the trunk and sunlight via the leaves. Catholics rely more on past revelation from others' encounters with God to support the Church universal; while Protestant branches rely more on direct encounters with God to support specific, personal connection.
That for living organisms (like the Church), essential things remain over time, but non-essentials might naturally expire. Thus for Catholics, out of date traditions fall off as dead tree bark; and for Protestants, denominations extending out too far fall off as dead tree branches.
The spirit also showed me that the charismatic experiences (visions, healings and tongues) are God's miracle-gro fertiliser for the entire tree, and this is why places receiving them produce spectacular expansion.
So it turns out that 'Who is right?' is the wrong question. It follows that Catholics are right on some things; Protestants on others. And that's ok. We are not primarily about laws of logic, but instead about the life of love. So what do we do with this? We can start by giving God permission to release more of the unity we already have, especially through manifesting common, supernatural prayer.
The spirit unites the body. It's always better to let the Holy Spirit reveal who we already are (John 16:13). That's how I got this image, which was really healing to me. No longer do I feel oppressively pressured to promote second things over first things.
DAVE NEVINS is the author of 70x7 Reasons to Be Both Catholic and Protestant (CreateSpace Independent Publishing)
For more opinion on the latest trends, topics, news and culture from a Christian perspective, visit premierchristianity.com/blog