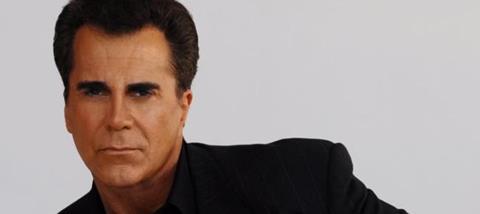 The death of American singer and songwriter Carman brings to an end the ministry of one of the most controversial figures in the decades-long history of Contemporary Christian Music (CCM).
For some he was an important musical pioneer who alongside easy listening balladry, helped introduce funk, rock and rap to US Christian radio listeners, and an important musical evangelist who led thousands to faith in Christ. For others, he was a clown prince whose over the top showbiz excesses in vast American auditoria made him an easy target for derision, while his questionable, and possibly dangerous, theology mixed fundamentalist belligerence and Pentecostal fervour.
Italian American Carman was born Carmelo Domenic Licciardello on 19 January 1956 in Trenton, New Jersey. As a teenager he played drums and occasionally guitar in his mother's band. Then he embarked on the showbiz road himself as a nightclub singer, eventually working the Vegas circuit, though without much success.
In 1976 Carman's life undertook a 180 degree turn when his sister took him to the annual Night Of Joy show at Disneyland featuring Gospel star Andrae Crouch. By 1980 he was working in an upholstery shop and in his spare time recorded an album, God's Not Finished With Me. With backing tapes he began performing in a few concerts around New Jersey. In the summer of 1981 at a showcase concert Carman met Bill Gaither whose middle of the road Southern gospel group were popular across America.
In the same year he was signed by CBS, who had moved into the Christian music market with the launch of Priority Records, and recorded three albums with them. But when CBS folded he was approached by Word Records and his first album for their Myrrh subsidiary was still largely middle of the road gospel but with two new musical elements – African American gospel and humour. He said at the time, "I have been a member of an interdenominational interracial church for 10 years now. I just naturally grew into that funkier way of worshipping God. What people forget is that the blues, jazz, rock'n'roll, they all started in church."
What people forget is that the blues, jazz, rock'n'roll, they all started in church
His next Myrrh album, The Champion, elevated Carman to CCM stardom. Producer Keith Thomas was able to bring out Carman's gifts as story teller and raconteur. More best-selling albums such as 1986's A Long Time Ago…In A Land Called Bethlehem, 1988's Carman Live: Radically Saved', 1989's Revival In The Land and 1991's Addicted To Jesus were getting major Christian radio play, attracting artists with Christian youth audience appeal like Petra, dcTalk and rapper T-Bone to make guest appearances.
Gradually though, his lavish productions on record and in concert had made him one of the biggest names in Christian music.
He held the record for the largest Christian concert in history - in 1994, more than 70,000 people attended his free concert in Dallas, Texas. He was awarded 15 gold and platinum albums and sold over 10 million records over the span of his 35-year career.
In a profile Religion News Service reported, "Legions of screaming teenagers would call him the 'Italian Stallion' as Carman developed a niche for high-drama emotional ballads that featured demons, witches, spiritual warfare and always a victorious Christ."
Carman sold millions of records during his prime but by the early 2000s his music career had stalled. Carman said in an interview at that time, "I thought I could see this coming to a close. I wasn't really doing anything. I've had hardly any requests for concerts. I wasn't recording. I wasn't productive. The things I needed to do best, I wasn't doing. I figured my time was up."
Fans rallied to his aid, though, after the musician announced in 2013 he had cancer; they donated hundreds of thousands of dollars to fund new music projects. No Plan B, his 22nd and final album, was released the following year.
Carman died at a Las Vegas hospital of complications after surgery to repair a hiatal hernia. He was 65.
Of the many interviews Carman gave in his long career, probably his most insightful was in 1998 when he spoke to broadcaster Martin Purnell. Purnell asked him whether much of his ministry had been driven by ego. The star responded, "I think if you were just starting out and went from zero to a stadium I think it would mess with your ego a lot more because you would think more of yourself. You'd think, 'Oh, I'm really great.' But in this case it takes 4,000 volunteers to make a stadium happen and you have to work with the churches and build a prayer base and there're so many meetings and dialogue. It's a lot of work. And for anybody, anywhere, any Christian on any level of doing any occupation there are...basic things that keep you strong and in the presence of God...Reading the word of God, putting God's word in your heart. Like David said, 'Your word have I hidden in my heart that I would not sin against thee.'