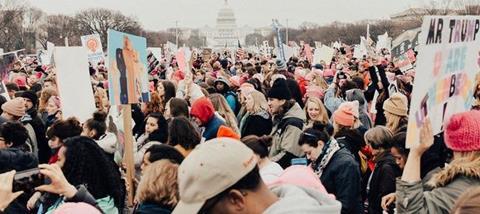 Unity is often mistaken for uniformity. Unity actually requires coexistence with those whose solutions are different from your own. It requires a robust marketplace of ideas and it requires engaging with others in good faith.
We're living in a time when permission to disagree agreeably is increasingly rare, and when calls for cooperation are in actuality veiled calls for conformity.
Yet the Church is a particularly important vehicle for actually unifying society because of our size, scope and inherent diversity. We are a community united in our passion for solving many of the problems troubling our world, even if we represent broadly diverse points of view on the best solutions to those problems. Christians also have an clear call from Jesus to be "peacemakers" and we have the example of the Apostle Paul in Romans 12 where he wrote, "as far as it depends upon me; I will live in peace with everyone."
Jesus and the Apostle Paul were both disruptive figures. They were not reflexive pacifists seeking utopian ideals. In fact, they were fundamentalists of various sorts, whose strength of belief were indispensable components of their peacemaking.
In a divided America, and a sick and hurting world, here are six Christian ideas that promote unity in public policy.
1. Focus on opportunities to work together, not excuses to avoid one another
Co-belligerency is an immensely influential and helpful principle which is often found in American evangelicalism. It is the idea that disparate coalitions do not have to agree on everything in order to cooperate on a single thing.
This means that Christians of various types across all political divides, can, should and must work together on areas of mutual concern. This is must more helpful than becoming fixated exclusively on areas of disagreement.
One positive example of this principle came in 2018 when a conservative administration in the United States made the most significant reform of our Criminal Justice System in 30 years. The Christian call to serve the prisoner provided a meeting point between liberals and conservatives to advance historic legislation.
2. Do not have litmus tests for friendship
With certain only extraordinary exceptions, Christians simply cannot have litmus tests for friendship. We are called to share our message with the world, and to love "our neighbor as we love ourselves." Even Christians who are settled in their historic beliefs are — precisely because of those beliefs — obligated to reach outside of their theological community. This is at the heart of the Great Commission itself.
Christians should have diverse friendships; Christians should be integrated in their societies. The early Christians worked the same jobs, shopped in the same markets and lived alongside unbelievers. Christianity grew from the inside of its societies.
3. Give everyone, but especially believers, the benefit of doubt
We serve an omniscient God, but we aren't omniscient people. The most important question to ask ourselves is often, "What is it that I do not know?" We need to recognise that everything is almost always more complicated than it seems, and it's very difficult to understand what you actually believe until you understand the reasons why others disagree with you.
Christians must have the humility to seek understanding and the wisdom to recognise complex issues for what they are. There are often many public policy solutions to the same problem, and while every idea isn't of equal merit, most people believe what they believe for a reason.
Sometimes, we are too willing to judge the motives and reasoning of others. We would be wise to heed Jesus' grave warning to avoid judging others.
4. Normally, it's best to privately criticise and publicly praise
Proverbs says, "Faithful are the wounds of a friend" (27:6) but the same book also says, "a person's wisdom yields patience; it is to one's glory to overlook an offense" (19:11) We are to speak directly and truthfully to our brothers and sisters in Christ, and to others that we advise. But the Bible wouldn't have imagined this taking place in 30 point font on the front page of The New York Times or by rage tweeting in order to satiate a public hunger for Christian criticism.
If you have the ability to quietly influence or question others away from the corners of the internet that generate more heat than light, then that's almost always the right approach.
It is equally important to never miss an opportunity to publicly praise what you appreciate or celebrate about someone even if their ideas are different from your own. In my experience, the best things happen behind the scenes even if it means you're misunderstood for choosing to be "silent" when the Twitter mobs are raging.
5. Let your public life be guided by private prayer
There is nothing like prayer to humanise your interactions with those who are different than you. And, frankly, I have never met a caustic or cynical person who was also a person of prayer. One of the best exercises that we can do as Christians is to fulfill the biblical command to pray for our leaders.
We should also pray as diligently for those outside of the Christian fold as we do for those within it. We are to "seek the welfare of the city we are living in" (Jeremiah 29:7).
If you are not praying then you really should not be a Christian involved in the public square. It's better to just stay out of it all together.
6. Be prepared for criticism
Finally, it's important to remember that whatever you do will be criticised. Don't worry about it! Criticism is overrated and it is unavoidable. Everything is controversial to someone! If you're going to decide who you are, what you'll do or what you believe based upon whether it's controversial then you'll believe nothing, be nothing and do nothing.
As a Christian, it isn't even an option to be driven by the winds of public critique. Galatians 1:10 can be paraphrased, "if you care about the opinions of others you simply cannot be a servant of Jesus."
Rev. Johnnie Moore is an author, businessperson and international evangelical leader. Moore is Founder of The KAIROS Company and the President of The Congress of Christian Leaders. His latest article for Premier Christianity lifts the lid on Africa's silent genocide. Request a free copy of the magazine here
Premier Christianity is committed to publishing a variety of opinion pieces from across the UK Church. The views expressed on our blog do not necessarily represent those of the publisher.