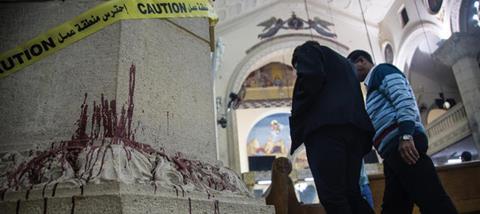 An explosion at a Coptic church in the coastal city of Alexandria killed 17 people and wounded at least 48 others. Hours later there was another attack on Egypt's Coptic Christians worshipping in a church in Tanta killing 27 people and wounding 78.
Egypt's Muslim president Abdel Fattah el-Sisi called for a three-month state of emergency and deployed troops across the country.
The second explosion was at St Mark's church in Alexandria, where Pope Tawadros II had earlier celebrated Palm Sunday. Pope Tawadros, the leader of the Coptic Church, was in the Alexandria cathedral at the time of the bombing but emerged unscathed. The attack follows an Islamic State bombing of a Cairo church in December 2016 which killed 30 people. The group has vowed to carry out more attacks on Christians. Grand Sheikh Ahmed el-Tayeb, head of Egypt's al-Azhar, the leading centre of learning in Sunni Islam, condemned the attacks, calling them a "despicable terrorist bombing that targeted the lives of innocents". The Egyptian Health Ministry said six Muslims were among the dead in Alexandria.
The attacks came just weeks before Pope Francis is due to visit Egyptian Christians. Despite warnings, the Pope has confirmed his visit at the end of April will go ahead as planned. His Grace Bishop Angaelos, General Bishop of the Coptic Orthodox Church in the United Kingdom, said: "We pray for His Holiness Pope Tawadros II and all our Coptic clergy in Egypt who continue to serve their spiritual children faithfully and diligently.
"We also pray for our Coptic Orthodox sisters and brothers who continue to be resilient in the face of ongoing and escalating attacks, and who resist the urge to react vengefully or reciprocally."
Egypt has struggled to combat a wave of Islamic militancy since the military overthrow of elected Islamist president Mohamed Morsi in 2013.
The news follows a warning from the Aid to the Church in Need that Christianity could completely disappear from parts of the Middle East by 2020.
In November last year, the Archbishop of Canterbury, Justin Welby said, "The persecution of Christians by 'militantly atheist and religiously intolerant regimes' was 'intolerable'."
"It would not be overstating matters to say that Christianity is both the numerically largest faith and the most persecuted," he said.