The Church is made up of Christians from a myriad of different professions, and yet 'ordinary' tales of God at work rarely get told. In this series, we bring you stories of faith on the front line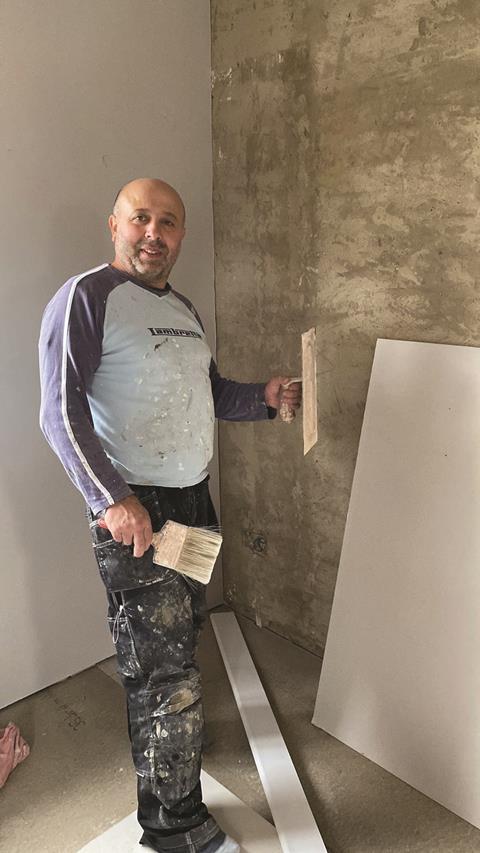 My name is Massimo Di Martino and I've been a builder for 33 years. I don't have a single specialism, but a range of skills – bricklaying, plastering, decorating, carpentry. In a typical week, I'm likely to be working on the construction, repair and renovation of homes and other buildings.
I started work at the age of 15 in Sicily, an island just off the toe of Italy's boot. It was a tough trade to be in, and my approach changed completely when I became a Christian. The fear of making mistakes was no longer the dominant thing in my life. I realised that God cared deeply about my work – this was more than just trying to keep me out of trouble.
The best thing about my job is the satisfaction I get from seeing people smiling and happy when I've finished a job. The worst thing, aside from the dust, is when the client and I have a different vision. I know my skills and capacity, and try to help clients see how they can best use their available money; that can be a challenge.
I try to reflect Jesus' character in my work. I'm reliable and trustworthy. I start jobs on time and keep to the schedule; that's a priority for me. I avoid overcommitting myself and charge a fair price for the work that I do; clients often comment on this. I usually begin my working day at 9am to give people the opportunity to start their day without the pressure of having me around.
All my work is for the glory of God. I'm typically improving and strengthening something that's in a poor state of repair. For example, if someone wants me to repair a crack in a wall, I will make it clear that just filling the crack isn't the solution; it needs more than that. I had a call one evening from a woman with a disability who was anxious about noise coming from her boiler pipes. It was outside working hours, but I visited anyway and discovered the problem was the result of someone else's work. They hadn't clipped the pipework properly. I explained the issue and put it right without charging, which gave her peace. This is my way of following Jesus' command to love my neighbour as myself.
I often sing while working. 'Who you say I am' by Hillsong Worship is one of my favourites. People ask me about what I am singing and this gives me an opportunity to talk about the gospel. I had a client who swore using Jesus' name and I asked him, respectfully, not to. He responded angrily, saying he had the right to do what he liked in his own house. I said: "That's true, but he loves you." That guy is still one of my regular clients!
Please ask God to protect me in my work. It can be dangerous, even with all the health and safety regulations. Please also pray that I will faithfully represent Jesus in everything.
Massimo was speaking to Paul Woolley

Paul Woolley is the chief executive of the London Institute for Contemporary Christianity (licc.org.uk), an organisation working to catalyse a movement that envisions and empowers Christians to live as disciples in their everyday lives
View full Profile