As Remembrance Day approaches, 102-year-old veteran, Jack Hemmings, celebrates the start of a Christian humanitarian air service formed in the aftermath of the second world war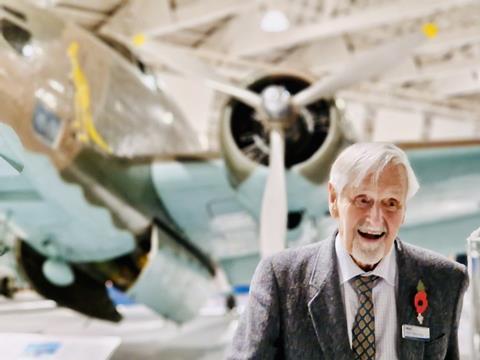 "I was 19 years old when I volunteered for aircrew," smiles Jack Hemmings, from the pilot hub at Eastbourne airshow. He's sitting among aviators, who are fascinated by his stories. "I thought: 'If I am going to fight in a war, I may as well do it sitting down!'"
Reaching 102 is a rare and impressive achievement. Having the faith to fly a wooden Miles Gemini aircraft from Croydon to Nairobi with only a map, compass and a thermos flask in 1948, is even more so.
Red Arrows Squadron leader Graeme Muscat, who shakes Hemmings' hand while the Arrows paint the skies above, agrees. "The stories Jack came out with melted my heart," Muscat tells the local BBC journalists who are also in attendance. "It's aviation from an era that's just no longer here. It's really heartwarming."
Hemmings was born in Yorkshire, but ventured south after winning a bursary to Christ's Hospital independent school, Sussex, where he boarded full-time from the age of twelve. When the second world war broke out, Hemmings was quick to join the Royal Air Force (RAF), becoming leader of 353 Squadron in 1942 and flying Lockheed Hudson and C-47 Dakota aircraft in India. He was awarded the Air Force Cross for "exemplary gallantry while flying", operating what he called "multi-engine plodders" as opposed to the "single engine dashers".
His youthful humour, tenacious spirit and unwavering passion for aviation have only continued to grow, as has the organisation God inspired him to help launch in the aftermath of war.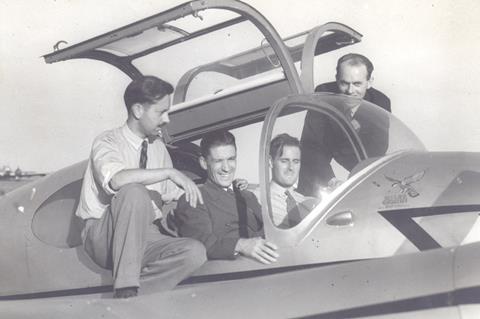 Charting a path
When failing an eye test put paid to his plans for a career as a commercial pilot, Hemmings was led to the one-room office of Mission Aviation Fellowship (MAF) in London in 1947. There, a handful of Christian pilots wanted to use aircraft to facilitate mission work and bring God's love to inaccessible parts of the world; a vision Hemmings had heard about through the RAF Christian Union.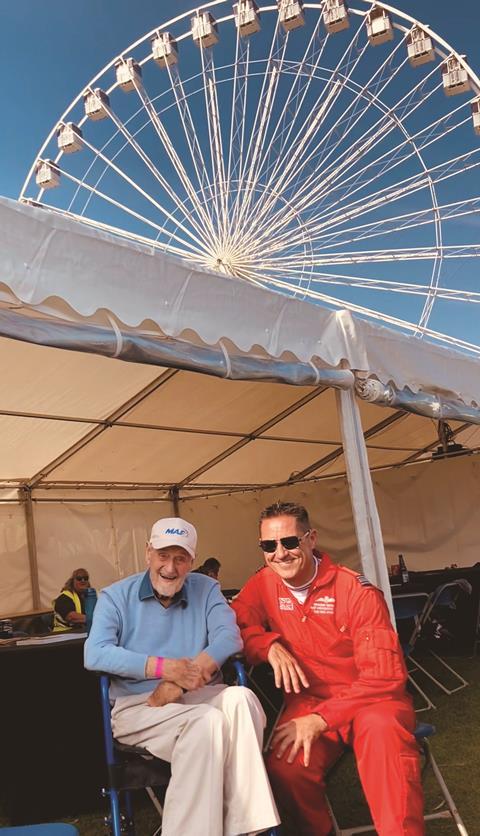 "I was invited to answer the phone while the energetic group of ex-service pilots went on a speaking tour," Hemmings recalls. "I went in for two weeks and stayed for four years."
When MAF needed a pilot to accompany RAF engineer and veteran of the D-Day landings, Stuart King, on Britain's first humanitarian survey of Central Africa, Hemmings signed up. "We were all of one mind; namely that wartime had given us a skill that we wanted to offer to God. There was much prayer. And Stuart and I, well, we just went. I was delighted to do it."
Discovering hazardous terrain and unimaginable needs, Hemmings and King established connections with at least 100 remote mission stations dotted across Central Africa. Their ten-month survey confirmed that the only way to speed life-saving help into the wilderness was to build airstrips; and that using aircraft as a vessel for God could both spread the gospel and multiply the work of missionaries.
On one occasion, their trusty Gemini was climbing through the valleys of Burundi's foothills when a strong headwind dragged them down. Fatefully, they met a banana tree on their descent. "Miraculously, we both stepped out of the wreckage unscathed," Hemmings grins to a captive audience of young pilots at Eastbourne. "Stuart had a few bruises and myself, I had a cut on my little finger!"
Completing the final leg of their mission in an old, rusty jeep, the pair returned to London convinced that aircraft were a key component to fulfilling God's Great Commission.
Growing for God
But, like most God-inspired dreams, their vision did not unfold without setbacks and opposition. In his book Hope Has Wings (MAF), King wrote: "We had a special day of prayer back in London. At the end we felt more clearly than ever that God was calling us to trust him and go to the Sudan – even when faced with a table of sceptical, well-respected council members."
Prayerfully rallying funds for a second aircraft, Hemmings and King launched MAF's first African air service in Sudan in 1950. Since then, MAF has grown to operate in more destinations than any other airline, overcoming hostile climates, responding to natural disasters and rescuing people impacted by conflict.
We could have imagined half a dozen aircraft in Africa, but MAF has expanded beyond anyone's expectations
Partnering with almost 2,000 churches, missions and organisations in more than 25 low-income countries, an MAF aircraft takes off and lands every six minutes.
King remained at the helm of MAF until his death in August 2020. To mark what would have been King's 100th birthday, Hemmings was reunited with one of only five Miles Gemini aircraft that are still airworthy today. Piloting a special birthday flight in King's memory from Shuttleworth aerodrome, Hemmings raised more than £40,000 for MAF. He also performed aerobatics on his own 100th birthday and is believed to be one of the oldest British pilots to have performed manoeuvres of this kind.
"We could have imagined half a dozen aircraft in Africa," Hemmings smiles from beneath his MAF baseball cap. "But today MAF has expanded beyond anyone's expectations. It's like the international Good Samaritan of the air."