Advertisement feature
Conflict and hunger are impacting many in the Democratic Republic of Congo (DRC). According to the World Food Programme (WFP), 26.4 million people are projected to become acutely food insecure between January - June 2023, while 5.7 million people are internally displaced. 2.8 million children are acutely malnourished.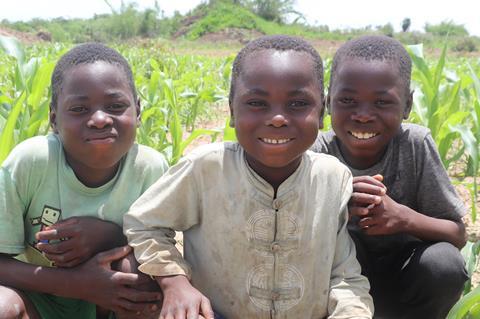 Hear my prayer, LORD;
listen to my cry for mercy.
When I am in distress, I call to you,
because you answer me.
Psalm 86. 6-7 (NIV)
World Vision is working with the WFP and recently organised a school feeding project in east DRC. This meant thousands of children who were attending school hungry, unable to concentrate or having to drop out, received the food they desperately needed.
The results were amazing. When 61 schools distributed essential food items for 19,000 students:
school attendance went up
malnutrition rates were down
student mental health and community wellbeing improved.
World Vision work doesn't stop there. Working in the DRC since 1984, today programmes are focused on health and nutrition, education, water and sanitation, protecting children, livelihoods and resilience, food aid, psychosocial support and the reintegration of displaced people.
"Thank you for helping my family"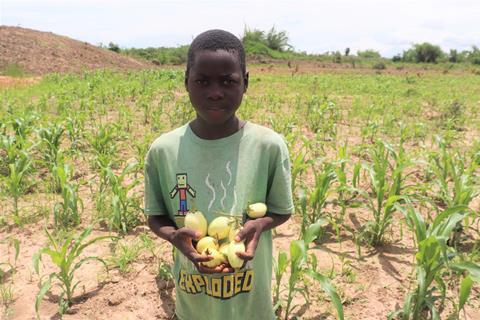 Elie is 11. His mother Rose was desperate when her world turned upside down.
When her partner abandoned her and their four sons, leaving them with no income, things looked bleak. Facing hunger, Rose took her sons and travelled a long way to join her own family in a city. "We walked and took buses for a month."
But the suffering wasn't over. "When we got here, I lost my youngest child; he died of hunger," explains Rose.
Her other sons – David (six) and Faustin (eight) – were scared. Elie remembers, "We were so hungry; my brothers cried a lot and my mother too. But I was strong and I often prayed."
A life-changing invitation
Settling into her new community, Rose was thrilled when she was invited, by a member of her host family, to a community meeting of the Munama cooperative.
The Munama Agricultural Cooperative is an agricultural association fully funded by World Vision. It aims to finance the creation of market garden and food crops, to encourage better and more diversified nutrition for families and their children.
"When I participated in the meeting, I told my story," Rose says, "The suffering I was going through with my children. My name was added to a list, and later I was invited to training. I learned to cultivate with organic fertilisers which are good for health."
"We sometimes eat three times a day!"
"Here I am today in my field. I cultivate corn, cabbages, eggplants, and other vegetables. My children eat well, we eat sometimes three times a day!"
Elie and his brothers are happy, and they have fun.
"I want to stay here and never go back [home]. We didn't eat well there and my mother was always crying," Elie says.
World Vision's programme has been actively engaged in tackling malnutrition here for years. It fully partners with the community, through its cooperatives, to fight against the hunger crisis that strikes this district. By supporting households, their help is reaching the most vulnerable children.
A portion of the cooperatives' crops are sold to finance income-generating activities for members, while a second portion is dedicated exclusively to household and community consumption.
"When I first came here, I relied on the little food I could get from my family," says Rose. "At least now we are relieved of hunger. I am glad that World Vision was able to bring food to us here, where we are far away and have no resources."
Families like Elie's, living in the outlying areas of a city, are most at risk of starvation. The training has ensured improved production of selected crops (tomato, local eggplant, cabbage, Chinese cabbage) thanks to the adoption of best practices, including the use of green manure, integrated pest management and rational water management. Learning opportunities enable producers to hear about previous successes, challenges, strengths and weaknesses.
Now Elie is eager to go back to school with his brothers; they have already joined a reading club.
Elie is excited, "Mum told me to get ready, soon I will go back to school. I can't wait. At the reading club they teach me to read. Thank you for helping my family, may God bless you forever."
Right now, 45 million people across the world are living in hunger hotspots. World Vision is responding in the 26 countries of highest concern with a range of support. Find out how today at worldvision.org.uk/premier
DRC Factfile
Population: 95 million
Location: DRC, in Central Africa, is the size of Western Europe.
Resources: Rich in natural resources, including diamonds and cobalt.
Background: A colonial past and civil war has left its mark; there is ongoing conflict in some areas.
Challenges:
Conflict is forcing people to flee their homes and is also causing food insecurity.
Violence against women, including sexual violence, gender-based violence and discrimination are issues.
Sources: World Bank; Britannica.com, World Food Programme.
Prayer Alert
A series of devastating earthquakes hit southern Turkey (now known as Türkiye) and north-west Syria, killing thousands of people and injuring many more. Thousands of buildings, including hospitals and schools, collapsed and infrastructure has been badly damaged. World Vision – a member of the DEC – is taking emergency supplies to those most in need, including food, water, warm blankets, hygiene kits and shelters.
Please pray for:
all those who are responding to the tragedy
for those coping with loss of family and friends
for those in need of food, clothing and other essentials.
For more information please visit worldvision.org.uk