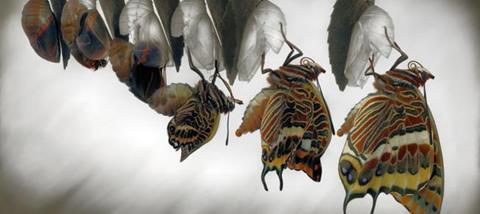 'Is this all I am ever going to do?'
Have you ever had this thought? If so, you might be approaching midlife, or maybe you've already got there.
Where is that exactly? Well it keeps moving because people live longer, but for most of us it starts anywhere from your forties through to sixty-something.
Of course the idea that there might be something new to do isn't limited to middle-age but it is often a feature of middle-age. Some people call this time of re-thinking and longing a 'crisis'. But good things can come from a crisis.
Gerald Marzorati is one example of a man who did something new. Late to the Ball is his story of how, aged 60, and complete with arthritis, tendonitis, and flat feet, he decided to become a national tennis player.
Crisis or Chrysalis?
I am in my early fifties but when I was approaching the five-oh I had that 'is this all I am ever going to do?' moment - in fact lots of them, over many months. I was struck by all the ideas I had put off as a young man. All the things I was 'too busy' to do. And even things I felt God calling me to do but thought, 'not just now, please'. They all appeared at once, as did the realisation that doing them 'later' suddenly didn't seem very practical.
Not all mid-lifers go through this unsettled, chrysalis phase but many do. Mid-lifers are not 'old' (of course not!) but we can see 'old' strolling down the road smiling amiably and waving at us. And we don't want to greet him or her just yet.
For many in their 50s and 60s, careers are settled or tailing-off. The same goes for mortgages. Children on the verge of independence – they will always cause us worry but there seems less we can do for them.
What's next?
We keep hearing that we are living longer and in better health than ever, so a reasonable question to ask is 'what do we do with this new lease of life?'
I heard some retired folks talking about their 'SKI' plans – I was impressed until I found out it meant Spending the Kids Inheritance by going on lots of holidays. If that's you, OK, but surely there are other things to do besides throwing money at cruise operators?
Best placed to commend the Christian faith are those who have experienced the ups and downs of life and still choose to follow Jesus
You have more skills than you probably think you have. You have learned them from experience. You have perspective. You even remember how to communicate face to face, not just electronically as our young millennial friends do.
Ann Morisy a theologian who writes on aging talks about us being settled in our identity. We are secure with who we are, and 'with this security we become less defensive. A reduction in defensiveness brings with it new energy and stamina as well as emotional robustness…and significant gains in relation to spirituality'. She adds, 'best placed to commend the Christian faith are those who have experienced the ups and downs of life and still choose to follow Jesus'.
Beginning his studies for an MBA in his 40s Timo Marquez says: 'Reinventing yourself is ageless. Some think it stops after a certain age but in today's fast-paced world, reinvention (in learning, approach, etc) is very important'.
Christian psychiatrist and fellow-blogger Sunil Raheja speaking on lessons on turning 50 points out that God only started using Moses, Abraham and others when they were rather late in life.
Reboot your life!
So ask yourself this question: 'What do I care about most, aside from things I am paid to care about?'
Family is an obvious answer, but family may be less dependent on you now, so what else do you care about? The answer should provide a helpful clue to where God wants you to be next. Take some time. Consider that God has something new for you to do (something even better than that cruise). Here are a few ideas:
Study part-time. This 88-year-old man did. If you don't have a degree, now is the time. If you do have one, well this time study something you are really interested in.
Look at all the volunteering opportunities - from giving time locally to starting your own charity to really make a difference as my former Pastor and his wife did in their 50s.
Short-term mission work can provide a signpost for the future and a worthwhile end in itself. See for example BMS or Tear Fund.
Have you previously had some preaching, teaching or pastoral-care experience? All our churches are keenly promoting the ministries of part-time lay minister, lay reader etc.
…and if this applies to you, invest in becoming an astonishing grandparent!
The question that matters is not 'how old are you?' but 'how much enthusiasm do you have?' Take a risk – there is time yet for another big adventure. Giving up a settled life is a bit scary but the best adventures always are!
Click here to request a free copy of Premier Christianity magazine