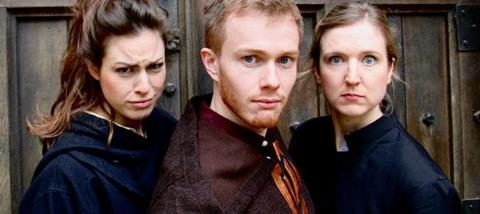 I am a self-confessed, unashamed theology geek with a deep admiration for Martin Luther.
I am also a (not so) closet thespian. There was, therefore, a tacit assumption that I would hugely enjoy the niche theological comedy A Monk's Tale. What wasn't at all evident, however, was just how universally applauded the show would be. And with good reason.
Hailed as 'Horrible Histories meets Monty Python', this hour-long comedy celebrates the 500th anniversary of the Reformation in style. A Monk's Tale unpacks huge chunks of medieval history through amusing - and sometimes hilarious - sketches, songs and narration.
Award winning sitcom writer James Cary (Miranda, My Family) has expertly combined profound truth ("God is for you, not against you") and zeitgeist-filled references (religious pamphlets are creating "echo cloisters") with perpetual laugh-out-loud moments.
The witty script is skillfully brought to life by the three-member cast, who mesmerise the audience with their voices, choreography and comic timing. The fast-paced one hour show covers everything from sacraments and indulgences, to Popes and the printing press. This wealth of complicated theological knowledge is disseminated in an incredibly accessible way, resulting in a unanimously enjoyable experience - whether you're a Christian or not.
A number of the songs adeptly squeeze historical fact and philosophical musing into pop culture classics. Stand out tracks were 'Purgatory' which, as you'll hear in the below video, borrows from Bee Gee's classic 'Tragedy', and the show-stopper 'I got 95 problems but the Pope ain't one'.
A Monk's Tale brings the highs and lows of the Reformation into the vernacular, epitomizing the reformers cry to present the gospel to the people in a way they will understand.
Whether you know everything about 16th century ecclesiastical history or have never set foot in a religious institution, I guarantee this show will make you laugh. A lot. It will also raise questions and provoke interesting conversation over a post-show pint. I cannot recommend it highly enough.
A Monk's Tale will be embarking on a UK tour from September to November. For more information visit amonkstale.net/tour-dates-2017