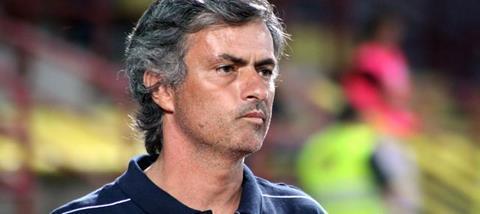 Earlier today, news broke that Chelsea had parted ways with manager Jose Mourinho. Chelsea are the current holders of the Premier League, but this season has been their worst start to a campaign in recent memory. This has now culminated in the Portuguese manager getting the sack just 16 games into the season.
Mourinho is an extremely divisive character. If you speak to any Chelsea fan, you are likely to hear him described as a saint, while fans of virtually any other team will say the opposite.
Earlier this year Mourinho revealed that he's a very religious man. Speaking to the Telegraph, he said: 'I believe totally, clearly.'
'Every day I pray, every day I speak with Him. I don't go to the church every day, not even every week. I go when I feel I need to. And when I'm in Portugal, I always go.'
He also revealed that he and his wife support a Catholic food program in Setúbal, Portugal.
This is a very different character to the Jose Mourinho that we have seen publicly, particularly this season.
Privately, he's often been very well-liked by those close to him who've perhaps seen the more loving side of his character. He is renowned for the loyalty and affinity he has shared with his players. Didier Drogba, told the Guardian that some players even refer to him as 'Daddy'.
The Special One
It is this special relationship with his players that Mourinho seems to have lost this season. The atmosphere in the Chelsea dressing room has been described as 'toxic' in recent months. It seems to have been this way ever since the first game of the season where Mourinho publicly lambasted the then club doctor Eva Cairnero.
Pride goes before destruction
Mourinho has never been one to downplay his achievements. During his first interview after becoming Chelsea manager, the first time around, he referred to himself as the 'Special One'. This is a moniker that has stuck with him and the British press ever since and it is this sense of self-importance that has seemed to follow Mourinho throughout his managerial career.
After Monday night's defeat at Leicester City, it seems this self-importance was being placed before the team. Speaking to Sky Sports after the game, Mourinho said, 'All last season I did phenomenal work and brought them to a level that's not their level, which is more than they really are.' In one short sentence, Mourinho had undermined the achievements of the entire team. He wanted the glory for himself and not his players. A few days on from these words, Mourinho has been sacked and the well-known proverb, 'Pride goes before destruction, a haughty spirit before a fall.' (Proverbs 16:18) comes to mind.
Weep with those who weep?
Having witnessed Mourinho's woes throughout this season, how should we react? Mourinho has clearly rubbed the media, his players, staff and fans of the sport up the wrong way. Many will feel like he has received his just deserts following the arrogance he's displayed.
There is no doubt there is a biblical principle of reaping what you sow, but should we find joy in a man losing his job and now being out of work? Some may say that the payoff he is in line for (estimates range from £10-40 million) means that pity is the last thing he should receive.
Yes, the way Mourinho has acted publicly has been questionable, and yes, if we are basing his sacking purely on footballing results, he deserves to go. But as Christians we are called to 'weep with those who weep '(Romans 12:15 ESV), meaning we shouldn't take satisfaction in his misfortune.
As Jose Mourinho clears out his locker at the Chelsea training ground and leaves Cobham for the last time, he will most likely be reflecting on what has gone wrong in such a short space of time. He may even pray for some guidance. When he does eventually come back to football, we may see a very different character after this humbling experience.
Click here to request a free copy of Premier Christianity magazine