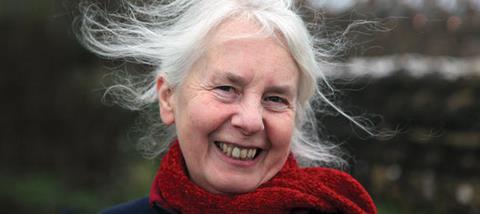 As I prepared to meet Dr Jennifer Bute, I wasn't sure what to expect. I had been told the former doctor has a deep faith and runs memory clinics, despite having dementia herself. But whatever preconceived ideas I had, I certainly never expected to meet such an articulate, sharp-minded and quick-witted lady.
As I walked up to her apartment I noticed a statuette sitting outside her front door. Jennifer tells me this is to remind her where she lives. The experienced doctor doesn't look old enough to have Alzheimer's or live in a retirement village. Aged 70, she's one of the youngest there.
I soon discovered that Jennifer headed up a missions hospital in South Africa before becoming a GP in Southampton, where she ran a large medical practice. But as she entered her 50s, Jennifer began to notice problems with her memory. She would forget faces, become confused and often get lost.
Initially she thought that forgetting things was merely part of getting old and sought to solve the problem of getting lost when driving to supposedly familiar places by purchasing a satnav. This, along with similar measures, helped her cope for a time; however, the final straw came in 2005 when she was chairing a medical conference.
'I said to everyone: "Lovely to have you all here. Please can you introduce yourself? Because I don't know any of you." There was a deafening silence all around me. Gradually, as I went from face to face, none of which I recognised, many of them explained with bewilderment that they had worked with me for 20 years…That was the moment when I realised it was serious.'
This embarrassing episode culminated in Jennifer resigning from her post and finally, five years into her struggle, being diagnosed with early onset Alzheimer's. She was 63.
Diagnosing dementia
Alzheimer's is the most common form of dementia: a general term for loss of memory and other intellectual abilities serious enough to interfere with daily life. It's a progressive disease, which means it gets worse over time.
'When I got the diagnosis, I just felt relief,' she explains. 'My husband just cried. I only saw him cry a few times in my life and it broke my heart seeing him so upset. It was hard for him. We were a team and we'd planned to go back to Africa to work when we retired.'
I don't put up with me dementia, I rejoice in it
Jennifer's long battle for a diagnosis is not unique. According to the Alzheimer's Society, a third of cases of dementia in England and half of cases in Wales are undiagnosed. But despite this, Jennifer sees her illness as a 'gift from God', and is passionate about educating others and countering 'the stigma of Alzheimer's'.
Jennifer's mission to 'raise awareness and ultimately change the way people with dementia are perceived and treated' is one that she takes seriously. As a doctor, she used to diagnose dementia in others. Now she speaks at conferences around the country to give an insider's perspective on what it's like to live with the illness.
Regaining control
Remarkably, Jennifer has no bitterness and sees her condition as a blessing. She maintains that it's 'not what happens to us in life, but how we respond to adversity' that matters.
'God is in control of everything. He didn't cause this, but allowed it to happen. So I see it as an unexpected gift that can be useful. My faith is central to me. Paul says in the epistles that if we accept God's gifts with enthusiasm, not through gritted teeth, we can bring honour and glory to God through it. I don't put up with my dementia, I rejoice in it, and it's an opportunity to inspire and encourage others. God walks the path with us and we never walk alone.'
Since being diagnosed, Jennifer has had to read the Bible differently. Each day she listens to her audio Bible app as she can no longer follow long passages of text.
After being prescribed Aricept and later Memantine, which stops the destruction of brain messengers responsible for memory and learning, Jennifer found she could 'hold a proper conversation again' and begin to regain control of her life.
'Medication for me has made a tremendous difference,' she explains. Although there is no cure for Alzheimer's, the medication temporarily reduces some symptoms and slows the progression of the disease.
'There are many different causes of dementia and there are ways to slow down the decline, which includes: exercise, which increases the number of neuron connections in the brain; diet, fish oils and high doses of vitamin B; and cognitive stimulation, social interaction and living in a community with laughter and fun.'
Making memories
Sometimes dementia sufferers notice that friends and family distance themselves out of fear or lack of understanding. But Jennifer didn't experience this.
'I didn't lose any friends. In fact, I gained a lot more. After the diagnosis I produced leaflets for all my family, friends and acquaintances to facilitate and help them understand…to help them cope.'
Jennifer has become a key part of her retirement village. She helps others by running Japanese memory group classes. In Japanese culture, the older you are, the more worth and value you have. Jennifer wishes there was a similar respect for the elderly in the UK.
She explains that the idea for the memory classes was born after she met a professor from Japan at a dementia conference in London: 'He showed video evidence of what a difference it made when using the three "R"s – reading, writing and arithmetic – in his therapy. At the beginning of the video we saw a mute, almost vegetative-state female patient being spoon-fed her meals.
Every 3 seconds someone in the world develops dementia
850,000 people live with dementia in the UK, 500,000 of whom are women
Experts predict that more than one million people in the UK will have dementia by 2025
Charity investment for dementia research is 6.4 times lower than for cancer research
38% of the population knows a family member or friend with dementia
52% of people aged over 60 name Alzheimer's as their greatest concern about later life
'Over the coming weeks she was [encouraged] daily to relearn basic maths, draw and read; and after a month she was sitting up in bed feeding herself. And another lady who was disruptive and aggressive was cooperative after only a few months of this therapy.
'So I thought, "If this is true, why on earth aren't we doing it in the UK?!" So I produced my own materials and I've been doing it here now for over four years and we have great fun.'
Her techniques are akin to putting the light back on in the brain. But in order for the method to work, carers need to interact. Jennifer says that she's been into some care homes where nurses don't bother talking to the dementia patients, preferring to play on their mobile phones instead.
'It's as if people don't matter when they get dementia, and that makes me so cross,' she says. 'You have to interact and make an effort. On one occasion I saw a gentleman stuck in the corner of the room in a wheelchair, so I started chatting to him. And after some time I got a man who hadn't spoken a sentence in a long time to talk. It was amazing! It transpired this elderly gentleman, who nobody bothered with, was a Christian who – like me – used to work in Africa. God has a sense of humour indeed!'
Educating churches
Explaining that churches need to become dementia-friendly but never patronising, Jennifer has some practical tips.
'It's important that churches play familiar hymns from the past, not just modern worship soft rock. Music is powerful and will trigger memories. So churches need to mix these into their worship and use the older versions of the Bible too. The Message Bible may mean nothing to someone in their 70s or 80s with dementia, as they won't recognise the scripture. They weren't brought up with it. It's a great opportunity for churches, if only they would grasp it.'
Perhaps most amazingly, Jennifer says she hears from God more since having dementia: 'He tells me when he wants me to visit people and speak to people, whereas before I was too busy reading and working, and that interfered with his voice.
'My theory is that if you have a strong faith you will still be able to pray if you get dementia. My father did. Some authors have intimated that dementia patients lose their faith, but I think if you don't have faith dementia is harder.'
Many have noted that we live in a society that often exalts and reveres independence, autonomy and productivity. So when Alzheimer's robs us of these things and steals memories and dignity, what is left? Scripture tells us that we'll always have our souls, our faith, and that we'll always have God's special love. And Jennifer is a formidable ambassador, not just for increasing awareness of dementia, but of God's never-ending love.
To hear more of Jennifer's story, listen to Alzheimer's documentary Remember Me at 10pm on Thursday, 1st September (repeated at 10pm on Wednesday 21st September) on Premier Christian Radio. For more information about Jennifer, visit gloriousopportunity.org
Click here to request a free copy of Premier Christianity magazine