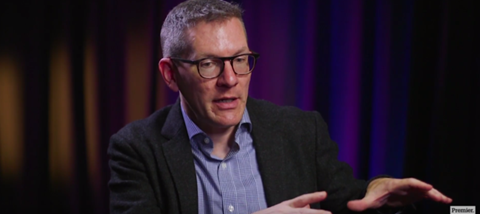 The Church is great at spiritual renewal – we're preaching the gospel, running Alpha courses and committing ourselves to prayer. We're also great at social renewal – organising food banks, being Street Pastors and providing debt advice.
But what about cultural renewal?
This was the question which the leader of Christ Church London David Stroud posed at the outset of last weekend's Everything conference.
Based on Psalm 24:1 "The earth is the Lord's and everything in it", the event aims to get Christians thinking about renewing, well, everything - from the arts, media and sport to politics, health and business.
Wherever God has placed you, there's work to be done for him. That might sound obvious but plenty of Christians still see themselves as second class citizens, believing the "real" work of the Kingdom is only really done by church leaders or other paid ministry types.
The Everything conference is far from alone in its attempts to get Christians thinking bigger than spiritual and social renewal. Movement Day has a similar vision. And LICC have long campaigned for churches to change their preaching and worship in order to better equip Christians for their 9-5 Monday-Friday life.
Nevertheless; challenges remain. Christians in general are quite good at condemning culture and pointing out everything that is wrong in our world. But when it comes to changing it, often there's no appetite for it, or uncertainty on how to go about achieving such a huge task.
One of the world's leading thinkers on this monumental topic is Andy Crouch. The ex-editor of Christianity Today literally wrote the book on culture marking from a Christian point of view. Speaking at the conference, Crouch explained Christians are called to both bear the image of God and restore it in the world. He asked delegates to think about where the image of God has been lost and where exploitation exists in their day to day life. Whether we're situated in "the poorest place" or "the powerful place", we can bring change.
Inspiring examples of Christians changing culture in both the poorest and most powerful places were given throughout the day. The artist Hannah Rose Thomas spoke about visiting Syria to work with Yazidi women who had escaped ISIS. She used gold leaf to depict the sacred value of these former slaves in her artwork (see here for the incredible results). Nims Obunge MBE meanwhile, explained how his efforts to bring peace among London's gangs led to a personal encounter with then Prime Minister Gordon Brown in 10 Downing Street. The PM was moved to tears by Nims' heartfelt prayer over him.
Borrowing from the TED model, the conference featured a variety of short talks and interviews. Elizabeth Oldfield from Theos spoke movingly about the challenges of being a Christian voice in the media, specifically 'Thought For The Day' where contributions are expected to be A-political, inoffensive and...interesting. Brin Sherratt treated us to some live opera and David Akinluyi gave us a glimpse of life as captain of the Nigerian national rugby team.
Pursuing excellence
In an interview with Premier shortly before the conference Andy Crouch pointed out that Christians are often responsible for bad art (see clip below). He wants to challenge the Church - both in the UK and USA - to instead pursue excellence.
But this pursuit of excellence involves more than mere skill, said Crouch. Excellence will also require patience, risk and suffering.
It was a sentiment later echoed by Christian Guy, a former Special Advisor to David Cameron who is now fighting to end modern slavery: "The world doesn't need more 'instants'. The world needs more perseverance."
In closing the event, Philippa Stroud - who previously advised the government and now sits in the House of Lords – returned to this theme. She explained a member of the House must sit and listen to debates for seven hours before they're allowed to make their maiden seven-minute speech.
Featuring speakers who regularly address thousands it was a shame the conference could only accommodate a couple of hundred people. When the event was last held in 2012, it was significantly larger.
Nevertheless, it's encouraging to see Christ Church London reboot the much-loved Everything conference (and there's more on the way next year). When it comes to culture making, they're seeking to practise what they preach: The Church launched their first worship project Through The Ages on Sunday. It quickly reached number two in the Christian & Gospel Charts on iTunes – beating Matt Redman, Hillsong and Soul Survivor.
With parts of the Church still suffering from a sacred-secular divide mentality where those working in ministry are put on pedestals above those working in retail, insurance or plumbing, a conference like Everything is desperately needed. Not only does it remind you that your job really matters to God, it gives space to dream big And imagine - what would my industry/job/home/community look like if the image of God was restored there?
The next Everything Conference will be held in Central London on 17 November 2018. More details will be available in the coming months on christchurchlondon.org
Hear Justin Brierley's interview with Andy Crouch in a forthcoming episode of The Profile. Click here to subscribe to the podcast.
Click here to request a free copy of Premier Christianity magazine