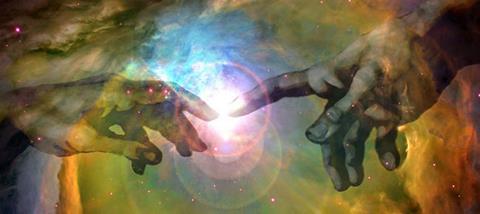 What does the expression 'playing God' actually mean?
It's fairly obvious what it doesn't mean. When we speak of playing God, we are not talking about playing God in the way that Andy Murray might play Rafa Nadal (although I guess that there are similarities… If I were up against God in a sporting contest, I would lose every time).
When we speak of 'playing God' we mean something like Laurence Olivier playing Hamlet. We mean that when humans play God, they are pretending to be something that they are not. They are getting ideas above their station. In Biblical terms, they are picking and eating fruit from the tree of the knowledge of Good and Evil.
'Playing God' can be synonymous with 'interfering with nature'. The expression has been used this month in connection with the bill that parliament has passed which will allow genetic material from three individuals to come together in the fertilisation of a human embryo.
'Playing God' is also often used as terminology for deciding who lives and dies. This might be in the context of decisions made in concentration camps – remember Sophie's Choice? – but in a less sinister way by those who make decisions on where NHS funding should be targeted.
But is deciding who lives and who dies the primary role of God? Is this the first thing that we should be thinking about when we speak about 'playing God'?
Stephen Fry caused a bit of a stir when asked what he would say to God. As part of his rant, Mr Fry said, "Why should I respect a capricious, mean-minded, stupid god who creates a world that is so full of injustice and pain?" In Stephen Fry's view, if God is playing God, then he's doing a pretty terrible job at it.
Of course, a number of Christian commentators have suggested that they don't recognise this god and that they wouldn't like him much either. However we come to terms with the reality of suffering and evil in the created order, it's significant that the God that Christians believe in came to serve and not be served.
If we believe that Jesus is a reflection of his Father, the one who has chosen to limit himself and to play by the rules that he has created for us, then perhaps 'playing God' is a good thing. If it means conceding control of our lives to our Lord, perhaps we really should 'play God', if 'playing God' means being like Jesus:
In your relationships with one another, have the same mindset as Christ Jesus: who, being in very nature God, did not consider equality with God something to be used to his own advantage; rather, he made himself nothing by taking the very nature of a servant … [Philippians 2:5-7]
What if, when we speak about 'playing God', we were to be thinking about the God whom we see in Jesus? What about if 'playing God' were to mean taking the lowest place – being born in a stable and having nowhere to lay his head? What about if 'playing God' meant emptying oneself of all desires to grasp the things of this world and releasing ourselves to be a servant? Wouldn't that be a good thing?
Click here for a free copy of the latest edition of Premier Christianity