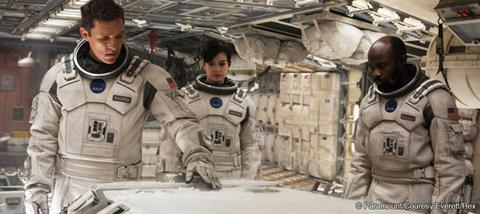 When I read the script for the film I loved the fact that there was so much going on, but at the heart of it was this relationship, this yearning; it's a very human story. It made me cry when I read it.
There was a point where the main character, played by Matthew McConaughey, has to make a decision that affects his family in a major way. I cried when I read that; that part was very difficult to read.
I didn't realise how impacting the first act would be…where we get to look at the landscape and way that we as human beings have left the world. That was shot so well that it felt like a serious point, even a warning.
History is clear: we are explorers. If you were to map the human journey, that's what we've done. I welcome that…but we have to take care of our own land as well, before investing in exploring elsewhere. We need to invest in what is going on here on earth, and look at how we distribute wealth and deal with the amount of poverty that surrounds us.
The importance of hope in the story is huge. Hope is a real thing; it's almost tangible. It keeps people alive in the film.
There is an excellence that surrounds a Christopher Nolan production. He comes at it 110%, and everyone else around him does the same. If you had any other notion of how to approach work that would be swiftly changed after starting work with him.
I remember sitting on the plane after finishing my last shot and I was able to travel back to London, and I realised that I was physically shaking. That's when it dawned on me the experience I had just had…to shoot in Iceland and then travel across to the US…to go on this amazing journey for three months with these fantastic people…It wasn't until the plane on the way back that I thought: 'Oh my goodness, that just happened! It was incredible.'
Interstellar is in cinemas now. Read Martin Saunders' culture piece on Interstellar in the January edition of Premier Christianity – coming soon!