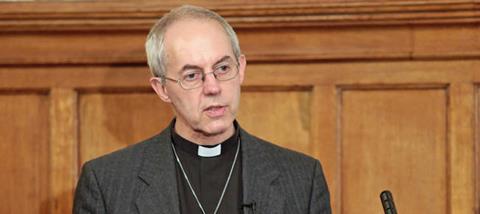 Archbishop of Canterbury Justin Welby recently launched a new series of Lambeth Palace lectures featuring several key issues for the Church, including evangelism. Following a YouGov poll revealing that 22% of UK Christians struggle when it comes to sharing their faith, the Most Rev Justin Welby listed evangelism as one of three main priorities for his ministry, alongside prayer and reconciliation.
The archbishop defined evangelism and its effects in basic terms: 'Evangelism is communicating the good news that Jesus calls for people to be his disciples. And that call, when answered, is the best thing that can ever happen to anyone in their life, under any circumstances, anywhere in the world.'
One of the main problems is that the gospel message is often overcomplicated, he claimed, and needs to be stripped back to its simplest form, just as the Bible tells it, to be most effective.
He said: 'I think we professionalised evangelism. That's exactly the opposite of the pattern you'll find in the scriptures, and at the best points of the tradition…I don't think that every Christian knows how to communicate the gospel clearly, but I know every Christian can, because I was taught to.'
BE READY
Archbishop Welby suggested Christians should be prepared to share the good news with those around them whenever opportunities arise, regardless of the perceived outcome. 'We need to recognise that we're all witnesses, and we all need to be equipped to be witnesses,' he shared. As a university student, Justin Welby was particularly reluctant to invite a friend to a mission event, but the Holy Spirit intervened. He recalls: 'I was so terrified by the prospect, I kept sort of going to have a cup of tea with him, and I'm sure he wondered, "What's this guy doing, suddenly turning up for cups of tea, or asking me for cups of tea?"
WHEN WE WALK IN THE LIGHT, WHEN WE PRAY, WHEN WE'RE CLOSE TO JESUS, PEOPLE BECOME CHRISTIANS
'Anyway, this guy bumped into me in the library one day – which was rare enough, in its own right, for me to be in the library – and he said: "I hear there's some kind of mission going on," and I said: "Oh yes, there is." And he said: "Do they explain what Christianity's about?" I said: "Oh yes, that's the main thing."
He said: "Is there any way I could go along?" So I said: "I could probably arrange that. Would you like to come with me?"
'And I just thought afterwards, "You muppet!"…The Holy Spirit is at work, doing extraordinary things.'
Later, while he was working in the oil industry, the archbishop regularly found himself discussing faith over a beer with a colleague at various airport lounges. 'I was always looking for ways of saying something, but I think just by the grace of God I just answered what he asked.' Years later, the archbishop bumped into another colleague who told him the man had become a Christian and that the airport discussions had started the ball rolling.
'God is a lot better at this stuff than we are,' Archbishop Welby concluded. 'We just need to be ready to be the witnesses he calls us to be.' However, there is still some responsibility on our part: 'When we walk in the light, when we pray, when we're close to Jesus, people become Christians. They become disciples of Jesus Christ, and that's wonderful. And when we don't pray, and don't walk in the light, and get into all kinds of other things, [they] don't.'
Church leaders join forces for UK evangelism
Church leaders from multiple denominations have committed to renewed unity in evangelism and mission. An oak tree was planted to symbolise unity in evangelism at an event hosted by Hope, the Evangelical Alliance and the Church of England. The event brought together 40 church leaders in the Lake District, and included 24 hours of prayer and discussion about evangelism and mission.
Dr Rachel Jordan, national mission and evangelism adviser for the Church of England, said: 'The aim was to gather key Christian leaders to focus on evangelism; to understand the current trends in our population with regard to Christian faith and to commit to prayer and action together to help many more people become followers of Jesus.'
Steve Clifford, general director of the Evangelical Alliance UK, who also chairs Hope, added: 'We want to raise the bar in the UK population's understanding of who Jesus is, and increase the percentage of people in the UK who know a follower of Jesus who has positively shared life and faith with them.'
The archbishop's five top evangelism tips
1. Do it out of love
We share the good news, not because it's a duty...but because we're so consumed with knowing how wonderful Jesus is that we want to talk to others about that.
2. Remember that it's good news
This is about hope. It's positive; it's really good.
3. Give the Holy Spirit a chance
Trust that the Holy Spirit is taking people at the right pace, and with the love that embraces them from God, not with the kind of manipulation that people are tempted into.
4. Always be ready to give an answer
This comes back to 1 Peter 3:15 'Always be ready to give an explanation, a reason for the hope that is within you. But with respect and gentleness.'
5. Pray
You will be astonished at what happens.
Watch the full interview and lecture at premier.org.uk/welby