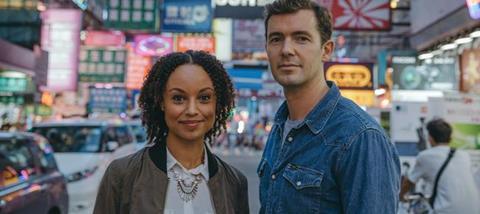 The Alpha Course is billed as an opportunity to explore the meaning of life and is run by churches across the globe. Those interested in Christianity will come together for a meal, watch a 40 minute recorded message by HTB's Nicky Gumbel and enter into a discussion. The course has grown from humble beginnings to now being a worldwide phenomenon. It's run in 169 countries and 112 languages. Over 29 million people have tried Alpha.
Last night, at the London premiere for Alpha's new film series, a few hundred of us were shown the first of 16 brand new episodes (watch it below). It's a vibrant, high definition production that explores the question 'Is there more to life than this?' and begins to unpack the case for God. Those already familiar with Alpha will recognise much of the content from Nicky Gumbel's talks. But the presentation is brand new and the packaging impressively current. The many vox pops, interviews and stories are accompanied by stunning cinematography.
Embarking on this film series was risky, perhaps even wildly ambitious
This isn't an unbiased documentary. But it doesn't feel overly promotional either. It's engaging without being pointlessly flashy, and thought provoking without being bookish. Both the content and the tone of the 21-minute film are perfectly pitched for today's 20s and 30s.
Every Christian denomination already runs Alpha in some form and well over 1 million people in the UK alone have gone on the course. But embarking on this film series was risky, perhaps even wildly ambitious. The team filmed on location across the world in nations such as India, Israel and the USA. A huge amount of time (3+ years) and money (God only knows) has gone into this.
The reason for repackaging Nicky Gumbel's traditional Alpha talks is simple. Inviting today's generation to watch a 40-minute monologue is tricky. Attention spans are getting shorter. Christians might be used to listening to long preaches every week. But those outside of the Church certainly are not.
Both the content and the tone of the 21-minute film are perfectly pitched for today's 20s and 30s.
Lengthy talks rarely appeal. But short films are very much in. Every day, millions of us spend time on YouTube. Rather than streaming yet another cat video on your iPad, why not watch something useful and helpful - an engaging film that helps you mull over life's biggest questions?
At the premiere last night, Al Gordon - one of the film's producers - dared to suggest that these new films could reach as many as one billion people. That may seem unlikely. But given that Alpha has already reached 29 million people, it's not impossible.
Of course, putting together such a fantastic resource is only half the battle. The challenge will now be promoting these videos. But the Alpha team appear to have that covered. This autumn, they'll play their ace: Bear Grylls.
The adventurer will front a worldwide advertising campaign for the Alpha film series. His endorsement should help drive many to experience Alpha for the first time.
Given this new development, it's safe to say that the future of one of the world's most successful evangelistic tools is looking very bright indeed.
Click here for more information on how to use these videos to run Alpha at your church
Click here to request a free copy of Premier Christianity magazine