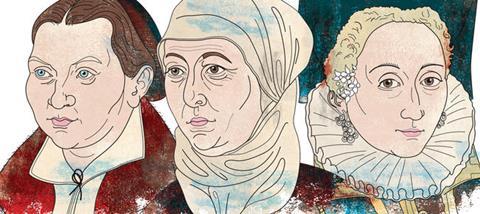 Any list of the big hitters of the Reformation would have to include Martin Luther, John Calvin, Ulrich Zwingli and John Knox. These figures are all important, all very different, and all men. It's easy to make the mistake of thinking of the Reformation as a movement by men, for men, with women occasionally playing a supporting role as someone's wife or mother.
But the Reformation was hugely influential for women too. The new theology spoke of the dignity and importance of Christian wives and mothers, while the emphasis on the priesthood of all believers gave many women the spur they needed to step forward and take their place in the life of the Church. These women were not just passive recipients of the Reformation; they were on the frontline, making it happen.
KATHARINA VON BORA
The runaway nun
If you've heard of one Reformation woman, it's likely to be Martin Luther's wife. Katharina von Bora was born to a noble but poor family in 1499. At the age of 16 she became a nun, probably because there was no money for a suitable dowry; two of her aunts were already nuns. Not long afterwards, Luther starting writing arguments against monasticism. His writing found its way into convents, including Katharina's. Many of the nuns were convinced, and looked for a way out of the life that had been chosen for them.
In 1523, Luther and his friends organised the 'breakout' of eleven nuns from Katharina's convent. Aware of the difficult position these women had placed themselves in for their beliefs, Luther tried to arrange speedy marriages for them – but the marriage between himself and Katharina von Bora was not speedy, and initially looked very unlikely. Both were initially attracted to other people. Nevertheless, events prevailed to bring them together and in 1525, to the surprise of their friends, middle-aged Martin Luther and young Katharina von Bora married each other.
Luther said, "In domestic affairs, I defer to Katie. Otherwise I am led by the Holy Ghost." He spoke highly of her support, which enabled him to carry out his work. And Katharina certainly had valuable skills: she was a farmer, nurse, hostess and conversationalist, and she brewed a mean beer.
Katharina didn't have a role outside her domestic setting, but when her household regularly included 30 to 40 students, refugees and other visitors, she had plenty of influence. She took part in Luther's famous Table Talk conversations, and wasn't afraid to give her opinion, or encourage her husband to give his.
Luther died in in 1546, leaving Katharina destitute. Many of Luther's supporters had always disapproved of his marriage and wouldn't help his widow, but his close friends von Amsdorf and Melanchthon, as well as King Christian III of Denmark (who had had a soft spot ever since he met Katharina as a single ex-nun) ensured she and her children didn't starve. Katharina eventually died in 1552 from injuries she suffered falling from a wagon while trying to escape the plague.
In their own words
Katharina von Bora: "I've read enough. I've heard enough. I know enough. Would to God I lived it."
Katharina Schütz Zell: "I am not usurping the office of preacher or apostle. I am like the dear Mary Magdalene, who with no thought of being an apostle, came to tell the disciples that she had encountered the risen Lord."
Olympia Fulvia Morata: "Don't grieve when my death is reported to you, for I know that then at last I shall live."
KATHARINA SCHÜTZ ZELL
The theologian
At the age of 10, Katharina Schütz felt called to be a Church mother and a student of the Bible. She had been born in 1498 in Strasbourg, a free city (an independent political entity) that valued tolerance and was also a publishing hub. Katharina was exposed to the new religious ideas sweeping the continent, and became a Protestant at the age of 24.
Although she had only a basic education, Katharina was trained in tapestry weaving, which placed her in the enviable position of being an independent single woman – a rarity in those days. So it was a great scandal when this respectable woman, who didn't need to marry at all, became the first woman in Strasbourg to marry a priest! (Married clergy was one of many changes the Reformation brought about.)
Matthias Zell was a Reformer and had been one of the people who introduced Katharina to Protestant ideas. Once married, Zell commissioned Katharina as a mother to the poor and refugees, and supported her wholeheartedly throughout his life.
Despite her limited schooling, Katharina continued her education by visiting and corresponding with anyone who was anyone in the Reformation. The Zell house was open to all, regardless of background or beliefs, and Katharina and her husband were always willing to dispute cordially with those who were yet to be convinced of the importance of grace. She was also happy to hand out advice, solicited or not, to the city council, the local hospital, and even the bishop.
Katharina showed God's love in her care for the sick, poor and homeless, but soon she took to sharing God's word in print as well. Starting with an open letter to the wives of Protestants who had been forced to flee their homes, Katharina published homilies, devotions, apologetics and a hymnbook to help people, especially women, to learn about the faith. She spoke up for tolerance and ecumenism, and urged believers to live in peace with one another, trying to smooth over the increasing Protestant disputes about the Eucharist.
Katharina's boldness outraged plenty of people, but with her husband's unwavering support, and with a firm belief that the priesthood of all believers extended to women, she persevered. After Zell's death, however, things became much harder. His replacement, Ludwig Rabus, would hear of no faith but Lutheranism and condemned her in the harshest terms as a "disturber of the church".
But Katharina was undaunted. She defended herself in print and, if anything, became bolder. When she died, in 1562, Katharina stood accused of the crimes of preaching at a friend's funeral, and conducting the funeral of a 'heretic' (ie a nonLutheran). She never faced these charges in court because she had passed into the presence of a higher authority.
OLYMPIA FULVIA MORATA
The scholar
Brought up in the scintillating intellectual hotbed of 1520s and 30s Ferrara, Olympia was a child prodigy. Fluent in Greek and Latin by the age of 12, Olympia composed poetry and philosophical treatises in her teens, and in her 20s she translated the Psalms into Greek verse.
The court of Ferrara, where Olympia's father was a tutor, was friendly to free-thinkers because of the French Duchess Renée, a woman with strong Protestant leanings who invited Olympia to study alongside her own gifted daughter, Anna, in recognition of Olympia's talents.
However, the court of Ferrara was not a safe refuge for long. A new king of France, less supportive of Renée, meant increasing pressure from her Catholic husband. Inquisitors were invited to court, Anna was married to the hyper-Catholic Duke of Guise (who later started the Wars of Religion in France), and Renée was forced to renounce her faith or face life in prison.
Olympia, a Protestant, returned to Ferrara after her father's death to find she was no longer welcome at court. Fortunately, God provided a solution in the form of Andreas Grunthler, a German doctor. He visited Ferrara, and the pair fell madly in love. Grunthler was a Protestant who was warmly supportive of Olympia's studies. They married in 1550 and settled in Schweinfurt, where Olympia became very involved in religious affairs. She corresponded with Reformation leaders, organised translations of Protestant works into Italian, and exhorted her old friend Anna to stand up against the persecution of Protestants in France. But the couple's happiness was shortlived.
In 1553 Schweinfurt was occupied, sacked and burned down. Olympia and Grunthler had to flee with nothing but the clothes on their backs. Most of Olympia's work was destroyed, and her health was permanently damaged. Influential friends found Grunthler a position at the university in Heidelberg, while Olympia tutored in Greek and Latin privately, since universities did not employ women. Some think that because of her brilliance, that might have changed, and that Olympia could have been the first female university professor – if she had lived.
In 1555 at the age of just 29, Olympia died of tuberculosis. She faced death cheerfully, writing letters of encouragement to friends. Grunthler collected Olympia's surviving works for publication before himself dying of plague the following year. Her letters, dialogues, poems and psalms were published and republished throughout the 16th century.
KAREN MURDARASI is a freelance journalist
Brides of Christ, or of men?
The Reformation opened new opportunities for women, but it closed off others. Convents were an important part of medieval culture. They provided education, and were a safe place for women to remain single. Luther and his followers opposed the monastic system, but whereas ex-monks like himself could become pastors, the only realistic option for ex-nuns was marriage – complete with the dangers of childbirth, domestic drudgery and the dominance of a husband. Not everyone considered this an attractive choice.
Many women were placed in convents because their families couldn't afford to keep them, but others felt a real call to devote their lives to worshipping and learning about God. During the Reformation, higher education moved from monasteries and convents to male-only universities, leaving women behind. Despite talk within the Protestant Church about equality among believers, the path to higher education for women would remain closed for centuries.