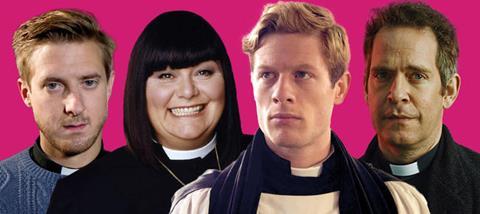 In the current April issue of Premier Christianity, Culture columnist Martin Saunders features Geraldine and a number of the nation's other favourite onscreen clerics including: Broadchurch's troubled vicar Rev Paul Coates (Arthur Darvill); Grantchester's vicar-sleuth Sidney Chambers (James Norton); Rev.'s Adam Smallbone; EastEnders' Pentecostal pastor Lucas Johnson (Don Gilet); and Coronation Street's gay vicar Billy Mayhew (Daniel Griffith). Even Father Ted Crilly (Dermot Morgan) and The Simpsons' Rev Timothy Lovejoy get a mention.
According to Saunders, none of these shows (The Simpsons excluded), paint church leaders as one-dimensional figures of fun. 'These are well-rounded, interesting human beings who have chosen a path of ministry,' he says.
The same could arguably be said of a number of real-life reverends who regularly appear on our screens, including:
Rev Kate Bottley: Gogglebox
Nottinghamshire-based Bottley rose to fame when a video of a flashmob at a wedding she officiated went viral. She was then approached by Caroline Aherne's show, which films people watching and reacting to television programmes. She quickly became one of its stars, appearing regularly alongside her husband Graham and dog Buster.
Rev Richard Coles: Various shows
The former Communard is fascinating to the media because of his past, his vow of celibacy and his quick wit. That combination has landed him on a variety of comedy panel shows, as well as several serious news media programmes.
Rev Sally Hitchiner: BBC/Sky News
The Brunel University chaplain and Diverse Church founder appears regularly on news broadcasts (both radio and television), was a key spokesperson on female bishops, and is often asked to comment on the modernisation of the Church of England.
Rev Justin Welby: Various shows
He doesn't tend to do comedy panel shows (although frankly, I think that's an oversight on his part), but Welby has not been afraid to defend his spicier ideas (such as Wonga-slaying) to some of TV's fiercest interviewers. We would all love to see him on Room 101.
Order your free copy of the April issue here.