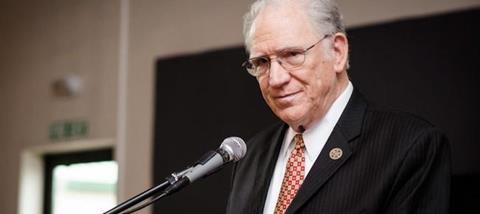 It was the Bible study that never should have been.
Despite being invited to do so by their church, my parents had decided against hosting a small group. There were some theological disagreements between them and the leadership, so while mum and dad were happy to be a part of the congregation, they didn't feel able to actively teach the church's position. They declined the invitation to lead a group, albeit reluctantly.
In an apparently unrelated move, around the same time my father discovered an American Bible teacher by the name of Chuck Missler. Impressed with Missler's messages on Christian TV, he ordered his most well known DVD teaching series titled Learn the Bible in 24 hours and suggested our family of four watch one of the hour-long episodes together each week. Sitting through a lecture about the Bible by an elderly man wasn't exactly the most exciting prospect for my teenage brother and I. And yet…
The first episode blew my mind. Missler's study of Genesis 1 included references to particle physics, hyperspaces and the existence of nine dimensions, as well as the Hebrew language. He combined history, prophecy and science in a compelling and intriguing way. I'd never heard anything like it – before or since!
It was surprisingly refreshing to sit through a Bible study where I didn't comprehend much of the material. As the co-writer of 'In Christ Alone' Keith Getty has remarked on the need for children to sing complicated hymns: "By engaging in something fundamentally, and yet enjoyably, higher than their own life stage, children learn a key lesson: that life is deeper. That we have to think into things. That we grow into things. That faith is not comprised of mere, simplistic answers to difficult, complex questions."
I didn't understand everything I was hearing, much less agree with all of it. But I knew that listening to this man teach the Bible was doing me good. I even invited friends from church over to view the teaching each week, and my parents did the same.
Dr Missler's motivation to instill a passion for the scriptures in other Christians was undeniable
Within a couple of months, what had begun as a family Bible study had grown into something far bigger. Dozens of people packed into our living room each week, eager to hear the next installment of Dr Missler's teaching. What was even more remarkable was a large number of the participants happened to be battling alcoholism or drug addiction. Our family had never set out to have a ministry to those in recovery. We hadn't even intended for our little Bible study to grow beyond the four of us. But God clearly had other ideas.
The church leadership recognised that God seemed to have intervened. Any doctrinal disagreements were put to one side and all parties recognised God had brought this new group into being. As the months rolled on, we carried on watching Dr Missler and God carried on bringing people to us to love, disciple and share the gospel with.
I have so many fond memories of those days, sitting under Dr Missler's teaching and excitedly joining in the discussion afterwards. It's thanks to this Bible teacher from Illinois that I was introduced to concepts as varied and perplexing as the Tetragammaton and the Nephilim. He revealed how the gospel message is hidden in Genesis 5, explained why 'taking the Lord's name in vain' is about so much more than just swearing and perhaps most importantly, always challenged his hearers to "never believe a word Chuck Missler or your favourite Bible teacher says" but instead check it for yourself in the Word of God. "Be like the Bereans", he challenged, referencing Acts 17:11: "Now the Berean Jews were of more noble character than those in Thessalonica, for they received the message with great eagerness and examined the scriptures every day to see if what Paul said was true."
No compromise
Chuck enjoyed a 30-year long career in technology and business and often spoke at Calvary Chapel Costa Mesa, before founding his ministry Koinonia House and making his hobby of Bible teaching a full-time venture. He was not universally loved. Some of his theories were unusual - there's little doubt about that. But Dr Missler's motivation to instill a passion for the scriptures in other Christians was undeniable - even if you disagreed with some of his theology.
He never compromised on the truth of the gospel. At the same time, when it came to secondary matters - his preference for the KJV over the NIV or his pre-millennial view of the End Times - he would often pause and remind his audience "there are good Christians on both sides of this". He was careful to indicate where he was sharing an opinion that might run counter to the Christian mainstream. And while he always taught with great fervour and passion, he held his views on secondary issues lightly and with great humility.
A master of the scriptures
Another one of his trademark quips was to point out that the phrase "jack of all trades, master of none" is a misquote. Benjamin Franklin actually said an educated person should be a "jack of all trades, master of one". According to Dr Missler the trade which every Christian is called to master is the reading and studying of the scriptures.
Dr Missler would often encourage his hearers to be excited when they discovered a portion of scripture they didn't understand. Why? Because this would be an opportunity for God to reveal himself. All the Christian must do is pray and ask the Holy Spirit for the answer. Jesus promised the disciples that the Spirit would lead them into "all truth" (John 16:13). This was Dr Missler's firm belief for both himself and his hearers. He will be remembered as a diligent student of God's Word whose passion for the scriptures was contagious. May he rest in peace and rise in glory.
Click here for a free sample copy of Premier Christianity magazine