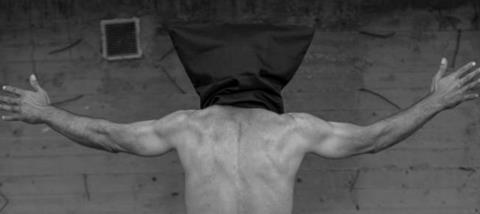 Among the many images that had been taken for our major feature The Stations was one of a refugee from Syria, photographed from behind, stripped bare and hooded for execution. The shot was staged by creative director Marksteen Adamson as part of an ambitious collaborative project to photograph refugees for a series of images representing a modern day Stations of the Cross.
Many moving shots had already been taken of those living in the limbo of the Calais 'jungle' and in the camps and temporary bedsits of those fleeing Syria. But, on his last full day in Lebanon, an image that would truly sum up the violence of the crucifixion had yet to be captured. During his trip Marksteen had befriended someone, a convert to Christianity who had already faced violence and death threats, and felt bold enough to ask him to pose naked for the shot.
Almost incredibly the man agreed, and so in a derelict building on the outskirts of Beirut, the photographic assignment took place. For obvious reasons the subject of the photo would remain anonymous, but the image that resulted was graphic, arresting and unsettling.
In essence it represents a sense of what we should feel when we witness Jesus himself on the cross. But most of the time we don't. Artistic representations have typically romanticised the crucifixion to the point that we become insulated against the reality of the shame and the horror that would have typified this form of Roman execution.
So what was my editorial dilemma?
Whether to put the image on the front cover of our magazine.
In the end I decided not to, though a large part of me wanted to. A picture can speak a thousand words and sometimes we need to be confronted with stark images which challenge us at an emotional level in ways which words cannot.
Nevertheless, the picture that we have carried on our cover (an echo of Christ's thorny crown) also carries great significance.
Indeed, The Stations has became a far more significant project for Marksteen, myself and the magazine than we ever envisaged.
If you are able, I encourage you to visit the exhibition at St Martin-in-the-Fields, London which runs until Sunday 10th April, or to engage with the project at premierchristianity.com/thestations and thestations.org.uk
See Marksteen Adamson talk about staging Station 10: Murder.
This Easter we need to be challenged to see the cross afresh, we need to be challenged by the real suffering of people in a modern humanitarian crisis. I hope that the stories and images featured in The Stations go some way towards inspiring us to respond too. The journey isn't over.
For a free copy of Premier Christianity magazine featuring The Stations click here