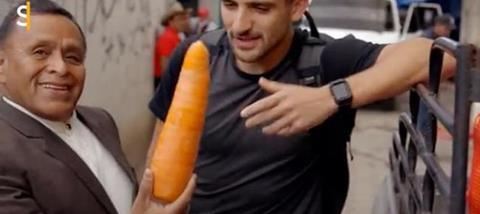 In the wonderful feature-length animation Wallace and Gromit: The Curse of the Were-Rabbit, there is a scene in which Reverend Clement Hedges is praying. "Protect and nourish the frail and the weak, O Lord," he petitions. "Let them grow big and strong under Thy loving care."
The camera then pulls back to reveal...a greenhouse where he is growing his precious vegetables. With increased fervency he continues, "In fact, let them grow bigger and stronger than anyone else's, so that the first prize might be mine!" The annual Tottington Hall competition is approaching and the winning prize is the Golden Carrot Award.
I was reminded of this funny scene after watching an interesting BBC documentary on the miracle carrots – yes, miracle carrots! – of Almolonga in Guatemala.
The BBC Stories film follows scouser Benjamin Zand as he seeks to find out about the town famous for its massive carrots - the size of an adult's lower arm:
The phenomenon, according to Pastor Sanchez, is down to the blessing of God. He says that people in the town used to believe in other gods and engage in immoral behaviour, so they were punished with small crops. But as people began following God the harvests grew more abundant, large carrots included.
Yet as Zend discovers, perhaps God's involvement is being overstated. Speaking to Julia, who is doing a PhD on the so-called miracle, it turns out the carrots' size can be linked to a heavy use of fertilisers and other chemicals which can be harmful to people's health – potentially even causing cancer and diabetes.
While Julia refuses to blame the church, citing a lack of education, she does issue them with a challenge given their position in the local community: "I think the church could have a really, really important part to play, if they would just admit this issue and actually use their sermons to help educate people about these issues."
Achieving this, however, is not easy. The church is steeped heavily in the prosperity gospel, with Pastor Sanchez strongly influenced by Cash Luna, a multimillionaire pastor whose messages on health and wealth strike a chord in a country where over half of the population live below the national poverty line. To the locals of Almolonga, its large carrots aren't simply a display of God's power, they are good for business – including Pastor Sanchez's business. (He runs a truck company which transports vegetables, including the carrots, across central America.) He also happens to be the only local with a flash BMW. "God gives us the power to gain wealth," he says. "And God gives us the ability to enjoy wealth."
Zend grows increasingly uncomfortable the deeper he digs. He is concerned, with good reason, about the effects of spraying the carrots with fertiliser and other chemicals but is also aware of how important the carrots are not just to local trade but the town's identity. He sensitively challenges Pastor Sanchez, who responds by saying that people are used to the chemicals and God will protect people from harm. One farmer adds that the chemicals are simply a means of God's provision.
What should we make of this?
There is certainly reason to see God's provision in some aspects of this story, notably Almolonga sitting on good ground for vegetables to grow. However, in terms of the size of the carrots, I couldn't help but agree with Zend's conclusion: "There is a reason the carrots are massive but something tells me that it's not because of God."
Jesus urged his disciples in Matthew 16:6 to be aware of the yeast of the Pharisees and Sadducees, implying that their false teaching had the power to spread destructively. In a similar way the prosperity gospel seems to have taken such a hold in Almolonga that their understanding of God is wrapped up in abundance and the miraculous, and so to suggest that the carrots are not a display of God's favour is a threat not just to businesses and the town's identity, but perhaps also the very foundations of their faith.
To suggest that the carrots are not a display of God's favour is a threat to the very foundations of their faith
God delights in giving us good gifts and does surprise us with the miraculous. But this stems from the greater gift of Jesus Christ. As Paul puts it in 2 Corinthians 8:9: "For you know the grace of our Lord Jesus Christ, that though he was rich, yet for your sake he became poor, so that you through his poverty might become rich." Grasping this is immensely freeing – we can admit that we are wrong, go through times of desperate need, or experience nothing of the miraculous, and still know that we are rich in Christ and loved outrageously by him. It's a truth we must all cling to.
In Wallace and Gromit: The Curse of the Were-Rabbit, Lady Tottington ends up giving the coveted Golden Carrot Award not to the person with the largest vegetable – sorry Reverend Clement Hedges – but to faithful old Gromit. Why? Because he sacrificed his giant marrow to save Wallace. In the end a selfless act of love won the day, not the size of people's vegetables.
It's my prayer that the Christians of Almolonga will realise this too, and in doing so also remember that the greatest demonstration they can give of God's glory is not the size of its carrots but the way it selflessly loves and looks after its people.
Click here for a free sample copy of Premier Christianity magazine