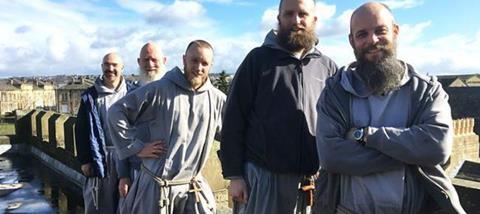 At least five hours of a prayer a day, soup kitchens for the poor (including a spot of improvisation involving tomato soup mixed with rice pudding!), sharing the Gospel with people on the streets, impromptu guitar jams, amazing beards…
Welcome to the intriguing world of a Franciscan friary, as featured in Bronx to Bradford: Friars on a Mission, a fascinating and moving BBC documentary that may have slipped under your radar (perhaps in part due to it being aired at the somewhat late time of 10.45pm on BBC One).
The hour-long documentary (available for another 19 days on iPlayer) offers a unique insight into the simple and missional lifestyle of five friars at a Franciscan friary in Bradford. Their intention is to adhere to the example of St Francis of Assisi, who they believe demonstrated what it means to follow the teachings of Jesus. The friary in Bradford is one of a number in the UK, USA and Ireland. The first of its kind was set up 30 years ago in the Bronx, New York.
Interspersed throughout are testimonies, both from the friars and those they have helped. Brother Benedict - who comes from Manchester and was once promiscuous and heavily involved in drugs before having a life-changing encounter with God - enthuses with a thick Mancunian accent, "I'll always be raving for Manchester, but I'm raving for the Lord."
Tony, a homeless man, adds, "If it wasn't for the friars, there is a very good possibility I'd be dead."
What was especially striking for me is the warmth, humility and joy - not to mention infectious sense of humour - that radiates from the friars. The youngest, Brother Joshua, who finishes the majority of his sentences with a wonderfully endearing chuckle, jokes that the hood of the grey habit they all wear provides a perfect hiding place for goodies they want to keep for themselves!
Another adds with a smile, "You never have to decide what you have to wear in the morning." When discussion turns to prayer, an activity they spend at least five hours doing each day, one of them beams, "I want to pray more!"
It all gets you thinking...
There is a deep-seated contentment to the friars. They hold possessions incredibly lightly. In fact, the documentary features a "poverty-check", a sort of religious cleansing where the friars consider whether they have taken anything they don't need. They undertake this without grimace or grumble. They willingly make themselves dependent on others, even ringing up people for specific things, and this helps them better identify with the poor. They do without technology as much as possible and don't have a TV because they feel it would detract from their devotion to prayer and each other.
"It pushes you to be creative over how you spend time together," one of them explains. Spontaneous sessions involving guitars are often the order of the day.
There is much to admire. But do we dare leave it there? Instead of being content to watch on from a distance and applaud their discipline and simplicity, can we consider how their example can prompt necessary changes to our own lifestyle?
While Jesus did not condemn the accumulation of possessions, he knew the dangers inherent in them. In Luke 2:15, he cautions, "Watch out! Be on guard against all kinds of greed; a man's life does not consist in the abundance of his possessions." Later in 12:33, he says, "Provide purses for yourselves that will not wear out, a treasure in heaven that will not be exhausted, where no thief comes near and no moths destroy. For where your treasure is, there your heart will be also." In Matthew 10:7-10, a passage central to Franciscan belief, Jesus instructs the disciples to depend on the generosity of others.
Nathan Foster, in The Making of an Ordinary Saint (a personal follow up to Celebration of Discipline, written by his father Richard), writes, "Simplicity is not necessarily about depriving ourselves of worldly things but about being content — content to have or do without, free to give but also receive. It's about living free from the trappings of society that keep us from following Jesus' counsel to 'seek first the kingdom of God.'"
There is a beautiful and infectious freedom to the friars. In a consumerist society such as ours, which comes with all sorts of subtle dangers that none of us are immune to, we would do well to reflect on their illuminating example. While we need not join a friary or agree with all aspects of the Franciscan belief system, we can consider whether there are any habits and attitudes in our own lives that need to be changed to allow more room for Christ to work in and through us.
Click here to request a free copy of Premier Christianity magazine