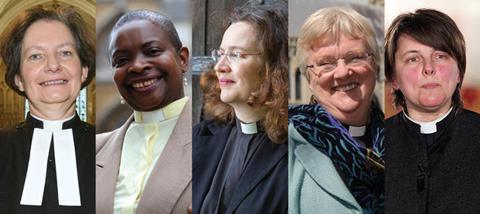 VIVIENNE FAULL
Dean of York Minster
The Very Rev Vivienne Faull has already made history several times: becoming the first female dean of York Minster; the first woman to take the helm at a Church of England cathedral; and the first (and only) ever female Church of England provost.
Before her ordination in 1994, Faull worked for 18 months as a teacher with the Church Mission Society in India. She became one of the first female deacons in the Diocese of Ely in 1987, and in 1990 she became chaplain of Gloucester Cathedral, a post that lasted ten years.
Despite her mother telling her that ministry was a waste of time for women because of the limited opportunities, Faull became provost of Leicester Cathedral in 2000.
Asked by The York Press whether she would like to become the first female bishop, Faull said: 'Oh gosh! I think my best answer at the moment is that my calling is to be dean of York.
ROSE HUDSON-WILKIN
Vicar of Holy Trinity and All Saints, London
Jamaica-born Rev Rose Hudson-Wilkin was appointed in 2010 as the 79th chaplain to the speaker of the House of Commons. She was the first black woman ever to assume the role.
However, when Hudson-Wilkin was appointed to the Commons against the wishes of some clergy, the traditional role was effectively split between her and Andrew Tremlett; a decision she was 'disappointed' about.
She is also vicar of Holy Trinity Church, Dalston, and All Saints Church, Haggerston, priest vicar at Westminster Abbey and chaplain to the Queen. She was recently made a prebendary at St Paul's Cathedral. Like several other female candidates listed, some have refused to take Communion from her.
Hudson-Wilkin has been outspoken on the subjects of racism, slavery, sexism and gay marriage. She once staged a rooftop protest in Hackney to highlight the need for funds to repair her church building. She previously believed that women would never be allowed to become bishops during her lifetime.
MIRANDA THRELFALL-HOLMES
Vicar of Belmont and Pittington, Durham
Former atheist Dr Miranda Threlfall-Holmes never saw herself becoming a member of the clergy, let alone a female bishop. However, an encounter with God while at university changed her life, and months later she felt the call to ordained ministry.
Threlfall-Holmes studied theology at St John's College, Durham, and now serves as vicar of Belmont and Pittington, and chaplain of Durham University. Author of The Essential History of Christianity (SPCK) and co-author of Being a Chaplain (SPCK), she co-founded Women and the Church (WATCH), which campaigns for gender equality in the Church. She was a member of the General Synod from 2007-12.
Threlfall-Holmes found herself in hot water when she likened the Church of England to an abusive husband back in 2012. The controversial blog, which was later removed, followed last-minute changes to the draft legislation introducing women bishops.
She wrote: 'One of the reasons women's ordination is important is because women's current exclusion from the Church hierarchy justifies and entrenches sexist attitudes, which have very serious consequences for women.'
JUNE OSBORNE
Dean of Salisbury
The Very Rev June Osborne became the first female dean of Salisbury Cathedral. She took on the role in 2004 – having previously served as canon treasurer – becoming the first female dean of any medieval Church of England cathedral. In 1992, The Times implied that a speech she made had swung the General Synod vote in favour of female priests.
Originally planning to take up a career within the legal profession, Manchester-born Osborne believes God called her into Christian ministry. She studied at St John's College in Nottingham and at Wycliffe Hall in Oxford before ordination. She subsequently served as a deacon at Birmingham's St Martin in the Bull Ring and at St Aldate's Church, Oxford, and in the Old Ford parishes in London.
Writing in The Telegraph, Osborne said: 'What women have brought to the Church is exactly the same as they've brought to education, and also to science, medicine, the law, politics and the rest. They've brought themselves. In that sense they will profoundly transform the Church, and of that there is no doubt.'
LUCY WINKETT
Rector of St James's, Piccadilly
Rev Lucy Winkett has been rector of St James's Church in Piccadilly since 2010. She was previously the first female canon at St Paul's Cathedral, having been ordained as a priest in 1995. Bishop of London Richard Chartres described Winkett as 'among the most talented priests in her generation'.
Prior to her ordination, Winkett studied history at the University of Cambridge and theology at the University of Birmingham. She then attended the Royal College of Music and became a professional singer.
Winkett is no stranger to controversy and gender prejudice. During her time at St Paul's, some members of the clergy opposed her appointment and allegedly spat at her, while one canon refused to receive Communion from her. Several of the servers regularly approached the altar as if they were about to take Communion from her and then refused to do so.
However, the Very Rev Dr John Moses, who was dean of St Paul's at the time, told The Times: 'We are not playing gender politics. We appointed her because she was the best candidate for the post.'
Click here to receive your free copy of Premier Christianity magazine.