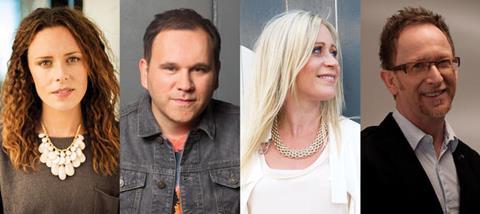 We've all listened to songs and invented interpretations of the lyrics' meaning. But sometimes we discover a surprising story behind a song we have been unwittingly humming for years. Bob Marley's 'I Shot the Sheriff' is said to depict an argument he was having with his girlfriend about birth control, with the 'sheriff' representing the doctor who had prescribed it.
And what about songs composed in an unusual context? The melody for the Beatles song 'Yesterday' was conceived in a dream Paul McCartney had. However, as the lyrics didn't follow immediately, the song was given a working title, 'Scrambled Eggs', and the opening verse began with 'Scrambled Eggs/Oh, my baby how I love your legs'. John Lennon was disappointed when the lyrics finally came together because the temporary lines had been the source of such amusement.
In light of this, team Premier Christianity began to wonder about the inspiration behind some of the UK's favourite worship songs. We spoke to six worship leaders about the stories behind some of their bestknown songs and about some of the lives touched through them.
Martin Smith on 'God's Great Dance Floor', which evolved after a conversation with Chris Tomlin
It started as a song called 'Back to the Start'; a very slow sort of brooding song about waiting on God. For me, it was a really important statement and a prayer to say, 'I'm in a new place now. I really am going back to the beginning in so many ways.'
I played it to Chris Tomlin and he fell in love with the end bit and said, 'Right, we need to write a brand new song with two new verses' (the whole 'I feel alive, dance floor thing'). So that's what we did. And he recorded that on his new record and I recorded that version for EP4.
He seems to have fallen in love with it and is taking it on the road now on his Burning Lights tour. I do it live as 'Back to the Start' and also now it's grown into something else called 'God's Great Dance Floor'.
This song is included on Martin's God's Great Dance Floor: Step 02 (GloWorks) album
Beth Croft on how 'Hold On' came to mean so much to her personally
A song that I wrote with Nick Herbert not long ago called 'Hold On' has grown in significance for me, even since we wrote it. It had a lot of background wrestling for me, I suppose; just things that I was thinking about; pondering on. It actually started off as a song in my head called 'Letting Go'.
I wanted to write a song that's based on so many of the things I see – particularly in teenagers that we work with a lot at Soul Survivor – things consuming them: self-image, anxiety, depression…[I had an] urge to let go of things that eventually kill us spiritually. Then I brought it to Nick and it became a song about holding on. We shed more of a positive light on it…it eventually became a song called 'Hold On', about holding on to the cross.
IT WAS ONE OF THE FASTEST THINGS WE EVER WROTE
Since we wrote the song I received some not-so-great health news, which just knocked me for six. It was just like, 'Wow, I really am having to hold on to the cross in this sense.'
'Hold On' is from Beth's latest album, Rule in My Heart (Integrity)
'10,000 Reasons' came about almost by accident, says Matt Redman
It was very late one night. We were in a little chapel in the village I live in and we were songwriting. [Jonas Myrin] kept saying to me all week, 'Hey I've got this melody idea…' And I kept saying to him, 'Hey mate, we've got so many things going on already, let's just focus on them.'
He's not really a pushy person, but he kept coming back. And about the fourth time he said to me, 'I really want to play this idea,' I thought, 'I'm going to break this little guy's heart if I don't say, "All right, mate."' It was one in the morning. He plays me this thought and it immediately inspired some lyrics; actually, a couple of things we had written down already, and then some new stuff.
It was one of the fastest things we ever wrote. It just flowed out in that moment. We did a few things to it afterwards. We only finished it a week before we recorded the album; so it kind of snuck in there.
What I liked about the song was that it had a simplicity. There's nothing flash about it, nothing progressive, but it seemed to work in worship. It's been super encouraging; I've never had so much momentum around a song before.
'10,000 Reasons' is from the album of the same name (Kingsway). Matt's latest solo album is Your Grace Finds Me (Six Steps Music)
Lou Fellingham explains the symbolism behind 'Roar'
I felt God give me a picture that as I was singing it would be like the lion's roar over people. It made me think about Aslan and how the forest, in Narnia, defrosted. Aslan was on the move but you couldn't see him yet. You only saw the change; the effect it was having. And that image made me think about the fact that God is on the move. Some of it we haven't seen in full yet and sometimes we don't see him completely. But we know he's on the move because we see the effects.
THIS SONG IS ABOUT CRYING AND INTERCEDING FOR THAT ROAR OF GOD IN PEOPLE'S LIVES
In my gigs recently we've been using that song not only to declare the roar of God over us, but also to pray in and declare that roar of God over other people's situations and lives. There's a line that says: 'No shout is louder than your roar'; in this nation and other nations there's a lot of darkness, but we know that Jesus has won the victory over all sin and darkness. This song is about crying and interceding for that roar of God in people's lives.
'Roar' is from Lou's latest album, Fascinate (Integrity)
Tim Hughes on 'Here I am to Worship (Light of the World)'; the frustrations and the Matt Redman reaction
I wrote this song when I was studying at university in Sheffield. I'd been reading about the life of Jesus, and about us imitating Christ's humility and the fact that Jesus gave up everything, walked upon the earth and was obedient even to death on a cross, in Philippians 2. So I began, as often we do, to worship out of response to that.
I began to sing out these words, 'Light of the world, you stepped down into darkness, opened my eyes, let me see', and also I had that tag, 'I'll never know how much it cost, to see my sin upon the cross'. But I could never ever finish the chorus, and I got more and more frustrated. When I get to that place, often what I do is park the song and move on.
About six months later I went to the movies to watch a film called The Green Mile, a Stephen King story about substitution; someone taking on a punishment that wasn't rightfully his to take. The themes of the cross and sacrifice were so powerful, and I began to sing this song again. I thought, 'I must finish that', but again I couldn't get the chorus.
I began to listen through to old – back then it was cassettes – tapes of melodic ideas I'd had, and I found an old-school melodic idea which I thought, 'Actually, that could fit really nicely', and then quickly wrote those lyrics. The verses speak about what Jesus has done and the chorus needed to be a simple, 'Well I'm going to respond by worshipping you, bowing down, saying that you're my God.' So that's how the song came together.
What was interesting is I played it to a friend, Matt Redman, who said, 'Oh, you know, well maybe you could use the chorus as a little tag thing. I'm not sure the rest is particularly strong.' So he tried to sabotage the song! I sat on it for about a year and didn't ever use it.
Then I played it once in a ministry time and Mike Pilavachi, who heads up Soul Survivor, came up to me and said, 'What is that song? You have to sing that song every week for the next year', which I almost ended up doing. I was really surprised when it took off. As a songwriter you're not always the best judge of your own work.
'Here I am to Worship' is from the album of the same name (Survivor). Tim's latest solo album is Love Shine Through (Kingsway)
Graham Kendrick on the significance and impact of 'The Servant King
'Servant King' was a title for Spring Harvest and it was sent out to several writers including myself. I just found that very phrase inspiring. We weren't being asked, 'Can you write a song with the words "servant king" in it?' but it was those two words that set the juices flowing because they were opposites. If you're a lyricist or a poet, opposites always kickstart ideas; those two words don't normally sit together. So I just started to unpack that whole story. The obvious part of the story is the incarnation, 'From heav'n You came, helpless Babe…' and it sort of unfolded from there.
A guy spoke to me, who I think was a policeman at the time, and his personal life was something of a mess. He met a Christian and this Christian had given him a cassette tape at the time. He put this on in his car as he drove along and 'The Servant King' came up. As he listened to verse three, with the lines, 'Come see His hands and His feet/The scars that speak of sacrifice/Hands that flung stars into space/To cruel nails surrendered', he was suddenly overwhelmed to the point that he had to pull over the car and stop because the truth in those lines just hit him in a powerful way that was supernatural and unexpected. When he told me the story some years later it was as someone who had since grown as a Christian. I think he was in some sort of ministry by that time.
THOSE TWO WORDS SET THE JUICES FLOWING
I can remember writing those lines sitting in my music room – I was living up in York at the time – and really just unpacking the flow of ideas. And that was one of the verses that seemed to fall into place in the midst of all the trial and error. I tend to write a lot of lines and then pick the best or write more verses than I need to and identify the strongest lines and how they all fit together. So it was that kind of normal process, but until you start using a song you don't know how it's going to impact people. I think imagery is incredibly powerful. As writers put pictures into people's minds that convey the truth, the Spirit of God can take hold of those.
'The Servant King' is available on several of Graham's albums including Worship Duets (Integrity), where it is sung as a duet with Rend Collective, and The Very Best of Graham Kendrick (Kingsway)