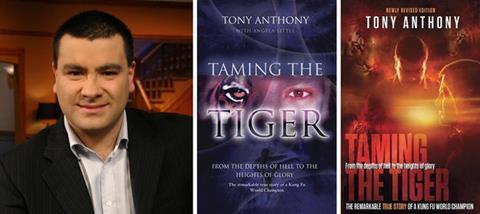 Tony had spent time in China, become a Kung Fu champion and worked in close protection security. I, along with thousands of others, had read the book and had no reason to question any of these claims any more than I had reason to doubt his testimony of coming to Christ.
But while I believed Tony, others had major doubts.
'Suppose [sic] to be based on real life events...well the fight descriptions and kung fu training is straight out of a B rate movie...' said one Amazon reviewer, as early as 2005.
A growing chorus of objections and questions surrounding the authenticity of Tony's testimony eventually led to a major investigation in 2013. An independent panel set up by Tony's ministry Avanti, following discussions with the Evangelical Alliance, concluded 'large sections of the book…which claim to tell the true story of Tony Anthony's life, do not do so'.
After this damning conclusion, the original edition of the book (published by Authentic Media) was dropped. But Tony continued working as an evangelist and has now republished his story with RoperPenberthy.
Having spent the past 48 hours reminding myself of what happened two years ago, and talking to the key players (Tony included), it seems that little has changed. Tony's accusers have not backed down. Some of them appear to have stepped up their attacks. But Tony hasn't changed either. He stands by his story.
Although a few facts have been straightened out and corrected in the revised edition of the book, most of it remains unchanged. There's a disclaimer in the new book which reads, '...some scenes have been dramatized with authentic, though not necessarily actual, dialogue and detail...'. That's fine, but the front cover does call it a 'true story'.
In any event, the disclaimer does not answer the major and most important accusations. Either Tony won Kung Fu tournaments or he didn't. Either he lived in China as a child, or he went to school in North London.
Which is it?
The members of the 2013 panel investigation concluded Tony was never involved in Kung Fu, never lived in China and never worked in close protection security. (All three claims appear in both the original and revised edition of 'Taming the Tiger').
Although the panel's full report was never made public, the chair of the panel, John Langlois has published his own lengthy report. The document reveals that in 2001 when Tony was convicted of perverting the course of justice, the judge said he regarded Tony as 'a devious and manipulative man'.
Tony directs his critics to forthesakeofthegospel.com – a website set up to defend the evangelist. But the material there has yet to convince the members of the independent panel, the journalists who first broke the story or indeed many of the Christians who have followed this story.
Two years ago, immediately following the panel's conclusion, Premier Christianity predicted that Tony 'will continue to work as an evangelist and protest his innocence'. This is exactly what has happened.
Tony's Avanti ministries closed immediately after the 2013 investigation. But The Great Commission Society appears to have sprung up in its place. Tony says the new group is not connected to Avanti and has hundreds of evangelists in over 30 nations. Is the organisation's unfinished website and grand total of five followers on Twitter evidence that this claim is at best exaggeration and at worst completely untrue? The fact that the organisation is registered with Companies House to a residential address in a quiet West Lothian street, doesn't help evidence the claim that the society is 'equipping hundreds'.
The saddest aspect of this case is that there can be no winners. Either the Evangelical Alliance backed panel made a huge mistake and Tony is the victim of a terrible miscarriage of justice, or this evangelist who claims to have won many souls to Christ is a pathological liar. Neither side is willing to budge. Both sides have far too much to lose.
And because of that, the story looks set to run on for some time yet…
Click here to read today's news story 'Tony Anthony: "I will not be silenced"' which features interviews with key players in this story, including Tony Anthony.
Click here to read Premier Christianity's feature article from 2012 'Shaming the Tiger'
To receive a free copy of Premier Christianity magazine click here