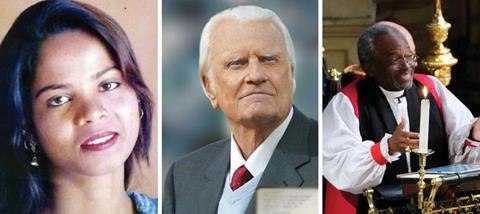 It's thought that Billy Graham held the record for the largest number of people reached through preaching. Some 215 million heard him speak at live events, and hundreds of millions more were exposed to the gospel through his books, radio programmes and newspaper columns.
By the end of his life, the 99-year-old preacher had reached 2.2 billion souls, making his passing one of the most significant Christian news stories of the year. The man himself might have smiled at some of the coverage of his death on 21 February. He once quipped: "Someday you will read or hear that Billy Graham is dead. Don't you believe a word of it. I shall be more alive than I am now. I will just have changed my address."
It took a lifetime of travelling, writing and preaching for Graham to reach so many. But, just months after his death, another American man would reach a similar number of people with the gospel. Only this time, it wouldn't take a lifetime. He need only deliver a short(ish) sermon inside a chapel just west of London.
Bishop Michael Curry's royal wedding sermon was heard by an estimated 2 billion people around the world. But it wasn't universally welcomed. And many would understandably baulk at any kind of comparison between Bishop Curry and Billy Graham (not least because the former's church conducts same-sex marriages). Nevertheless, Bishop Curry's message on 'The power of love' contained the same message that Graham had dedicated his life to – "just tell the love of Jesus, how he died to save us all."
Having taken up his father's preaching mantle, Franklin Graham paid a visit to Blackpool in September (and he's promising more UK visits in 2020). While his father learned to stay above the fray of party politics, Franklin has drawn criticism for his public support of Donald Trump, as well as derogatory comments about Islam and homosexuality. But despite a fair share of negative publicity, including an unsuccessful campaign to ban him from entering the UK, Franklin preached to thousands at the town's Winter Gardens. And hundreds responded to the gospel message.
The fact that neither Franklin's visit, nor Bishop Curry's sermon were universally welcomed by Christians is a reminder that the Church in this country is bitterly divided. It's also notable that both of these men are better known on these shores than any UK-based evangelist. If you believe the statistics, the overall picture of the UK Church is one of decline, and this is especially the case in the established Church. Picking up on the latest British Social Attitudes survey, The Guardian reported in September that the Church of England is "facing a generational catastrophe with only 2% of young adults identifying with it".
Attracting young people into church will remain a head-scratcher for church leaders as we begin another year. And the news that the largest Christian youth camp in the UK is coming to an end might, on first sight, look like another sign of decline. After all, Soul Survivor has seen thousands of young people come to faith during their summer festivals over its 25-year history. The announcement that all events will cease after 2019 shocked many. But founder Mike Pilavachi told Premier Christianity: "I was saying from the beginning: 'I hope one day the Lord tells us to close and we'll be obedient and close.' We exist for a season to serve the Church. God never said: 'I'll build my Soul Survivor.' He only said: 'I'll build my Church.'" Unlike other announcements this year (most notably, the end of Big Church Day Out North), Soul Survivor isn't
closing due to lack of funds. Instead, Pilavachi explained: "The scripture God gave us was 'unless a grain of wheat falls to the ground and dies, it cannot bear fruit' [see John 12:24]. It's only as we die as a festival that others will rise up." It seems that organisers are shutting their doors for positive reasons, not negative ones. Nevertheless, many are now asking: what will fill the gap that Soul Survivor leaves? A host of key youth organisations are reportedly putting plans in place for new events, but few have spoken publicly. Watch this space.
Religious freedom victories
Tragic stories of Christians suffering immense persecution have continued to roll in. Church leaders in Northern Nigeria have described recent events as "pure genocide". At the same time, there have also been an unusually high number of good news stories when it comes to the freedom of Christians around the world. Asia Bibi, who had spent eight years on death row in Pakistan for a blasphemy charge, was finally acquitted, for example. And in March, three North Korean Christians were also released from prison (it was viewed as a goodwill gesture prior to the summit between President Trump and North Korea's Kim Jong-Un). Later in the year, Trump would again feature in a persecution-related news story when the US pastor Andrew Brunson was freed from a Turkish prison. The pastor had spent two years in detention and Trump promised to make Brunson's plight a foreign policy priority. Once released, the pastor was filmed kneeling next to the President inside the Oval Office during a press conference and praying that God would give Trump "supernatural wisdom".
These stories were widely viewed as victories for religious freedom campaigners, but the reality of life for Christians living in those countries remains precarious. Closer to home, there was good news for Northern Irish bakers Daniel and Amy McArthur. After a four-year legal battle, the Ashers bakery saga finally came to an end, with the Supreme Court ruling in favour of the Christian couple who had refused to bake a cake with the slogan 'support gay marriage'. In this landmark judgement, the court ruled no discrimination had taken place because Ashers (their name is taken from Genesis 49:20) were only objecting to the slogan on the cake, not the sexual orientation of the customer.
"Google, who is Jesus?"
This Christmas many households will have unwrapped a smart speaker. According to investorplace.com, devices such as the Amazon Echo and Google Home, which give spoken answers to users' questions, are being adopted by consumers at a faster pace than smartphones or tablets were. But this technology is new and clearly there are kinks to iron out. This time last year, it emerged that while Google's Home device could explain who Mohammed or the Buddha were, it couldn't answer the question: "Who is Jesus?" Google were forced to make their devices go silent on all questions about religious figures until the error could be fixed. Perhaps the Church of England were taking note of this controversy as, months later, the CofE launched an 'Alexa Skill', which enables users to ask Amazon Echo devices for prayers to be read aloud, or for directions to their nearest church.
If recent history has taught us anything, it's surely that experts, soothsayers and commentators can be drastically wrong about world events, so making any predictions for 2019 would be unwise. Perhaps it's best to stick to ancient truth in this fast-moving, ever-changing and often perplexing world. Scripture doesn't assure us that Brexit will be a success or that Donald Trump will make good decisions in 2019. Instead, Jesus promised something far better: "I will build my church, and all the powers of hell will not conquer it" (Matthew 16:18, NLT).
Get more articles covering news, culture, faith and apologetics in every print issue of Premier Christianity magazine. Subscribe now for HALF PRICE (limited offer)