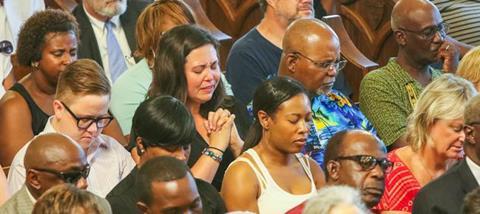 I was visiting the US when nine African Americans were gunned down during a Bible Study in Charleston.
Watching the US media coverage over the past few days has been heart-breaking. South Carolina, America and much of the world has been shocked by what many are calling a terrorist attack.
We cannot underestimate the pain this attack has brought. Yet hope has come in the most unlikely of circumstances.
Within two days of the murders, the victims' family members were talking not about revenge, but about forgiveness.
'You took something very precious from me, but I forgive you,' the daughter of the murdered 70 year-old Ethel Lance said to the alleged killer. 'It hurts me. You hurt a lot of people, but may God forgive you.'
I, along with many Americans and much of the world, stared at my television in shock at these gracious words.
The anchors of major news networks were visibly moved as words of healing flooded the airwaves.
Yesterday, CNN even broadcasted the Emmanuel Church service live to millions around the world. And when they weren't showing the church service, the channel interviewed Christians who spoke boldly about their faith.
The Guardian said of the church service, 'When a gospel choir, aided by trumpet and piano, began an upbeat rendition of Jesus Said You Can Lean on Me, people lifted their arms, swayed and danced. The response was so impassioned that the floorboards began to shake.'
During the service, church elder Norvel Goff said, 'We believe that when we put our forces and heads together working for a common good, there is nothing that we can't accomplish in the name of Jesus. It has been tough. It's been rough. Some of us have been downright angry. But through it all, God has sustained us and has encouraged us.'
In the American media over the past few days, this message has come across loud and clear: Christians forgive others because Christ has forgiven them.
It's during tough times like these that the Christian message of forgiveness resonates the most. The gospel is not theoretical. It is practical, and it is being beautifully displayed by the Christians of Charleston.