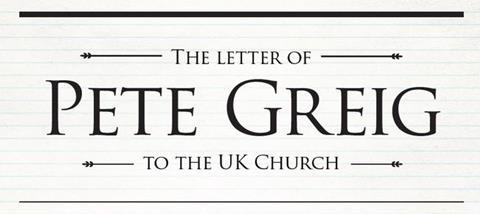 Dear Church,The Lord is doing a new thing among us. There's a new urgency in our hearts; a new spring in our steps. St Augustine said that God rubs salt on our lips to provoke a keener thirst for his presence, and as I travel around the UK, praying and talking with a lot of leaders, I see more and more salty lips. The Spirit seems to be bringing us to our knees, and calling us to cooperate in new ways for a kingdom beyond our own little empires.
This is more than mere rhetoric. There are empirical reasons to rejoice. Dynamic new churches are being planted in many traditions. The Methodists have partnered with the Pioneer Network to renew dwindling congregations and repopulate empty buildings. Vineyard churches are multiplying fast. Anglicans are replanting vibrant congregations in depleted parishes. The bishop in my own diocese just announced plans to establish 100 new worshipping communities in the next ten years (this would have been unthinkable five years ago). Feathers are being ruffled, for sure, but the gospel imperative is prevailing.
Wake up and walk tall
In London the Church has been growing faster than the population for several years. It's a remarkable answer to prayer and clear evidence that the tide is turning in our capital. Last time I preached at Holy Trinity Brompton (HTB) I spoke at seven of ten (mostly) packed services across two sites, pedalling frantically on my bicycle like a demented Vicar of Dibley between them all. The Redeemed Christian Church of God (RCCG) has planted 720 churches in 20 years from Newport in South Wales to Southend-on-Sea, and they regularly gather 40,000 people to pray all night at London's Excel Centre.
In Scotland, City Church, Aberdeen has grown so fast it now fills nine separate venues. In Northern Ireland, Causeway Coast Vineyard introduced 2,308 people to Jesus last year alone. They also served 13,752 meals to local families and mobilised 14,495 volunteer hours. Sixteen years ago theirs was a church of just six people. I could go on. But the truth is that there are similar stories of extraordinary new life emerging throughout the UK.
This really matters because, as the theologian George Eldon Ladd said, the Church is the primary agency of the kingdom of God. We fed 100,000 hungry families in the UK last year and provided the biggest network of debt counsellors by far. We run thousands of schools, clubs and hospices, more than 50 per cent of all toddler and parent groups, and the majority of the nation's extracurricular youth work.
With such a track record, perhaps we should walk a little taller through the corridors of power. As the American theologian Stanley Hauerwas says, "The most interesting, creative and political solution we Christians have to offer our troubled society…is the church. We serve the world by showing it something it is not, namely, a place where God is forming a family out of strangers."
This assertion is supported by a surprising MORI poll which revealed the Church as the most socially and culturally diverse community in the UK. With multiculturalism failing and protectionism proliferating, it's fantastic news that the Church can stand as a prophetic example of reconciliation between different cultural, political and socio-economic identities.
Of course, we must still apologise and forgive. We are not yet seeing the fullness of the things for which we have worked, longed and prayed. The parish system is no longer sustainable in many rural contexts and it is no longer helpful in many urban ones. Many regions must be re-evangelised. The old mining communities of north-east England and North Wales remain incredibly tough. But there are signs of new life. Perhaps we are witnessing the sparks of a great conflagration, and if so it's probably a pretty good time to fling a little petrol around in prayer.
Wake up and pray
Archbishop Justin Welby's top priority is a renewal of prayer. You don't have to be an Anglican to recognise that this is the Holy Spirit's priority too. The character and culture of the UK was formed in the crucible of prayer. Every town in Ireland with the suffix 'Kil' was once a hermit's prayer cell. A monastic legacy haunts our secular age. We drink Abbot Ale. Bands record hits at Abbey Road Studios. Big Ben chimes a national prayer hourly: "All through this hour / Lord, be my guide / And by Thy power / No foot shall slide."
Christ's great unanswered prayer is for Christian unity
In Lent this year the archbishops of Canterbury and York wrote an unprecedented joint letter to every vicar in England calling them to mobilise prayer. As a result, we tracked almost 3,000 new prayer initiatives in April alone, ranging from simple prayer meetings in churches that would never normally gather to intercede, right through to 24-7 prayer rooms in rural congregations that never imagined they would ever in 1,000 years manage to pray all night – let alone enjoy the experience! It wasn't so long ago that you had to go to Buenos Aires or South Korea to witness such things. These days you can stumble upon all-night prayer in Burton-On-Trent, Biggleswade, Bangor, Biggar, or Bournemouth.
Over the Pentecost weekend earlier this year, tens of thousands convened across the nation for "Kingdom Come" prayer meetings. St Michael le Belfrey in York and the cathedrals of Canterbury, Winchester, Coventry and St Paul's were all packed with people praying, inviting the Holy Spirit to come and then going out to proclaim the Good News of Jesus. It was very simple. Not a show. Winchester was so full that hundreds had to join the prayer meeting from outside. A photograph from the St Paul's event captured five dancing bishops in long purple robes and made the Daily Telegraph!
Next year other cathedrals and venues are clamouring to get involved, including a number of Catholic, Lutheran and Orthodox churches throughout Europe.
And so we find ourselves, at a time of European fragmentation, on the eve of the Reformation's 500th anniversary, coming together in unity from many nations and denominations to pray for the re-evangelisation of the continent. Perhaps it's time for Europe to rediscover its identity by remembering where it came from. We are nations forged by the fires of the gospel: the crucible of Christianity for a millennium. Yet today we are the only continent in which the Church is declining. Remarkably, a House of Prayer still stands at the geographical and psychological heart of every European city. Wouldn't it be wonderful if these great tourist attractions could become places of pilgrimage, pulsing with prayer and prophesying to the culture once again?
Wake up and work together
We are witnessing extraordinary – perhaps unprecedented – levels of Christian cooperation and reconciliation. My background is Free Church and yet I find myself spending a great deal of time these days serving the Catholic and Anglican traditions. As I do so, I'm learning to look at other kinds of Christians and, instead of wondering "What's wrong with them?" I'm asking, "What can I learn from them?" I find myself increasingly enriched by our differences, rather than depleted by our divisions.
The 24-7 Prayer movement recently celebrated our 15th anniversary of non-stop prayer in St Stephen's Cathedral, Vienna. It was packed with Catholic nuns, Salvation Army Officers punching the air, big-bearded Orthodox priests, and hipsters with even bigger beards, people from 40 nations all worshipping as one. We began by welcoming the Holy Spirit with a ninth-century Latin hymn, and continued with Tim Hughes. It was such fun.
Christ's great unanswered prayer is for Christian unity and if our hearts are to echo his heart cry, we must learn to pray together and love one another, not just notionally from afar but in practical, relational ways. As the English puritan Richard Baxter says: "In essentials unity; in non-essentials liberty; in all things love." He was advocating a posture of gracious, generous orthodoxy that keeps things simple, refusing to obsess about peripheral matters, and recognising that our current opinions about non-essentials are unlikely to be universally important and absolutely correct.
In essentials unity; in non-essentials liberty; in all things love
The essentials of Christian belief are clearly listed in the Nicene Creed, which was formulated in the year AD 325. All Christians ever since, whether they are Roman Catholic, Eastern Orthodox, Anglican, Protestant, or Free Church, have agreed on the central doctrinal statements expressed in this particular statement of faith. These, I suggest, are the essentials around which we can unite, and beyond which we must grant liberty for differing opinions about issues relating to the future of Israel, the chronology of the end times, the nature of the priesthood, the practice of the gifts of the Spirit, church governance or even (dare I say it?) impassioned perspectives about marriage and human sexuality. Such topics are all extremely important. We should think about them very carefully indeed and form opinions. But they must never be allowed to define orthodoxy or divide the Church. These are days of remarkable opportunity for the Church in the UK. The Spirit of God is calling us to wake up, to walk tall, to work and pray together in new ways. He sends us to go and make disciples of schools and streets and cities throughout Scotland, Wales, Northern Ireland and England. And he gives us the most extraordinary promise that, as we go, he will be with us always, "to the very end of the age" (Matthew 28:20).
Pete Greig is a church-planter, pastor and founder of the 24-7 Prayer movement. He heads up Emmaus Rd in Guildford with his wife, Sammy, and is the author of a number of books including Red Moon Rising (David C Cook), God on Mute (David C Cook) and Dirty Glory (Hodder & Stoughton). Follow him on Twitter @petegreig
Click here to request a free copy of Premier Christianity magazine