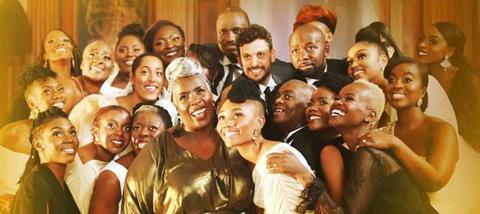 The 40 members of The Kingdom Choir took to one of London's biggest stages one year since singing at the wedding of the Duke and Duchess of Sussex. Their rendition of the Ben E King classic 'Stand by Me' in front of an estimated global audience of 2 billion people catapulted the choir to dizzying heights. Together, they experienced the definition of overnight success, going on to sign a record deal with Sony and launching this, their first UK tour.
The Kingdom Choir occupy a unique space in the musical landscape. They're fundamentally and unashamedly a Christian choir who, you could argue, spend much of their time on stage leading the masses in worship. It's hard to think of another musical act that can do that while also being accepted and welcomed in the mainstream arena. Given how many of the 5,000 or so people who packed into the Royal Albert Hall on Sunday night presumably do not share the choir's faith, I was intrigued to see how much Christianity would play a part on the night.
The answer came within seconds, as the choir opened their set by singing The Lord's Prayer, before seamless transitioning into Stormzy's 'Blinded by your grace'. It was a stunning start to a memorable evening. Everyone on stage looked resplendent in white suits and gold dresses. If a wrong note was voiced, I didn't hear it.
"With gospel music, everyone get's to join in" was the mantra that the choir's director Karen Gibson repeated from the stage, time and time again. Following their Aretha Franklin medley ('Say a little prayer', 'Natural Woman', 'Respect' and 'Think'), Gibson pointed out that "Aretha took what she learned in church into the secular arena". You could say The Kingdom Choir is in that sense following in her footsteps.
The faith-oriented songs were the obvious highlights. Instrumental versions of 'Amazing Grace' and 'In Christ Alone' by talented pianist Keith Bazari gave way to stripped back performances of 'How Great thou art' and 'Oh Happy day'. The inclusion of Coldplay's 'Fix you' was jarring, but perhaps the only musical misstep of the evening.
Rather than simply playing through a set list, Gibson guided her audience through each song. She introduced the soloists, bantered with the audience and made everyone feel welcome. One of her longest speeches came after the choir's performance of 'Something inside so strong'. It's a rousing, inspirational track with a positive message. Speaking with passion from the stage, she declared: "You are ok. You are enough. At the core of you, you are good". Was this an important and affirming message many needed to hear? No doubt. Yet I couldn't help but reflect on how salvation does not come from any strength within ourselves, it only comes through Christ. An over-emphasis on human goodness or strength conceals the fact that Christ came to save sinners, not those who rely on inner strength.
Even if Gibson had inadvertently strayed a little with her spoken words, her sung words more than made up for it. The Kingdom Choir boldly declared theological truth throughout the show, and their worshipful declaration: "You are the source of my strength" during Richard Smallwood's Total Praise was a healthy corrective to what had come before.
The choir's penultimate track was a cover of Bill Wither's stunning song 'Lovely Day'. And even here, the choir managed to put their faith in Jesus front and centre, creatively inserting the lyric "Jesus you're the lover of my soul" into the second verse.
Anyone looking for a positive night of celebration, joy and soul will have come away from the Royal Albert Hall feeling encouraged, moved and inspired. The Kingdom Choir were together, an outstanding witness to the goodness of God, and the good gifts of joy and music that he has blessed us with. For those of us present who already shared the choir's faith, the opportunity to praise God with thousands of others in such an iconic venue truly was a taste of heaven.
The Kingdom Choir's debut album Stand by Me is out now. For more details and to view upcoming tour dates, visit kingdomchoir.com. To hear our interview with choir director Karen Gibson download The Profile podcast
Enjoyed that? Get more articles covering news, culture, faith and apologetics in every print issue of Premier Christianity magazine. Subscribe now