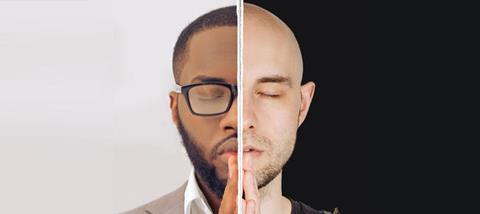 Have you heard about the UK Christian festival that gathers up to 50,000 people of all ages for a non-stop celebration of dynamic preaching, prayer and worship? Not only do well-known Christian leaders from across the Church show up, but so do political figures. Boris Johnson has spoken there. And when David Cameron was Prime Minister, he went too, telling those gathered: "Let us be proud that this is a Christian country."
You may be surprised to know that it's not New Wine, Spring Harvest, Keswick, Soul Survivor, Word Alive or Greenbelt. If you are a white evangelical Christian, it's more than likely you'll have heard of – and possibly attended – one of those annual conferences. But it's far less likely that you'll have heard of, much less attended, the event I was actually describing – the Festival of Life. That fact alone is an indication of the way today's Church is split along distinctly racial lines.
The Festival of Life is organised by the Redeemed Christian Church of God (RCCG), which originated in Nigeria but now has a significant presence in the UK. This means that the overwhelming majority of delegates are either Nigerian themselves, or from that family background. The gathering celebrated its 20th year last October at the Excel Arena in London with thousands of believers joyfully worshipping God in an overnight celebration from Friday evening through to the early hours of Saturday morning.
The fact that the UK's major Christian events are either almost overwhelmingly white or black in attendance (and almost unaware of each other's existence) is a reflection of what is often going on at a local church level. Martin Luther King famously said, "It is appalling that the most segregated hour of Christian America is eleven o'clock on Sunday morning." Fifty years later his words are just as pertinent for churches in the UK. While there are notable exceptions, most churches, even in racially diverse communities, tend to be composed either of white congregants or of Black, Asian or other Minority Ethnic groups (BAME).
I do not believe that the church respects and embraces its minority ethnic membership
In John 17:21 Jesus prayed that his followers "may be one" in order that, by our unity, the world may see Christ reflected in the Church. When I interviewed pastor Agu Irukwu of Jesus House, one of the UK's largest black majority churches, for this magazine in 2012 he predicted that we won't speak of black majority churches in the future as our churches will be multicultural. Five years later that hope hasn't materialised, but should we be praying for and expecting to see a truly multicultural Church one day?
Black Pentecostalism
The black/white divide has been highlighted by the fact that the fastest growing segment of the UK Church over the past few decades has been among Pentecostal denominations, driven by the rapid growth of new African and Caribbean churches. According to surveys by Christian researchers at the Brierley Consultancy, attendance of Pentecostal churches grew by over 50 per cent between 2005 and 2015, from 342,000 to almost 530,000. The largest denominations include the New Testament Church of God and the aforementioned RCCG. In London over half of churchgoers are of African or Caribbean heritage. The city's largest churches such as Jesus House and Kingsway International Christian Centre see several thousand worshippers attend their services every week.
In the same period, mainstream denominations such as the Anglican Church have seen a steady fall in attendance. Even where there has been growth (such as the Diocese of London) it's partly attributable to the influx of African immigrants who have found a home in the Anglican Church.
However, while BAME members make up an increasing proportion of those sat in the pews, one of the Church of England's most significant black leaders recently voiced concerns about the lack of ethnically diverse leadership in its hierarchy. Rose Hudson-Wilkin, chaplain to the Speaker of the House of Commons, has suggested her own denomination is guilty of institutional racism following a 20-year gap since any senior appointment of a black person. The ordination of Reverend Karowei Dorgu as suffragan Bishop of Woolwich in December, made him the first BAME person to take such a role since the Most Reverend John Sentamu, now Archbishop of York, was announced as Bishop of Stepney in 1996. Hudson-Wilkin said, "With my hand on my heart, I do not believe that the Church respects and embraces its minority ethnic membership."
Hudson-Wilkin is among those tipped to succeed Richard Chartres as Bishop of London. But whether such an appointment will do much to overcome the racial division that exists in the city and across the UK remains to be seen.
Unity at the festivals
The theme of this year's Spring Harvest conference 'One for All' is in part a reference to Church unity. Providentially it has fallen in a year where many will be marking 500 years since the beginning of the Reformation. The Protestant and Catholic split in 1517 was a momentous fracture in the life of the global Church.
I believe in the biblical vision where all tribes, nations and languages worship together
Many of the wounds have since been healed, but Rev Malcolm Duncan, the chair of Spring Harvest's planning group, says that this year's Spring Harvest theme is about more than making superficial statements: "Unity can be robust, it can involve difficult conversations and direct confrontations. It may well be that we have an area of theology where we cannot minister together on an issue, but the way we have the disagreement itself may be a gift to a fractured society." Many prominent festivals such as New Wine, Keswick and Spring Harvest have traditionally looked very 'white' in terms of attendance, although moves have been made in recent years to consciously include more diversity among speakers and musicians on their platforms. The One People Commission, begun by the Evangelical Alliance in 2011, has also sought to bring together national church leaders of all ethnicities to work together across racial lines.
Whether the divisions that exist are about cultural differences between black and white churches or doctrinal differences between denominations, Duncan explained that leaders from across the major UK conferences have also made a deliberate decision to show unity in 2017.
"From the beginning of the festival season – Spring Harvest in March through to October's Festival of Life – there will be a declaration of unity, of working together. A baton is going to be used in each event and carried from one to the other as a symbol of an attempt to start to strengthen unity across not just denominations, but across racial and ethnic barriers as well."
Overcoming racism
The tragedy of the Church's racial divide is that much of it could have been avoided were it not for the racist attitudes that often prevailed in Britain and its churches in the mid-20th century. The first Windrush generation of Caribbean immigrants to the UK in the late 40s and 50s brought their Christian faith with them. But they failed to find a welcome in British churches, frequently being told that they were not welcome to attend. So, they began their own churches. These became spaces for community comfort – a home from home in an alien land – as well as worship and mission in their locality.
Overt racism is less prevalent in the UK now. But the legacy of the Church's failure to welcome their brothers and sisters from overseas persists in the make-up of our congregations. As white Christians have tried to move beyond the prejudice of their grandparents and second and third generation black British Christians feel less need for the safety of a culturally specific home church, the challenge is to find ways of reintroducing both sides to each other.
Someone with direct experience of how to bridge the divide is Rev Israel Olofinjana, author of Partnership in Mission: A black majority church perspective on mission and church unity (Instant Apostle). The Nigerian born Baptist minister leads an ethnically diverse congregation at Woolwich Central Baptist Church, but is in the unusual position of having ministered to a predominantly white congregation in the past. Despite being a very welcoming church, there were cultural challenges to overcome.
These included complaints from some church members who said they struggled to understand Olofinjana's sermons because of his accent.
The Baptist minister gives other typical examples of cultural differences: "In West Africa you don't address the leader by name, you say 'pastor'. That's the culture of respect. If you have an African pastor who expects people to address them by their title and people say 'hello mate', then things become tricky. Or it may be something else. British people don't like to talk about money, whereas an African may want to talk about money because it matters to them."
Nor is outright racism unknown in some churches today. In documenting the experiences of others, Olofinjana tells the story of a church in Northern Ireland which, as part of their mission, had begun to offer language classes to immigrants on their doorstep. The mission leader was shocked to discover that some of the white church members were unhappy that the children of the language students were being allowed to play with the Sunday school toys during the lessons, on the basis that their own children might "catch something".
In another case, an African family who had moved to a rural area tried out several churches and were entirely ignored on every visit. "It's shocking to walk into a church and have no one say 'hello'. And where they do they said 'maybe you want to try a different church'."
While every church should extend a true welcome, Olofinjana doesn't expect all churches to be multicultural, as the local context varies. But in city centres such as London and Birmingham, he believes churches should seek to reflect the multicultural community around them. "We have to ask who are the people in our locality that are not in our church? I believe in the biblical vision of Revelation 7 where all tribes, nations and languages worship before the throne together."
Confronting prejudice
Malcolm Patten is the senior pastor of Blackhorse Road Baptist Church in Walthamstow. His experience mirrors Olofinjana's, but as a white pastor to a predominantly BAME congregation. Patten began his Christian life in a Baptist church in Hartlepool, but his book Leading a Multicultural Church (SPCK) tells the story of having his "mind blown" by training at Bible college in London alongside people from all over the world.
Patten says that one of the main barriers to seeing black and white Christians grow closer together involves overcoming prejudice, often of the unconscious sort. Even the phrase 'black majority church' tends to mask the fact that those congregations are often made up of people from many different cultures.
Challenging prejudice can be as simple as learning to see that people don't necessarily fit into stereotypes. Being married to Maria, whose heritage is Jamaican, Patten has seen firsthand the way that culture changes over the generations, from his wife's parents in the Caribbean to their own children in London. He told me the story of when a Nigerian man visited his church for the first time. His instinct was to introduce the newcomer to other Nigerians in the congregation, "But talking to him I realised because of his experience growing up and working in the City, he had more in common with some other guys in the church. So you can't make a presumption."
Patten says there's no better way to break down the walls we often unconsciously erect than by actually spending time with people and being honest about our ignorance. "If someone has an accent we struggle to understand, you can end up avoiding that person because you don't want to be in the embarrassing position of having to say 'I'm sorry I didn't catch that', rather than throw yourself in and get used to it."
Multicultural leadership
Notwithstanding the criticisms by Rev Rose Hudson-Wilkin, the Church of England says it is committed to confronting prejudice in its structures. Elizabeth Henry, the national adviser on Minority Ethnic Anglican Concerns says that while Christians are called to go against the flow, churches inevitably act as a microcosm of society and will reflect some of the racist attitudes around them.
Henry notes that of the almost 500 member synod (the three voting 'houses' that constitute the Anglican Church's decision-making body) only 15 are from BAME heritage. That's about three per cent. The reasons for the lack of diversity in leadership are complex, but Henry says that proactively encouraging it can only be a positive thing: "The experience of the secular world confirms that diversity around the board table adds great value and makes sense. It improves outcomes."
Last year a training programme was rolled out across the Anglican Church that confronts unconscious bias among church leaders. "We all hold unconscious biases. Nobody is excused," says Henry. "Those can include affinity to people who are like us and a lack of affinity to those who are not like us. An obvious outworking is in selection processes. An unconscious bias can influence how one chooses successful candidates."
It's shocking to walk into a church and have no one say 'hello'
Most commentators agree that having a range of skin colours on conference platforms and church stages is a key way to change perceptions, and will encourage people of BAME heritage that the Church is for them too. Nor should it be forgotten that the diversity problem cuts both ways. Patten says that concerns about inclusivity are coming from black majority church leaders too. He tells the story of visiting a church led by a Ghanaian friend and being one of just a few white faces in a congregation of 400. "I went back some years later and this time I was one of about 50 white people. Significantly on the stage there was a white guy in the music group playing guitar and in their promotional material featured white and black people. One of the pastors said, 'we're intentionally seeking to show that people of every background are welcome here'."
A united future?
Of course, there are many churches that are exemplary in their diversity and integration. Henry attends one herself, but acknowledges that there is still much work to be done across her own denomination: "The church is desiring and aiming towards change. Is it moving swiftly enough? I would say no. More could and should be done. Is it working towards it? The answer is yes."
The change may be slow, but may ultimately be linked to the changes in attitude that occur over several generations. As Christians from other parts of the world have found a home in the UK so they are increasingly finding that their own young people are less interested in a monocultural church experience. It's no coincidence that one of the most racially diverse churches in London – Hillsong – also has one of the youngest average age in a congregation. Interestingly, that diversity is not yet reflected in Hillsong's senior leadership, but as young people lead the way we may see that change too.
Perhaps Irukwu's prophecy of a day when black majority churches will be a thing of the past may not be so far away, as they are usually situated in ethnically diverse areas.
The same may not be true of white majority churches. But even a predominantly white church can do much to model inclusivity and diversity. When St Paul proclaimed that there is "neither Jew nor Gentile, neither slave nor free, nor is there male and female, for you are all one in Christ Jesus" (Galatians 3:28), he would have expected his words to apply to modern racial division. We know that one day every tribe and tongue will be united in praise, but for today's generation our challenge is to create churches that look like heaven in the here and now.
Justin Brierley is the senior editor of Premier Christianity magazine Hear Justin's interview with Israel Olofinjana and Malcom Patten on Premier Christian Radio, Sat 18th March at 4pm. Listen again at premierchristianradio.com/theprofile