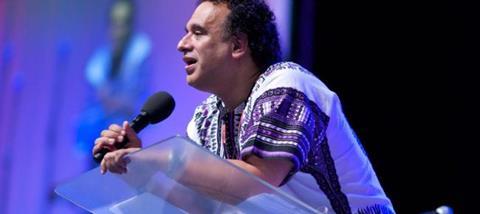 "I am going to be honest with you…"
Words that tend to fill us with dread and curiosity.
When Mike Pilavachi uttered them during a talk at this summer's Naturally Supernatural festival, I wondered what would follow.
What came was a revelation of his frustration at the way he felt the business world was creeping into parts of the Church. And so with urgency and passion - and not without the odd gem of humour - Mike offered a simple challenge: Let's not lose our identity as the family of God. Here are five highlights from his message:
1. "Unholy trinity of me, myself and I"
Mike begins with Jesus' words, "As I have loved you, so you must love one another. By this everyone will know that you are my disciples, if you love one another." (John 13:35) He contrasts this with today's individualistic society which has led to a breakdown in community and friendships, and the increase of loneliness and isolation.
This "unholy trinity of me, myself and I" - fueled by iPhones and iPads, and a cultural drive for "my human rights, my future and my destiny" - is rubbing off on the Church, Mike believes. We're guilty of putting the focus on "my ministry, my anointing, my calling". He issues a challenge: "It is never meant to be I, it is meant to be we."
He pulls out the story of Joseph, who as a youngster had a dream that he wrongly interpreted as being all about him. But as God worked in his life, it became clear that his anointing was not about him but others — the cupbearer, Pharaoh, Egypt, the surrounding nations, his brothers. It's a fresh take on a well-known story.
2. "In a business you hire and fire employees. In a family you raise up sons and daughters"
Here Mike gets particularly animated as he relates the many meetings he has sat in where well-meaning leaders share their "five strategies/principles" for church growth. "Find the best, buy the best," leaders share. "I want to shout at them, 'What the hell are you saying?!'" He continues, "The Church of Jesus is a not a business, it is a flipping family…In a business you hire and fire employees, in a family you raise up sons and daughters!"
What was especially powerful was his reference to "St Bottock's in the Marsh", a village church with a weekly congregation of 27 and a dog, and whose admin is done one day a week by the church warden's wife. Can they hire and fire too? "Some of us have got to raise the best for you guys to buy the best!" It's a sobering thought that warrants serious reflection.
3. "We've got to raise mothers and fathers"
Drawing on Paul's words in 1 Corinthians "Even if you had ten thousand guardians in Christ, you do not have many fathers" (4:15), Mike gives a rallying cry for more mothers and fathers. He highlights the way people grow, develop and gain confidence. According to Mike, it's when mothers and fathers make time to invest in them. What adds weight to this call is the inspiring example Mike sets. He has been best man at 19 weddings (and once the father of the bride!). A remarkable number, largely down to Mike making time to invest in others.
4. "Embrace celibacy as a gift, not the booby prize" (cue giggles!)
Fortunately this amusing misstep did not detract from some sound advice for singletons. Using personal stories from his own life, Mike exhorts people to embrace celibacy (be it for a season or a lifetime) within the context of Church family.
As a singleton often guilty of wasting time longing for marriage, Mike's testimony was personally a welcome challenge and encouragement for me. One line I may even frame: "Embrace the gift of celibacy until the gift of marriage, because it is the best way to make the gift of marriage wonderful."
5. "Defeats are softened and victories sweeter because we did them together"
Okay, so the above quote is not actually Mike's. It's taken from Toby Ziegler of The West Wing, used by Mike to highlight the strength beauty of a good Church family. And it's not just the love given to each other that is vital, it's what this looks like to the watching world: "They see that we are Good News and we don't just say Good News. They want to join us, because they want to be in committed community."
We belong together
This is no doubt a message for our times.
All around us are people desperately longing for family — in and outside the Church. Are our churches a place for sons and daughters to gather and thrive in? Or is the business world seeping in?
As Mike points out, there are 277 familial references in Paul's 13 letters. "We are the Church," he says. "We belong to each other. That is the secret of power. That is the secret of the Spirit having free reign in our midst."
Let's hope the secret is out of the bag for good.
SPECIAL: Subscribe to Premier Christianity magazine for HALF PRICE (limited offer)