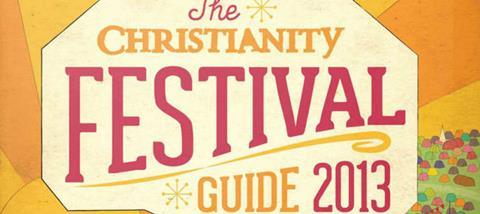 AblazeUK
27-30 July, Cheltenham Racecourse
The Apostolic Church's answer to Christian festivities this year focuses on the theme 'total recovery'. It's all about strengthening, encouraging and equipping the Church. Speakers include: Gerard Kelly, Steve Clifford, Emmanuel Mbakwe, Phelim Doherty.
£61 (without accommodation) concessions and day tickets available.
Bible by the Beach
3-6 May, Congress Theatre, Eastbourne
Challenging seminars and in-depth Bible study alongside worship and fellowship…what more could you want? Worship led by Stuart Townend. Speakers include: Hugh Palmer, Richard Coekin, Adrian Holloway, Peter Maiden, Mike Ovey, John Stevens, Ruth Valerio. Children's work provided.
biblebythebeach.org // 07590047061
£90 Concessions and day tickets available.
BigChurchDayOut
25-26 May 2013, Wiston House, West Sussex
An all-age event that caters to all tastes ? from tea and chamber music to high energy worship and family fun. There's music and activities to make for a great time for all. You can camp, glamp or find a nearby hotel. The musical line-up includes: Hillsong Live, Jars of Clay, Brenton Brown, Stuart Townend, Phil Wickham, Watoto Children's Choir, Jason Upton, Amy Grant, Rend Collective Experiment and The Kings Chamber Orchestra.
£42 Concessions and day tickets available.
Cliff Festival
24-27 May, Calver, Derbyshire
Cliff (the Bible college, not an actual rock face) is hosting its family festival looking this year at what it means to follow Jesus and make disciples.
This year's speakers include: Andy Hawthorne, Mark Charles, Carl Beech, Matt Summerfield, Ashley Cooper, Mark Wakelin, Golddigger, Oddments Theatre Company, LZ7, Baz and Vix Thompson and Malcolm Duncan. Camp or book to stay in college accommodation. Children's work provided by pre-booking.
cliffcollege.ac.uk/page/festival // 01246 584200
£15 (plus variable costs for camping and other accommodation)
Creation Fest
3-9 August 2013, Royal Cornwall Showground
Free music festival and Bible week. The absence of price-tag doesn't rend the quality of the music any weaker, with Rend Collective Experiment and Ben Cantelon already confirmed for this year. Speakers include Brian Broderson, Andrew Palau and Phil Pechonis.
creationfest.org.uk // 0844 8794 703
Gratis
David's Tent: Adventure in worship
29 Aug ? 1 Sept, Wiston Estate, West Sussex
Three days of non-stop worship (literally, 24 hours a day). Worship led by Sean Feucht, Jason Upton, United Pursuit, Jonathan David Helser, Bryan and Katie Torwalt and with teaching from Shawn Bolz. Camp to your heart's content. Children are welcome, but no childcare or particular activities are provided. Get your tent out for this one.
£90, Concessions and day tickets available.
Detling Summer Conference
10-15 August 2013
Ok, let's get over the split infinitive and embrace the galactic aspirations of this year's theme for the Detling conference: 'To Boldly Go'. This family festival is all about growing in confidence in the good news of Jesus through Bible exposition, worship and practical seminars, with lots of activities for children and youth.
£121 Concessions, half-week and day tickets available.
Faith Camp
27 July ? 3 August, East of England Showground, Peterborough
Family-friendly conference organised by Kingdom Faith Church. Speakers include: Clive Urquhart, Helena Croft, Jane Urquhart, Judith Butler, Paul Taylor, Paul and Kate Abell. Camping in caravans and tents with self-catering.
kingdomfaith.com/faithcamp // 01293 851543
£110 (before 31 May). Day tickets available.
The ONE event
23-27 August, Lincolnshire Showground
As the name suggests, unity is the dish of the day at this camp. Bible study, family celebration and plenty of opportunity for prayer should provide a refreshing break too. Stuart Bell, Andy Elmes, Simon Benham, Glyn Barrett, Roy Todd, Dave Smith, Priscilla Reid and Jarrod Cooper will be speaking. Campers and noncampers equally welcome.
one-event.org.uk // 01522 542166
£95 (without camping fee) Concessions and day tickets available.
The EDGE
3-9 August, Taunton, Somerset
The new incarnation of the Good News Crusade is an all-age event with a relaxing vibe. On top of the morning and evening celebrations, there's a family fun day, helpful spiritual workshops and evening entertainment. Afternoons are left free to enjoy the local environs. The baptisms at the end of the week are often a highlight. There's an active children's and youth programme for the week. Camp or stay in a local B&B.
theedge.org.uk/home // 01726 70244
£87 Concessions and day tickets available.
Greenbelt
23-26 August, Cheltenham Racecourse
If the combination of faith, arts and justice floats your boat, then drift your way to Greenbelt this summer. Headliners include Lemar, Amadou and Miriam with talks from Jon McGregor, Barbara Brown Taylor, Eric Kaufmann, Bidisha, Mark Braverman, Francis Spufford and Lucy Winkett. If your ideal holiday doesn't involve hitting your thumb with a mallet as you aim for the tent peg, then opt for a pre-erected tent, or book local accommodation.
greenbelt.org.uk/festival/2013 // 0207 329 0039
£109 (before 30 April). Day tickets available.
Transform
27-31 July, Spitten Farm, Evesham
The annual gathering for Salt and Light churches, focusing on being 'radical disciples…going deeper…breaking through'. This year Dave Smith and Jackie Pullinger will be among the main speakers. Take your tent or caravan or find local off-site accommodation. Children's and youth groups make this a family-friendly event.
saltlight.org/europe/transform13 // 0161 820 7530
£102 (Plus camping fee) Concessions and day tickets available.
!audacious:
Manchester
Conference 1: 3-6 August
Conference 2: 7-10 August
A conference for young people and young adults, this year focusing on being 'Extraordinary'. The speakers include: Russell Evans, Ben Prescott (Planetshakers Church Australia) and Glyn and Sophia Barrett (!Audacious Church, Manchester).
liveaudacious.com/audacious2013 // 0161 830 7000
£65
Jersey Keswick
4-7 July, Jersey
This festival is what happens when you cross the long-standing convention in Cumbria with the opportunity to chill out on a Channel island. It combines great Bible teaching, worship and fellowship with a separate programme for kids and youth (ages 3-18). The main speaker this year is Steve Brady, principal of Moorlands College.
jerseykeswick.com // 01534 720595
By donation (TBC)
Keswick Convention
Cumbria
Week 1: 13-19 July
Week 2: 20-26 July
Week 3: 27 July ?2 August
The older sibling of its Jersey-based counterpart, the Keswick Convention is a great vintage with a history dating from 1875. There's a different programme for each week of the three-week summer extravaganza in the beautiful Lake District town. Bible teaching across the three weeks will be on the book of Acts.
The first week features teaching from Charles Price, Richard Condie and Peter Baker, with music led by Steve James. In week two, John Lennox, Paul Mallard and Rico Tice will be speaking, and Stuart Townend will be leading the worship. The last week will have Steve Gaukroger, Mike Hill and Paul Williams speaking, with music led by Colin Webster.
keswickministries.org/convention/convention-2013 // 01768 780075
By donation (TBC)
The kit list
Don't leave home without:
Wellington boots: The trusty steed of the camping footwear department. Whether they're pink, blue or traditional green doesn't matter too much, as they'll probably all end up the same colour (brown) by the end of the week.
Loo roll: The less said the better.
Torch: Tent guy lines are the Achilles' heel of most camping experiences. Shine your light in the darkness.
Notebook: Judging from the list of speakers on this page, there'll be too much great teaching to remember it all.
Bin bags: Cleanliness is actually associated with godliness. Equally, can be a handy seat if you find yourself in one of those chair-free festival tents.
Something edible to share: Chocolate, doughnuts or something less calorific; everyone loves someone with munchies.
Momentum
23-27 August, Bath & West Showground, Somerset
This conference is the Soul Survivor for grown-ups ? intended for students, 20s and 30s. Featuring Mike Pilavachi and Andy Croft, the festival offers a great mix of worship, teaching and ministry with plenty of time to relax in one of the cafes or sports venues. It aims to help people think about bringing God into their universities and workplaces, and think through life's major issues and decisions.
momentum.co.uk // 0303 333 1333
£112 (Early booking discount) Day tickets available.
New Horizon
20-26 July, University of Ulster, County Londonderry
One for the tent-shy and those fond of a good ceilidh. This all-age, non-residential conference comprises celebration, teaching and ministry. This year's speakers will include Simon Ponsonby, Rikk Watts and Krish Kandiah, on the theme of being 'radical'
newhorizon.org.uk // 028 2955 7157
By donation
New Wine
27 July ? 2 August: London & South East: Bath & West Showground, Somerset
3-9 August: North & East: Newark, Nottinghamshire
4-10 August: Central & South West: Bath & West Showground, Somerset
A family-friendly summer camping extravaganza involving 30,000 people over the three-week period. This year's theme is about going 'Deeper' ? with God, and each other. Over the three weeks there will be a range of speakers including: Justin Welby, Robby Dawkins, Mike Pilavachi, Christy Wimber, Danielle Strickland, Jay Pathak, Mark Marx and Ken Costa.
new-wine.org/summer // 020 8567 6717
£152 Concessions, half-week and day tickets available.
Newday:
29 July ? 3 August, Norfolk Showground, Norwich
The annual youth event organised by Newfrontiers, though Christians from all churches welcome. It's aimed at young people aged 12-19, with a teaching stream for students and those in their 20s. This year's speakers and worship leaders include: Joel Virgo, Stef Liston, Simon Brading, Adrian Holloway.
newdaygeneration.org // 0845 838 0858
£136 (Early booking discount) Day tickets available.
Pentecost Festival
10-19 May, Nationwide (Launch event: 11 May ? Westminster, London)
Forget the camping gas, but dig out the party hats. Share Jesus International, the brains behind this venture, is aiming to host 'The Biggest Birthday Party Ever'. It's all about encouraging local communities to organise at least one community event within the festival week, breaking out of the church walls to bless our communities. There'll be creativity galore in London and around the nation.
The week will kick-off with an outdoor prayer event, followed by worship in Methodist Central Hall, Westminster.
pentecostfestival.co.uk // 0208 781 1735
£5.95 (Price for launch event)
Revive!
3-9 August, Ashburnham Place, East Sussex
A family-friendly Bible week run by Ichthus Christian Fellowship, welcoming delegates from all denominations. It offers Bible study, worship celebration, seminars and prayer. Includes a children, youth and students' programme. Accommodation available in Ashburnham House, and campers and caravaners welcome.
ichthus.org.uk/Groups/25646/Home/Revive // 0208 694 7171
£51 (Not including accommodation). Day tickets available.
Riding Lights Summer Theatre School
27 July ? 3 August, Queen Margaret's School, Escrick, York
If you're a bit of a thesp at heart, this might be just the ticket. Riding Lights Theatre Company runs an annual summer school for all ages (or at least those aged 14-90). There's a variety of courses in writing, storytelling, musical theatre and performance, with daily opportunities to worship and find spiritual refreshment.
ridinglights.org/summer-theatre-school // 01904 655317
£460 (Including food and accommodation)
Soul Survivor (A, B & C)
Week A: 26 ? 30 July, Stafford Showground
Week B: 13 ? 17 August, Bath & West Showground, Somerset
Week C: 18 ? 22 August, Bath & West Showground, Somerset
Sandwiched between morning and evening meetings in a GIANT tent, there's a plethora of seminars, venues, gigs and cafés for the tens of thousands of youth that converge on this showground every year. The event is led by Mike Pilavachi and Andy Croft; other speakers yet to be announced.
soulsurvivor.com/summer // 01923 537920
£112 (Early booking discount). Day tickets available.
Summer Madness
28 June ? 2 July, Glenarm Castle, Belfast
The method of this madness is in a wonderful mix of music, debate, worship, outdoor activities and seminars all under the theme of 'The Good Life and Where to Find It'. This year it's being held in a castle and its picturesque grounds, with a beach on the doorstep as a bonus. If you fancy a bit of sea kayaking or clay pigeon shooting, this is the Christian conference for you. Individuals, families and groups all welcome to join in the fun.
summermadness.co.uk // 028 9067 3378
£85 (Early booking discount). Day tickets available.
// @christianitymag