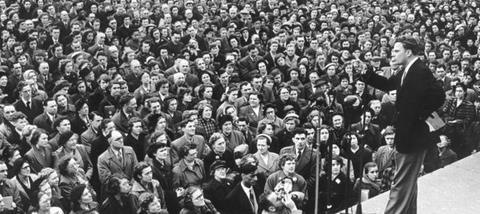 Pat Holmes was a 16-year-old Londoner with no church background when she attended an evangelistic meeting at the Harringay Arena in 1954. Pat's best friend June had been to the rally earlier in the week and had enthusiastically convinced her to come along. Pat doesn't remember a lot of what was said that night, but the young man who preached to the thousands gathered in the auditorium made an unforgettable impression on her.
'He was so positive,' recalls Pat. 'It was so real to him that "the Bible says…". You couldn't help but listen to this man. He believed what he was saying.'
Sitting high up at the back of the arena, Pat had a vision. She saw a curtain being drawn back from a window and remembers an audible voice saying 'look inside'.
'I saw my sin for the first time in my life, and I couldn't wait to get out of my seat and go down to the front to accept this Jesus as my saviour. As I took each step I knew something had happened. That night my whole life was totally changed, ' she says.
I DON'T UNDERSTAND IT MYSELF, BUT WHEN I GIVE AN APPEAL THEY COME
Pat's story is one of thousands from Harringay when, between the March and May of 1954, Billy Graham preached to more than 2 million attendees. By the time the mission ended at Wembley Stadium, more than 38,000 'decisions' for Christ had been recorded. Even Geoffrey Fisher, the once-sceptical Archbishop of Canterbury, was present on the platform as Graham concluded the final altar call of the rally.
Sixty years have passed since those momentous months when Britain was gripped by the charismatic gospel preaching of a young American evangelist on the brink of world renown. Yet today the UK still owes a major part of its spiritual heritage to Graham.
THE GLOBAL EVANGELIST
The story of how this farm boy from North Carolina became one of the most famous Christians in history has been told many times. Perhaps the fact that Graham himself was converted at a gospel rally (under the preaching of Mordecai Ham) set him on the road to a missionary career that has spanned eight decades.
In this time, Graham has preached to more than 215 million people in person. In 1971, he spoke to a record-breaking crowd of 1.1 million, when he concluded a mission in Seoul, Korea. Add to that radio, TV, film, print and the Internet, and his message has reached billions of people across the globe.
Despite the world stage he has inhabited, the evangelist has always professed a special connection with the UK, where he led 18 crusades in total between 1954 and 1989. According to the Billy Graham Evangelistic Association (BGEA), a staggering 389,000 people have come forward to make a commitment to Christ at his UK events.
Graham first ministered in the UK with Youth for Christ during the 1940s. By the time he returned to Britain in 1954, his star had risen considerably following the enormously popular meetings he had held in Los Angeles. But even world-famous evangelists have their moments of doubt and, according to his grandson Will Graham, the evangelist was worried that nobody would turn up that first night at Harringay.
'It wasn't always easy for my grandfather in London,' he recalls. 'There were some that opposed him. By and large, though, he was loved and embraced by the people of Great Britain, and many who had initially been against his visit came to appreciate what he was doing.'
SPARKING BRITAIN'S EVANGELICAL REVIVAL
Graham's lasting spiritual legacy in the UK won't just be measured by the thousands of converts (or 'enquirers' as Graham prefers to call them). His missions reignited the flame of evangelical Christianity that had grown dim since the 19th century revivals of Wesley, Whitefield and Spurgeon. A lacklustre Church of England was bolstered by a fresh intake of evangelical ordinands who committed themselves as a result of Graham's ministry.
Richard Bewes, former rector of All Souls, Langham Place and lifelong friend of the family, attended many nights of the Harringay mission as a young man. Like many others, he found it instrumental in his own call to ministry.
'People poured into the theological colleges,' he recalls. 'Many who later became bishops made their decision at Harringay. Then there are the missionary societies that emanated [from it]. My dad asked Billy Graham what he hoped might come out of the mission and he replied, "I hope we'll get at least 1,000 missionaries coming out of Harringay."'
The Evangelical Alliance was involved in helping run the events and the follow-up with converts. Ironically, the success of the enterprise almost bankrupted the organisation as it found itself stretched to capacity.
Director Steve Clifford says that the successful altar call approach was a hitherto untried method of evangelism. 'It was unique in the UK scene,' he says. 'That moment when Billy would make the appeal and ask people to come to the front was something he became known for.'
All of the missions were run with an interdenominational approach, which included Catholics, causing some conservative churches to reject his ministry. But for Graham, whoever was not against him was for him. The modern ecumenism of the British Church was partly shaped by the unity of those early missions.
BY THE TIME THE MISSION ENDED MORE THAN 38,000 DECISIONS FOR CHRIST HAD BEEN RECORDED
Clifford also cites Graham's ongoing significance in influencing the direction of world evangelism. At the 1974 Lausanne Congress, along with John Stott, Graham 'nailed his colours to the mast' on the vexing issue of the role of social action in evangelism. 'Billy came out and said: "If we are to live as the Bible says, then we have to combine words and actions to be true to scripture,"' says Clifford.
THE SECRET TO SUCCESS
What marked Graham out from other evangelists was his ability to speak across class and cultural divides. He has acted as a spiritual counsellor to presidents and heads of state, yet has also managed to transcend the political and cultural wars that have dogged US evangelicalism.
The fact that his ministry has remained largely untouched by scandal has also contributed to its longevity. At a time when North American televangelists such as Jimmy Swaggart and Jim Bakker were experiencing high-profile moral failures, Graham's record shone as a counterexample. Early in his ministry, Graham and his team committed themselves to personal purity, financial transparency and never to exaggerate their numbers in order to validate their ministry. It was a decision that stood him in good stead.
Writing about the enduring success of Graham's ministry, Grant Wacker, author of America's Pastor: Billy Graham and the Shaping of a Nation (Belknap), pinpoints the evangelist's 'uncanny ability to adopt trends in the wider culture and then use them for his evangelistic and moral reform purposes'.
By the time he appeared in the UK, Graham had crafted a format for his events that brought together spectacle, music and a heartfelt appeal that invariably produced a moment of decision for many of those present. His direct messages usually started with a theme around the pressures of modern life and progressed to the message of the cross ('boilerplate evangelical theology', in the words of Wacker) and concluded with an invitation to a new start in Christ. They became the blueprint for evangelistic appeals in Britain and the world over.
IT WASN'T ALWAYS EASY IN LONDON. THERE WERE SOME THAT OPPOSED HIM
Yet, as much as his brilliant use of occasion and dramatic delivery played its part, Graham's ability to make people move from their seats was not simply down to the emotionalism he was accused of by his critics. Even his most prosaic presentations had the ability to elicit a response.
Church leader RT Kendall believes that a unique gifting of the Spirit has been present throughout Graham's ministry: 'In my opinion, it's an anointing that nobody else has. He once told me, "I have only one gift, which is giving an appeal. I don't understand it myself, but when I give an appeal they come."'
To Will Graham, the effectiveness of this global ministry ultimately lies in his grandfather's steadfastly uncomplicated call to repentance and new life: 'He kept it simple and didn't get bogged down in a lot of the things we sometimes try to attach to religion.
We're all searching for purpose and meaning, whether we're in England, India or North Korea. Christ is for all people, and my grandfather is simply a conduit that God has used around the world to reach his people.'
THE FUTURE OF ALTAR CALL EVANGELISM
More than ever since his beloved wife Ruth passed away in 2007, Graham now spends most of his time in quiet retirement at his mountain home in North Carolina. His health has deteriorated in recent years, and the days of leading open-air events are firmly behind him. Yet, even at an advanced age, the evangelist continues to front a major new evangelistic BGEA campaign.
As part of the My Hope campaign, thousands of churches in the US and Canada have screened The Cross, a film in which Graham sets out the hope of salvation alongside testimonies of those who have received Christ. The film aired during a primetime slot on the Fox Network in America, while the UK campaign will see many churches screen the film as part of local evangelistic outreaches. The launch coincides with the evangelist's 96th birthday on 7th November.
Steve Rhoads, vice-president of My Hope, says that age has not diminished the impact the veteran evangelist continues to have.
'Over this past decade, millions have come to Christ,' he says. 'In the United States, last year alone we witnessed more than 100,000 people trust Christ as saviour in response to the film The Cross.'
However, it seems significant that the campaign is primarily being delivered by churches at grass roots level. Is this a confirmation that the era of the mass evangelistic rally is over? And could it spell a new approach for the BGEA in the future? For Rhoads, it simply boils down to whether the gospel is being preached.
'Mass evangelism doesn't have an era. Whenever and wherever there are people who need the gospel, there is going to be a need to preach. Our methods might change or need to be adapted, but the message of the cross of Jesus Christ and the offer of forgiveness of sins cannot be changed.'
A MOMENT TO GIVE THANKS
Whether or not the altar call evangelism that propelled Graham onto the UK scene outlives him, the question remains: can Billy Graham ever be replaced? Although his son Franklin has been given the successor's mantle within the BGEA, few would deny that the elder evangelist's uncommon ability to stir faith in the hearts of his hearers, and command the attention of princes and presidents, is unique to him alone.
Evangelicals in the UK today are the inheritors of a spiritual legacy that began 60 years ago when, as a fresh-faced evangelist, Graham reignited the flame of mission in the UK Church. As he enters his 97th year, it's a good time to thank God once again for Billy Graham.
Margaret Lucking (London, 1954)
Margaret found a living Christian faith when she attended the final night of Billy Graham's Harringay crusade at the White City Stadium relay.
'What rings in my ears still is his words: "The Bible says…" and how he made it so relevant to everyday living. The need to come to the cross, receive forgiveness and ask Jesus into your heart. I'd got confused with all the different messages of being a Christian. This just made it so clear and simple.
'Then I had the struggle…I was sitting between my sister and cousin, who thought I was a Christian. What on earth would they think if I went forward? Thankfully, "Just As I Am" has got so many verses that on the last verse, I thought "I've got to go" and I went forward.
'It felt like those rockets that go up into space and, at a certain point, all the clutter falls away and they go straight on unhindered. That was my experience. I knew I could go straight to God through Jesus…'
Bert Pagan (Glasgow, 1955)
Church leader Donald Pagan relates the conversion story of his father, Bert, a coal miner in the south-west of Scotland, who was known in the village as a 'hard man and drinker'.
'One day a fellow miner asked him if he and his friend would go to Glasgow's Kelvin Hall to hear Billy Graham preach,' recalls Donald. 'He agreed to go just to please his supervisor. When they reached the hall it was full, so Dad and his friend decided they would go to the picture house instead.
'They were just about to leave when a man came by and told them to remain in the car as they would relay the message outside. Billy spoke on the verse "Behold, I come quickly" (Revelation 22:12). Dad said he could not even move out of his car seat, the word was so powerful.
'He went forward that day and gave his life to Jesus Christ. When he got home he had to tell his drinking friends that his life had been changed and he was a Christian now. They gave it a fortnight, but Dad never looked back.'
Rod Ostler (Earls Court, 1966)
Church leader Rod Ostler was an unchurched 18-year-old with lots of questions when youth leaders Marion and Christopher Sharp took him to the Billy Graham rally at Earls Court.
'The main auditorium was packed, so we went into the overflow,' he says. 'Cliff Richard gave his testimony for the first time and [George] Bev Shea was singing "How Great Thou Art", which stirred the whole of Earls Court. Then Billy Graham spoke. He challenged me about my life and where I was going. At the end he made an appeal so I went forward with the attitude, "God, if you're there, I'm willing to give my life to you." At that point, a tremendous peace came into my heart and life.
'After that, my youth leaders took me along to the Baptist church every Sunday and I attended the follow-up course for Christians supplied by Billy Graham. People call it being born again, and like a newborn baby doesn't necessarily understand all that's going on, life was like that. But each day you learned more about Jesus Christ and how good it is to follow in his ways.'
Click here to receive your free copy of Premier Christianity magazine.