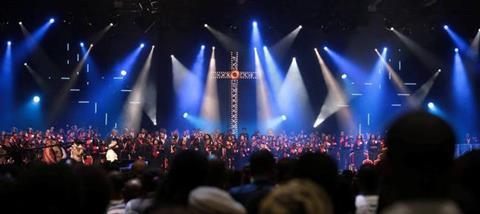 For the past twenty years, this festival has gathered up to 50,000 Christians to pray and worship. Although it started from humble beginnings, it now meets in the largest event space that our capital city has to offer – the ExCeL. The UK's fastest growing Christian denomination organises it. And not only do well-known Christian leaders from across the Church show up, but so do political figures. Boris Johnson has spoken there. And when David Cameron was Prime Minister, he went too, telling those gathered: "Let us be proud that this is a Christian country".
It's called The Festival of Life, and it took place just this past weekend. From 8pm on Friday night until 5am on Saturday morning at least 40,000 Christians of all ages gathered to worship God and pray in a powerful, non-stop celebration which marked 20 years of the festival. But despite the event's huge size, you may never have heard of it. And it's not just you! While I've known about (and regularly attended) other large-scale Christian events such as Soul Survivor, Spring Harvest and New Wine, I too was unaware of Festival of Life until relatively recently. And most of my Christian friends still haven't heard of it. Why?
The honest truth, which isn't easy to hear, is this: the Church in this country is divided by race and ethnicity. The Festival of Life came out of the Redeemed Christian Church of God, which originated in Nigeria but now has a significant presence in the UK. This means that the overwhelming majority of delegates at the ExCeL over the weekend were either Nigerian themselves, or from that family background. When a member of ExCeL staff in the underground car park saw me attempting to find the entrance and asked "Are you here for the dog show?" I had to suppress a laugh. Not just because of the amusing juxtaposition between an all-night prayer meeting and a dog show, but because I (with my white skin) didn't look like the typical Festival of Life delegate.
The Christian church in this country is divided by race and ethnicity
And yet, as I experienced this momentous event, I couldn't help but wonder what is so apparently off-putting to a white evangelical (there appeared to be a grand total of 7 of us there). I might have expected the music to be unfamiliar. But much of it wasn't. Whether we were singing 'In Christ Alone' a Darlene Zschech song or something more obviously 'gospel', I felt at home. Many of the speakers were familiar too. Steve Clifford from the Evangelical Alliance, President of Churches Together Dr Hugh Osgood and Christian MP Stephen Timms all made appearances.
When you stand and watch tens of thousands of Christians who don't look like you singing and praying their hearts out, it's a timely reminder that (contrary to so much popular belief) Christianity is not a Western religion. There are some in our white majority churches who wring their hands as they talk about declining numbers and how no one is interested in God anymore. How wrong they are! Not only are many white majority churches growing, but the growth in black majority churches is phenomenal, and still by and large an untold good news story.
There is a divide. But this isn't about pointing fingers. While I hope that the organisers of both black-majority and white-majority events are mindful of this issue, it isn't only their responsibility. If we care about Christian unity, doesn't it make sense to vote with our feet and go to events outside of our own denominational and even cultural boundaries? The book of Revelation paints a stunning portrait of a future Church from every tribe nation and culture all together worshipping God (7:9). One day we won't be divided by race or denomination. We might as well get used to that future now.
Click here to request a free copy of Premier Christianity magazine