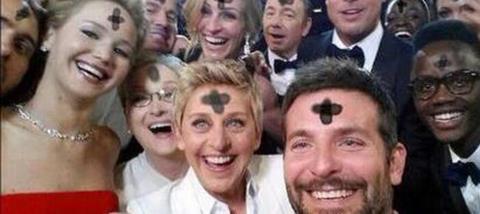 Today is the first day of Lent - a 40 day period of prayer, fasting and simple living that acts as a time of spiritual preparation leading up to Easter.
Ash Wednesday marks the start of this time where we begin to take stock of where we're at in our spiritual life and address anything that might hinder our relationship with God.
Over one billion people around the world will attend church today to reflect on our need for a saviour to rescue us from our fallen and sinful state. During the service we take time to repent and ashes in the sign of the cross are placed on our foreheads as the biblical phrase 'you are dust and to dust you will return' (Genesis 3:19) is spoken over us. This is a reminder of our mortality and need to prioritise intimacy with God.
I find the day a really helpful way of engaging with scripture and bringing the story of Jesus to life. Becoming more aware of our shortcomings and our need for God in a corporate way is a powerful precursor for revival, as we recall the verse, 'if my people, who are called by my name, will humble themselves and pray and seek my face and turn from their wicked ways, then I will hear from heaven, and I will forgive their sin and will heal their land.' (2 Chronicles 7:14)
Many Christians will choose to give something up for Lent. Fasting is a biblical principle, so choosing to give something up for 40 days is a great way to help us understand what Jesus would have faced during his 40 days in the wilderness. Journeying from Ash Wednesday to Easter makes the celebration of Jesus' resurrection all the more glorious and the majesty of the gift of salvation all the more appreciated.
Will you be one of the one billion people attending church today? If so, send us your #Ashtag photos. You can tweet us @christianitymag or tag us in your Facebook post. We'll be re-tweeting, sharing and posting our favourites throughout the day...
@Christianitymag #Ashtag #AshWednesday pic.twitter.com/b79MTF14DG

— R. Fantirini (@dearrufina) February 10, 2016
Been to an Ash Wednesday service. Time for people to stop and say, "There's something on your head!" #ashtag #sinner pic.twitter.com/s3VRztnUjU

— Maria Rodrigues (@WomaninLondon) February 10, 2016
Katie Allington sent us her #ashtag #AshWednesday pic.twitter.com/Srj1X5WuqE

— Premier Christianity (@Christianitymag) February 10, 2016
Look out for the #ashtag today - Ash Wednesday pic.twitter.com/HS3lFCUnBP

— SthTynesideChurches (@STChurches) February 10, 2016
My #ashtag #AshWednesday @Christianitymag pic.twitter.com/UWxWmcU9Hg

— Justin Brierley (@UnbelievableJB) February 10, 2016
@Christianitymag @PremierRadio #Ashtag pic.twitter.com/7hQH2wzwuI

— Steve Phillips (@stevepthegeek) February 10, 2016
#ashtag 'Remember that you are dust and to dust you shall return' #AshWednesday - start of Lent pic.twitter.com/TApnRYNxKl

— Mark Umpleby (@MarkUmpl) February 10, 2016
#ashtag #AshWednesday (never know when we are 'allowed' to wipe it off...it's a bit itchy) pic.twitter.com/AWxhs5bXgR

— Kate Bottley (@revkatebottley) February 10, 2016
@Christianitymag #ashtag #AshWednesday ? pic.twitter.com/nDYOBJZZMi

— and1moremeans5 (@and1moremeans5) February 10, 2016
Don't forget tomorrow is ash Wednesday @patrickmadrid @PegAgnusDei @roseOyuma @biz_eMom @AwakeDeborah #ashtag pic.twitter.com/Lxq9alu3a9

— rico ? (@ricosuave14) February 9, 2016
Click here to request a free copy of Premier Christianity magazine