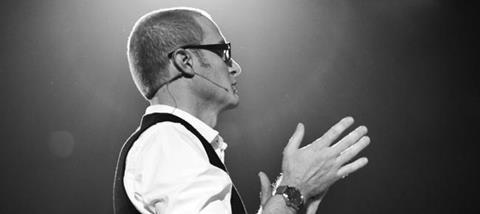 Bell spoke out in a video recorded by the US multi-faith coalition Odyssey Networks, titled, Why Rob Bell Supports Gay Marriage.
'I believe God [is] pulling us ahead into greater and greater affirmation and acceptance of our gay brothers and sisters and pastors and friends and neighbours and co-workers,' he said.
The video was released days after the Mars Hill church founder visited San Francisco's Grace Cathedral to discuss his new book What We Talk About When We Talk About God.
During that event, Bell said, 'I am for fidelity, I am for love, whether it's a man and a woman, a woman and a woman, a man and a man. I think the ship has sailed and I think that …this is the world that we are living in and we need to affirm people wherever they are.'
Bell added, 'I think we are witnessing the death of a particular subculture that doesn't work. And I think that when you're in a part of a subculture that is dying, you make a lot more noise because it's very painful. You sort of die or you adapt. And if you adapt, it means you have to come face to face with some of the ways we've talked about God, which don't actually shape people into more loving, compassionate people.'
Brad Williams, an Alabama-based Baptist pastor, immediately denounced Bell's comments and said it was 'disconcerting for a Christian leader to say that the Church should simply get in line with whatever the culture says'. Williams wrote that the 'one thing the Christian cannot do is ask Scripture to take a back seat to cultural whims. That is what Bell is asking of us.'
In the Odyssey video, Bell, who left the Michigan congregation he founded in 1999 to move to California last year, also said he believed technology has played a major part in the shifting of many long-held views, and claimed that the Internet in particular has shown that people cannot live in their own 'tribal bubbles'
Bell's 2011 book Love Wins challenged traditional teachings on hell and attracted widespread criticism from the global Church community, with conservative evangelical pastor John Piper famously tweeting 'Farewell Rob Bell'
Writing for the influential Red Letter Christians website in response to Bell's stance on same-sex marriage, Michael Kimpan said, 'Some evangelicals are now...actually declaring him dead to evangelicalism.'
Kimpan, associate director of the Marin Foundation, also cited new research from a Washington Post/ABC poll released in March.
It showed that 31% of white evangelicals now support gay marriage, up from 7% in 2004. The poll also revealed that 81% of under 30s in the general US population support gay marriage.
Kimpan wrote, 'The litmus test of our faith in Christ is not whether or not we're able to agree on political, cultural or religious secondary issues…rather, it is in our ability to love, even those with whom we may not agree.'
EXTRA CONTENT: Rob Bell debates God, Salvation & Homosexuality - Unbelievable?
Rob Bell returns to Unbelievable? 2 years after his debate on the controversial best-seller 'Love Wins'.
He talks about life after Mars Hill Bible Church and his latest book 'What we talk about when we talk about God'.
Andrew Wilson is an author and theologian with the New Frontiers church network. He quizzes Rob about his view of God, salvation and his recently stated support for gay marriage.
// @christianitymag