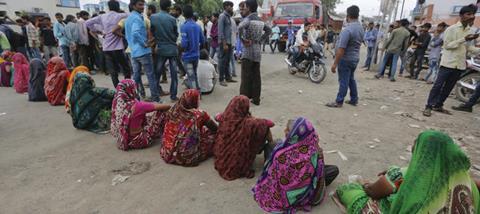 The oppression of Dalits in India is the biggest human rights crisis you've never heard of.
That's the claim of William Dent from Life Association, a Christian charity working among Dalit communities in India.
The term "Dalit" means downtrodden or oppressed. Previously referred to as 'untouchables', they make up 16 per cent of India's population and are devalued from birth; considered lower than animals and regularly abused. India's caste system – a system of social stratification derived from Hinduism – has four categories, with Brahmins (priests, scholars and teachers) at the top and Shudras (labourers) at the bottom. Dalits aren't even considered worthy to be on the scale.
Despite the country's constitution forbidding discrimination, Dalits have suffered under a caste system that is deeply engrained throughout the entire population, not just among the 80 per cent who are Hindus.
THE DALIT UPRISING
Although it has garnered little to no coverage in the mainstream Western media, the Dalit uprising, which began in the Indian state of Gujarat in July, has gripped the nation. There have been reports that thousands of Dalits are revolting and demanding the civil rights afforded them by their constitution.
The uprising began after four Dalit men were stripped, tied to an SUV and publicly thrashed with iron rods. The men, who had been skinning a cow, failed to convince the assailants they had bought the carcass for skinning and had not killed the animal themselves (cows are considered holy by Hindus). A shocking video of these brutal beatings went viral on social media and sparked widespread protests. Some Dalit organisations brought the carcasses of dead cattle to their protest rallies and dumped them on top of government vehicles.
As the founder of grass roots
Dalit organisation Navsarjan Martin Macwan explains, previous stories and photographs showing Dalits being abused have been ineffective in terms of launching protests. But this time, he says, the power of social media was demonstrated: "Every Dalit village, not just in Gujarat but all over India, could see these young boys being brutally beaten up. Dalits have had enough. There was an explosion of anger."
Both the scale and the intensity of the protests have been unprecedented. Congress leader Anil Madhad, along with at least 20 other Dalits, attempted suicide as a form of protest.
Jignesh Mevani, a human rights activist from Ahmedabad, compared the suicide attempts to the famous protest of Manipuri women against sexual exploitation by the armed forces in 2004. Speaking to Scroll, he said: "Those women had to strip naked and say 'Indian army rape us' in order for the nation to pay attention to their plight…The suicide attempts are similar."
Prime Minister Narendra Modi's response to the protest was surprising. He said: "What right do these [people] have to treat the Dalits and poor in this manner? If they want they can shoot me, but please don't target my Dalit brothers."
In a later interview with CNN, Modi went even further: "I am devoted to the development of all the Dalit, oppressed, underprivileged and deprived. Those who see this as an obstruction to their politics are the ones creating trouble.
"All those who have fed this country the poison of caste divide have destroyed this country," the prime minister argued.
While many Dalits see these words as too little too late, and accuse the government of turning a blind eye to attacks on their community, Dr Joseph D'Souza, moderating bishop of the Good Shepherd Church and Associated Ministries of India, has praised Modi.
"The Dalit issue is the single most significant civil rights issue in the world, and maybe in world history," Dr D'Souza said in a statement.
"Prime Minister Modi went where no other prime minister has gone before. He condemned the system, which has disenfranchised hundreds of millions of Indians for centuries."
Dr D'Souza believes the uprisings could be significant. "Some have said that the Dalit uprising is India's Rosa Parks moment, hearkening back to the United States' Civil Rights Movement. I believe it could be even more than that.
"The dam of the caste system has finally cracked. This is the time for India to be reborn as the nation and the world leader she was truly intended to be. But to do so, India must start with protecting the humanity of Dalits, for in this is where her future lies."
India and Dalits in numbers
India is the most populous democracy in the world, with 1.2 billion people
80% of the country is Hindu, 15% is Muslim and 2% is Christian
It has the third-largest standing army in the world
It has the seventh-largest economy in the world
16% of the population is Dalit
Dalits are 27 times more likely to be trafficked
Rape cases registered against Dalit women increased by 47% between 2003 and 2013
GETTING THE WORD OUT
Dent says more and more charities are taking up the plight of the Dalits. He says Life Association already has many success stories, as the charity educates Dalit children who go on to university and become doctors, teachers and lawyers. There has also been a significant spiritual impact.
"We're seeing so many of the Dalit community turn to Christ. Instead of being told, 'You're below everyone, you're not worthy, you're in that position because of a former life,' we're telling them about the love of Christ and how they're perfectly and wonderfully made.
"We say, 'God loves you and you're equal.' That's turning their lives around as we give these people a message they've never heard before and never thought they would hear. Our mission is to get the love of Christ out and make it clear we're all equal, loved and accepted by God. That seems to be changing communities massively."
Many commentators are now saying that the winds of change are in the air. There's particular hope for the next generation, which is far more educated and motivated to see change than that of their parents. Social media has already helped generate significant protests. Could this relatively new medium become as influential in India's revolution as it was during the Middle East's Arab Spring?
India's problems are many and varied, but the root cause is often the caste system, which has held millions in poverty with little chance of escape. While political protest will be important, so is the task of educating more than a billion people that all of us are created equal and should be treated as such. India's battle for hearts and minds is well underway.